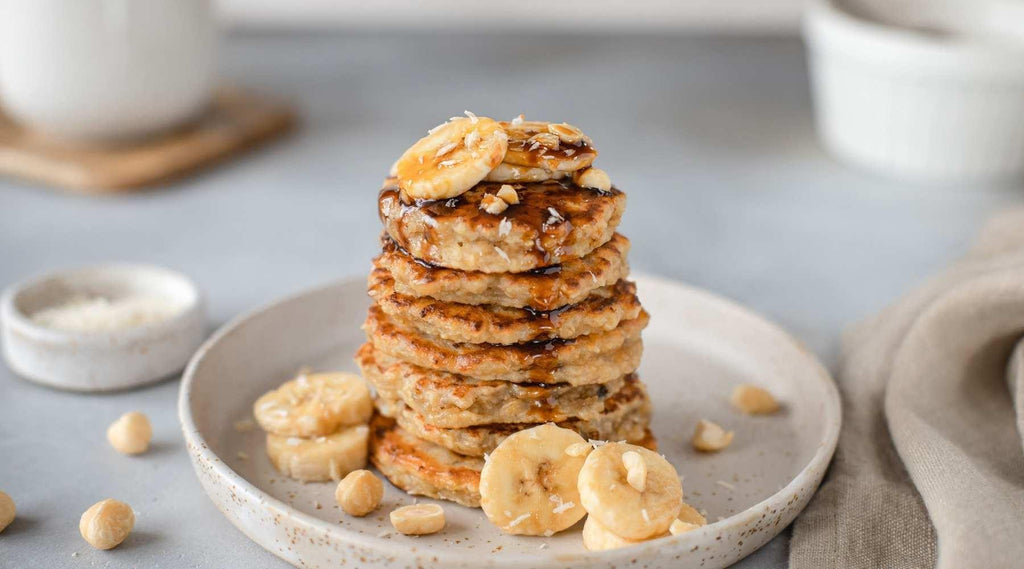 You're treating yourself to breakfast in bed. A French press of coffee, ripe grapefruits glistening with sugar, what's missing? An enormous stack of vegan pancakes!
Here at PlantX, we believe that vegans are particularly creative when it comes to tarting up our food. So why should pancakes be any exception? Let's take a look at some of the best vegan savoury and sweet pancake topping ideas for you to try at home!
Why we love Vegan Pancakes
Now, it's safe to say, we all love pancakes. The ultimate breakfast treat and perfect served with copious amounts of fresh berries, pancakes unite the nation! In general, pancake recipes can be really easily vegan-ised by changing the recipe to plant-based milk. Browse our varied range of plant-based milk to see which one takes your fancy. 
We recommend using something like Minor Figures Organic Barista Oat Milk for extra thick and creamy pancakes. Using thicker vegan milk, like soy-based, oat-based or cashew-based milk also helps with your pancake consistency. Plus, it helps them stop breaking!
Roll on the Pancake Topping Ideas!
Biona Organics - Organic Apple Puree
Ever seen apple puree on a pancake before? You have to admit, it's a pretty good idea! Sweet and slightly sour, this unctuous apple puree from Biona Organics would make an excellent adornment for your morning pancake. 
Meridian Foods - Organic Maple Syrup
An unbeatable classic, drown your pancake stack in Meridian's high-quality organic maple syrup and you will be one happy bunny. 
This syrupy nectar is certainly sweet, so you may want to balance it out with some blueberries or raspberries for some welcome tartness. 
Alternatively, you could push the boat out and add some crushed Erbology Organic Raw Italian Almonds to the mix. We reckon the crunch and savouriness of the almonds could offset the sweet syrup perfectly! 
Vego - Organic Fine Hazelnut Chocolate Melts
Oh yes. It's an alternative bar of chocolate you see on the shelves, but still just as indulgent. Melt a handful of this pure deliciousness in a glass bowl over a saucepan of boiling water. Remember to keep a close eye as it melts to avoid the chocolate getting overcooked and going grainy! If you want to make the chocolate sauce a little thinner and glossier, add a dash of Rude Health's Organic Hazelnut Drink. 
Similarly to the tamari roasted almonds, you may want to add a salty crunch to this pancake topping idea too. We recommend Hodmedod's British Roasted Green Peas Lightly Salted to scratch the salty itch! Ok, so this one probably sounds a bit weird, but the crunchy texture and salty taste will offset the sweetness from the hazelnut chocolate. It's so moreish, you'll wonder why you didn't think of it before!
Biona Organics - Organic Peanut Butter Smooth
You can't beat a simple peanut butter pancake topping, one of the all-time greatest food dressings, simple as! Biona Organic's Peanut Butter fills your mouth with the hypnotising deliciousness of peanuts, perfect for spreading on your pancakes on a Sunday morning. It has no added salt, so if you love that salty-peanut butter sensation feel free to add a little Himalayan salt to spruce it up.
If you fancy adding some chopped banana to the layer of peanut butter, add a little drizzle of Biona Organic's Organic Dark Agave Syrup on top.
Vegan yoghurt and Arctic Power Berries - 100% Blueberry Powder
With the crazy colour of the powdered blueberry, your pancake stack is going to look like it's been beamed from outer space straight onto your plate.
Choose your favourite plant-based yoghurt, some fresh blueberries and a dusting of this antioxidant-rich powder and you'll be laughing! If you love a thick, rich, and indulgent yoghurt, we highly recommend The Coconut Collaborative's Natural Coconut Yoghurt. It's an absolute treat.
Applewood - Vegan Smoky Cheese
Yes, you've got it, we've taken a savoury turn! We know there's a lot of internal debate about sweet versus savoury pancake topping ideas, but let's be honest. Both are just as good! It all depends really on what particular mood you're in when you make your pancakes. 
Perhaps you're craving some salty cheesy naughtiness rather than a fresh fruity number, we support you all the way! Yet again, why not have both? Start with savoury, and move on to the sweets. You can even make it into a three-course meal!
Applewood's Vegan Smoky Cheese is a real winner if you fancy something savoury. Put a slice of Applewood's cheese on your pancake and pop it in the grill to get it all nice and melty. Add some salad, a slather of mayo, and mustard, and you've got yourself a winner. Or if you like some heat, Applewood's Mexicana Vegan Cheese adds some spice and sizz.
Tahini and Rosehip Syrup
A glorious combination that coats the inside of the mouth with its richness, Meridian Foods's Tahini provides the salty, nutty creaminess, whilst Atkins & Potts' Rosehip Syrup provides a tangy, fruity layer of sweetness - a very memorable food dressing!
One of our favourite pancake topping ideas is the well-homed balance of salty and sweet, or sweet and savoury. Tahini and rosehip syrup as a combination represents the perfect symbiosis between savoury and sweet, they enhance each other's textures and flavours really well.
Pimp My Salad - Coconut Bacon & The Groovy Food Company's Organic Agave Nectar 
A vegan twist on the classic North American pancake topping idea, this suggestion is an absolute party in the mouth. Salty and crunchy from the coconut bacon, and devilishly sweet from the agave nectar, this pancake topping idea is guaranteed to make you wake up salivating at the thought of your stack of pancakes. If you want to go all out, try adding a sprinkling of cheese!
Nutcessity - Organic Gingerbread Almond Nut Butter with Rude Health - Ginger and Turmeric Oaty
This one is for the ones who love some alternative flavours. Slather a generous layer of this gingerbread almond nut butter onto your pancakes while they're nice and hot, and crumble some spicy oaty biscuits on top. Bon Appétit!
There are so many wonderful flavours coming together in this pancake topping idea to make a warming and comforting Sunday morning treat. Enjoy this pancake topping combination with a cup of tea on a blustery Autumnal morning. Maybe even add a blob of vegan yogurt to it for some freshness? 
Well, now we're hungry!
Now you've got to the end, we're sure you're inspired by this list of vegan pancake topping ideas for you to try out with your friends and family. We've stuck to some age-old classics and gone slightly off-piste on some other suggestions, just to keep you on your toes! 
Whether it be indulging in a seriously sweet syrupy stack of pancakes, going straight up savoury, or finding that weird and wonderful in between, pancakes remain one of the greatest inventions on earth and deserve to be celebrated.
You can always take inspiration from our list of pancake topping ideas and use them as a springboard for your tasty vegan ideas. Pancake power to you!