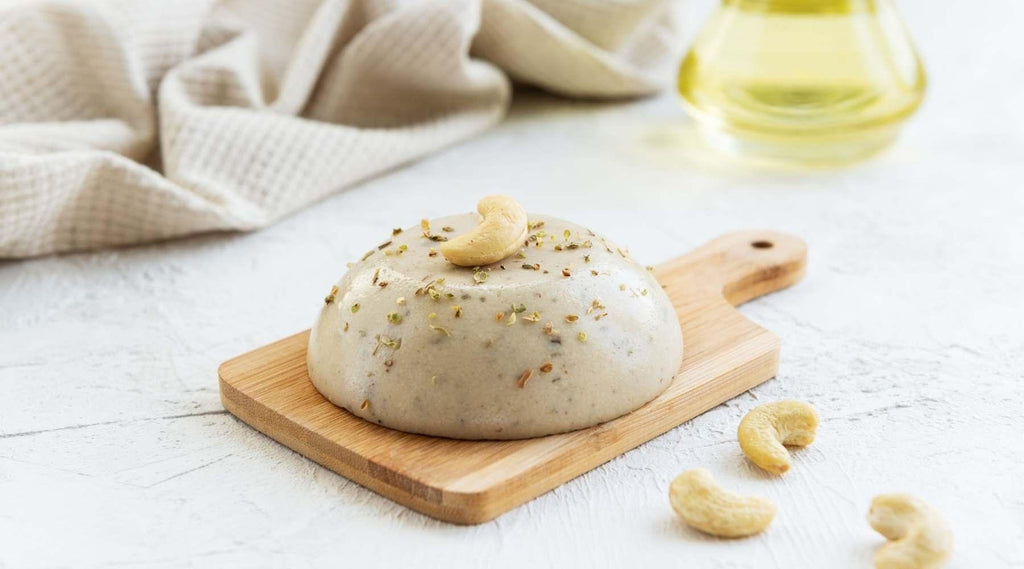 Ten years ago, people would have sniffed at the idea of vegan cheese. Brave brands who were spearheading the movement were lambasted for trying to recreate something as pure and inherently milky as cheese.
Admittedly, some of the early attempts at vegan cheese were not the best tasting (or smelling), but we certainly applaud them for trying. 
Nowadays, the vegan groceries scene amounts to a technicolour explosion. There's so much choice, so many amazing brands with original ideas, and SO many delicious products, it can be overwhelming to choose. Whoever thought we'd be saying that as vegans!
We've come to the rescue with a simple guide to the vegan cheeses currently on the market. Smoked vegan cheddar, vegan cream cheese, vegan Greek-style cheese, vegan cheese sauce: PlantX have got it all.
Why choose vegan cheese?
Vegan cheese is an ethical plant-based alternative to dairy cheese that does not involve the suffering of animals. Vegan cheese has animal welfare at its heart. Obviously, vegans are on board here. 
Another upside to choosing vegan cheese is that it's arguably environmentally better for the planet than dairy cheese. Generally, plant-based ingredients have a lower carbon footprint than animal products. 
But some types of vegan cheese are also much healthier for us than their dairy counterparts. Dairy cheese is generally pretty high in fat and sodium, and although it also has some health benefits, it's seen as something that should be eaten in small amounts. 
Vegan cheese, on the other hand, is generally made from a base of nuts or tofu and has been proven to be more nutritious than dairy cheese. 
What is vegan cheese made of?
First of all, let's retrace our steps. 'What is vegan cheese actually made of?' We hear you cry. Well, the easy answer is, that it depends on the cheese. 
Nuts
A lot of vegan cheese out there is comprised of nuts as the main ingredient. It's surprisingly easy to make your own, homemade nut-based vegan cheese: soak your chosen nuts in water, blend them with some vinegar, lemon juice, nutritional yeast and coconut oil, and then allow them to ferment for a day or two. Your reward will be a delicious, rich and creamy cheese-like texture, packed full of umami flavour.
Here are some of the most popular nuts used in vegan cheese:
Cashew
Macadamia 
Almond
Pecan 
Nuts are a wonderful source of nutrients and protein for our bodies, making nut-based vegan cheese not only a yummy choice but also a nutritious one. I Am Nut OK makes a wide range of nut-based vegan cheeses, like this PapaRica Spicy Paprika Cheese, which makes an excellent addition to a vegan cheese board. If vegan cream cheese is more your cup of tea, then Nush's Almond Milk Spread Cheese is a winner!
Coconut
Increasingly we're seeing vegan cheese products that are made from coconut milk and/or oil. Now, we're going to level with you, coconut vegan cheese is on the more indulgent end of the spectrum here. 
Unbelievably rich, velvety and creamy, coconut vegan cheese is, without doubt, a delicious, luxurious treat. 
Similar to dairy cheese, coconut-based vegan cheese is high in fats and salts. So remember, moderation is key here. Following this… Moderation itself must also be done in moderation, which means you're allowed times of excess once in a while! We particularly love Koko's Dairy Free Cheddar Cheese Alternative and Violife's Creamy Cheddar Flavour Spread in the world of coconut-based vegan cheese.
Soy
Ah, the soybean. Unarguably the greatest ally of the vegan cause. Lots of vegan cheeses out there today will have soy as one of the main ingredients. 
Versatile, gentle in flavour, downright chameleon-like, the soybean doesn't let us down on the cheese front. For a great soy-based cheese option, try VBites' Cheezly White Cheddar Style for that characteristic creamy, sharpness. 
Potato
A common ingredient seen in vegan cheese, potato helps to bulk out the product and give it some density. 
You may come across potato starch a fair amount in your exploration of vegan cheese. It is used to bolster the other ingredients, and also adds a certain richness that we look for in cheese.
Bute Island is a well-known for its vegan cheeses and often uses potato starch in its vegan cheese recipe. For something a bit different, try Bute Island's Smoke German Style Sheese. With its firm and crumbly texture, it's perfect for topping a pizza. 
The best vegan cheeses
Here at PlantX, we have a great range of vegan cheeses which we consider to be the cream of the crop on the market today. And our stock is forever growing. Keep updated with our ever-changing range of vegan cheeses so you can nab them while stocks last!
Here are some of our favorites:
Follow Your Heart - Smoked Gouda Slices
These tasty slices are rich, smoky, salty and absolutely ideal for a cheese toastie. Made of a combination of coconut oil and potato and corn starches, Follow Your Heart's Smoked Gouda Slices are a brilliant vegan cheese option to have in the fridge at all times. 
We recommend adding a dash of Eaten Alive's Smoked Sriracha Fermented Hot Sauce to a cheese toastie made with this vegan smoked gouda. You'll be in pure ecstasy!
Applewood - Mexicana Vegan Cheese
Similarly to Follow Your Heart's smoked gouda, this spicy vegan cheese is made from coconut oil, potato starch and maize starch among other exciting ingredients.
Not for the faint of heart, this vegan cheese is sizzlingly spicy and rich. Try grating or crumbling some over a vegan chilli, nachos, or on top of a lasagne for a cheeky twist. 
Bute Island - Cheddar Style Sheese Blocks
Bute Island has really pulled out the stops in the last few years with their trendy and tasty vegan cheese selection. 
This vegan cheddar block is, like the others, made from primarily coconut oil and potato and maize starch. 
Incredibly versatile, this vegan cheddar would be at home atop any pasta dish, piece of toast, or simply enjoyed on a cracker with some chutney. 
Bute Island - Greek-Style Sheese
Bute Island are at it again! They've produced a sensational vegan Greek-style cheese alternative. Crumbly, sour, and rich, this vegan cheese is an absolute winner.
Toss together with some good quality olive oil like this Hellenic Extra Virgin Olive Oil Cold Pressed, fresh tomatoes, red onion and olives for a classic Greek salad. 
Applewood Vegan Smoky Cheese
Smoked and flavoured with warming paprika, this vegan cheese is a classic in the vegan cheese canon. 
One of the things we are searching for when it comes to vegan cheese is 'meltability'. There's nothing worse than whipping a vegan cheese toastie out of the grill and the cheese having remained in sporadic clumps, un-melted. 
Luckily, this Applewood Vegan Smoky Cheese melts beautifully, and forms a smokin' waterfall of cheese on anything you add it to! 
I Am Nut Ok - NeroMinded Black Truffle Cheese
For something a little higher on the upmarket scale, try I Am Not Ok's NeroMinded Black Truffle Cheese. Made from cashew nuts, this vegan cheese is so creamy, so flavoursome and so aromatic! It pairs beautifully with bread or crackers – simply the stuff cheese dreams are made of!
The Best of the Rest… Vegan Cream Cheese & Friends!
We simply couldn't talk about vegan cheese without mentioning some of the other wonderful cheese products that we vegans can sometimes miss out on. As we said at the start of this fascinating discussion, the vegan cheese scene has literally exploded with innovation. So, here's a quick whizz through some of the best vegan cheese (but not a true cheese) products around!
Violife - Creamy Garlic & Herb Spread
A bagel is simply not complete without some cream cheese, so to give joy to your bagel, spread some Violife Creamy Garlic & Herb Spread – generously! This vegan cream cheese is made from coconut oil and is packed full of beneficial medium-chain fatty acids and lots of Vitamin B12. 
Yogan - Almond Cottage Cheese Alternative
On the subject of great pairings, what is a jacket potato without cottage cheese? Just a potato! Grab yourself a pot of Yogan's Almond Cottage Cheese Alternative and dollop over your jacket potato and add a touch of black paper. Your tastebuds will thank us! 
Pimp My Salad - Hemp Parmesan Cheez
We don't know about you, but one of the most frustrating things about cheese is having to grate it to top your pasta, pizza and potatoes! With Pimp My Salad's Hemp Parmesan Cheez, they took all the hard work out of grating! Keep a jar of this delicious hemp cheese in your fridge, ready to top all of your favourite dishes. Made from hemp seeds, this vegan cheese alternative is packed full of protein and Omegas 3 and 6.
All in all… Vegan cheese galore!
We hope you feel excited about the prospect of diving into the world of vegan cheese – you have so much to explore! So whether it be vegan cream cheese, vegan cheese sauce, or vegan Greek-style cheese, you can now go and spread the word on some of the best vegan cheese out there!
Firstly, it's now possible to enjoy cheesiness without the ethical concerns of dairy cheese hanging over your head. 
Secondly, nut and soy-based vegan cheeses are a more nutritious and healthy option than dairy cheese. 
Last but not least, vegan cheese is DELICIOUS! You're no longer missing out on the salty, creamy yumminess of dairy cheese. No more cravings going unsatiated, no more resentment of why you chose to be a vegan in the first place. Vegan cheese is here for you!