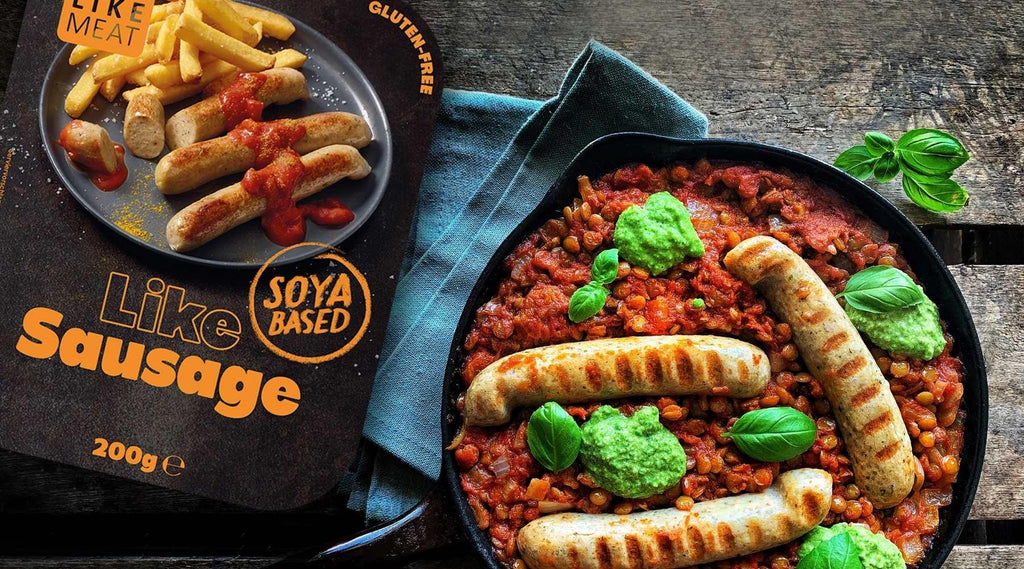 As you could probably guess, plant-based sausages are healthier than their meatier counterparts. But how so? We're going to dive right into why less can be more with vegan sausages.
Carnivores, don't leave! Maybe we can convince you to try some vegan sausages, too! They can be as tasty and juicy as meat-based ones. Read on and maybe try out a few food suggestions!
Cooking time, fats, oils, ingredients, taste… We're going to go through a lot of reasons why vegan sausages are the bomb!
Why are Vegan Sausages Less Fatty and Oily?
First up, vegan sausages have less saturated fat. Regular sausages are made with ground meats like pork, beef, and even poultry. All of those have some sort of fat either way. Think about the meals you're usually going to have sausages with. Think typical English breakfasts with bacon and fried eggs. It's an oily mess!
If you're enjoying your bangers on a warm summer's day, we bet you're washing that down with a cold drink. However, to your possible surprise, cold drinks plus oily foods are known to be a bad combination. That's because the cold could potentially solidify the fats and make them harder to digest. This is why the less oil and fat there is, the better!
Now, here comes your vegan sausages. They're equally as tasty, but with fewer oils and fats. Most of them are made from soy and wheat. They do still contain some oils in the form of vegetable oil, for example.
If you want to skip the oil entirely, you can opt to grill the sausages instead of pan-frying them. But by having a bit of oil in the ingredient list, they are able to stay plump and juicy - just like their meaty counterparts!
Vegan Sausages can be Gluten-Free
Another reason why meat sausages may be bad for you is that the casing they come in is usually made from intestine or wurst (pun intended), synthetic materials. That's certainly not what you want to put inside your body!
Meat sausages are also usually filled with bread crumbs or grains, and that's a no-no if you're allergic to gluten. Does that mean that all vegan sausages are gluten-free? No, they're not. So you have to check the labels to make sure!
Oh, another great thing about plant-based sausages? You don't have to obsess over their cooking time to make them safe enough to eat. A lot of options out there are already pre-cooked and ready to eat. Of course, we prefer ours to be heated up a little, but the fact that we don't have to stress over cooking is a plus! Also, no more salmonella scares from chicken links!
One thing to note for both vegan and meat sausages is that they do have a bit of sodium. So, you may find low-sodium variants out there to combat this!
Do Vegan Sausages contain Soy?
A lot of them do, yes! Tofu is a very versatile ingredient. It's a wonderful carrier of flavours - that's what makes it great for sausages! Tofu is, however, a "wet" ingredient and often needs a binding ingredient. So, you'll notice a lot of plant-based sausages are made with a wheat and tofu combination. Don't worry! They won't taste the same. You'll get a great flavour variety!
One brand to watch out for is Tofurky. They gained popularity for making a vegan alternative to turkey. Since then, they branched out to make a plethora of food choices for plant and meat-eaters alike. 
What Sausages Can Vegans Eat?
VBites - Lincolnshire Style Sausage
First of the Lincolnshire-style sausages to choose from is VBites' Vegideli Ready To Eat Lincolnshire Style Sausages. Each pack contains 8 already cooked sausages that you can enjoy cold, but you can also heat 'em up! With a 5-star rating, you really don't want to give these ones a miss.
For something a little more continental, try VBites' Cheatin Pepperfoni VDeli Pepperoni Style Slices. These Pepperfoni slices are perfect in a sandwich or slid on top of a pizza, complete with plant-based cheese, obviously!
Viana - Organic Real Jumbo Mild Smoked Sausages
Viana's Organic Real Jumbo Mild Smoked Sausages are hearty, smokey sausages that you can use to make wraps and even add to fried rice! Slice them up, wack them on the frying pan and even chuck them into a vegan paella. 
Taifun - Organic Sausages
With the word "fun" literally in the name, you know Taifun's Organic Sausages are going to be great. Smokey and peppery, these sausages are best cooked on the grill. So gather up your friends and have a fun summer BBQ! These are also packed with protein. 100 grams of these puppies will give 14 grams of it!
Vegan Richmond Sausages
Rich-what? Richmond! We can't have a vegan sausage list without the one and only Richmond Sausages. While they started out making pork sausages, they now have widened their range with their Meat-Free Sausages! If you're on the fence about trying out vegan sausages, these are a great starting point.
MeatLess - Chilli Kabanos Sausages 
Meatless has 3 tasty links for you to choose from. They have their MeatLess Chilli Kabanos Sausages, Meatless Wiener Sausages, and their MeatLess Country Sausages. They're all cholesterol-free sausages made with zero preservatives. Just think of what dishes you want to make and there's a MeatLess Sausage ready for the assignment.
Beyond Meat
Probably the brand that introduced most meat-eating households to vegan meats, Beyond Meat also has their Beyond Sausage! They're unique because it's one of the rare ones that are soy-free! Beyond Sausage is all about pea protein, making it a great soy-free and gluten-free sausage.
Tivall - Vegan Schnitzel 
Alright, so a schnitzel is not technically a plant-based sausage, but a vegan schnitzel is delicious, nonetheless. The common misconception comes from the word "wiener" in "wiener schnitzel". Although "wiener" does mean sausage in German, a "wiener schnitzel" is actually a thin, breaded meat cutlet. But, if we do away with the meat, then a plant-based schnitzel is just as tasty as an actual sausage. Tivall's Vegan Schnitzel is made from seasoned soy and wheat protein covered in a crispy crumb coating.And who doesn't love a schnitzel with a slathering of ketchup? Irresistible! 
Fry's - Vegan Sausages
If you're looking for a tasty traditional vegan sausage, there's Fry. No fancy flavours, but a bold and juicy taste is what you're getting. Fry's Vegan Sausages are non-GMO and free from msg. They also don't have onion and garlic! How are they seasoned? With ground nutmeg, coriander, and cloves. They're great as the main dish or as a side with some mashed potatoes.
Of course, if it's a vegan hotdog you're after, you can't go wrong with Fry's Original Meat-Free Hot Dogs. Made with Fry's signature smoky seasoning, these plant-based sausages are perfect in a soft, fluffy hotdog bun, served with a side of vegan ketchup and mustard.
While we did say not all vegan sausages are gluten-free, you'll notice that we did add some of them to the list. Great tasting ones, too! Yes, tofu will still be the hero ingredient for a lot of the gluten-free sausages on the list. And why not? As long as they taste great, we don't see any reason why we can't enjoy them!
There are tons of gluten-free sausages to be had and even loads more you can find at PlantX. If you haven't found your fave brand on the list just now, don't fret! Keep your eyes peeled for more tasty links by frequently checking this link!
That's the Sauce on Vegan Sausages!
We don't know about you, but we can certainly go for some plant-based sausages right about now. No matter how they're seasoned or flavoured, you can use any of the options above to make any sausage dish you like.
Chop some gluten-free sausages up and top pizza with them, grind them up and add to pasta sauce, or just have them with some rice or mashed potatoes. Savoury and delicious, vegan sausages are fantastic to have in the fridge!
After checking out the list, you may be surprised to find that there are so many sausage flavours to choose from! That's one more plus on the plant-based sausage corner! Meat sausages taste like the protein they're made of. Some may even get their flavours from cooking. But, these proteins have an overpowering taste that there's not much else to do but accept as they are.
Vegan sausages, however, come in a wide range of flavours! You can just get one that suits the dish you're making. If you want something herby, there's one for that. If you want something traditional, there's one as well. If you want something with a particular flavour profile, there's bound to be a plant-based option out there!