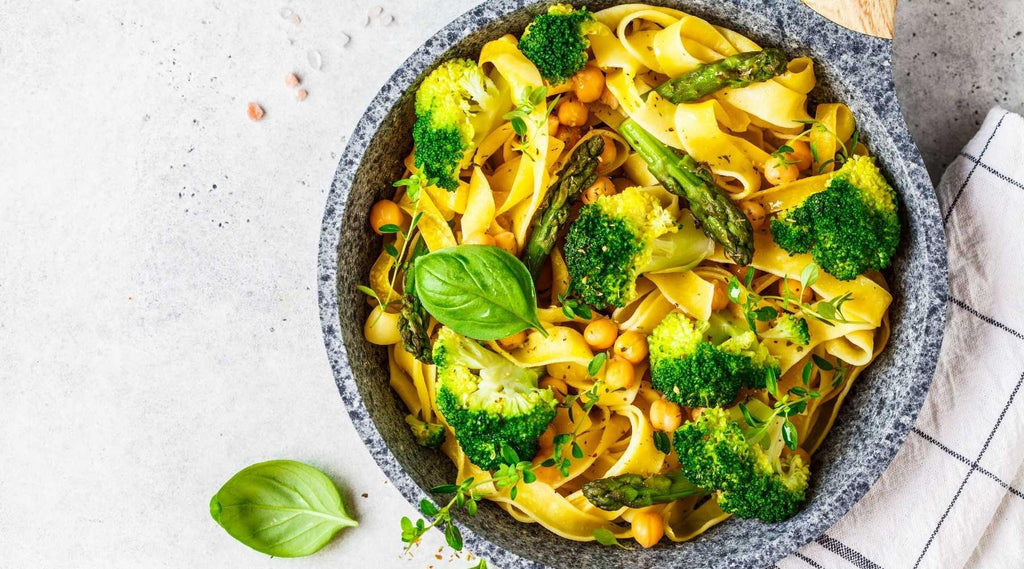 First thing's first. Let's talk about what we mean when we say pasta - because there are two meanings that people often get confused with. For this blog when we say pasta, we mean plain pasta without the sauce. We will discuss pasta dishes later on, as vegan pasta dishes are just too irresistible, and plays a key role in the benefits of a vegan diet!
Now let's get to the good part. Did you know that there are more than 350 pasta types out there? Not all pasta is vegan - and you won't be the first one to think that! In this blog, we'll cover the benefits of vegan pasta on a vegan diet and some delicious varieties you can find.
Carbohydrates in Vegan Pasta
Regular pasta is an excellent and delicious carb source. Everyone knows that! Whether it's gluten-free pasta or not, most contain carbs. White vegan pasta contains roughly the same amount of carbs and calories as regular white pasta.
Like all foods, everything must be eaten in moderation. However, carbohydrates play a key role in energy stores. Carbs are nutrients that can be broken down to sugar (the good kind) - which is needed to provide energy for cells, tissues, and organs in the body.
People often go on a low-carb diet because too much carb can lead to weight gain. However, the hard link between weight gain to carbs has been debunked recently. Many people are scared of carbs because of this, but in moderation, it's not something to be scared of when eating vegan pasta. In fact, it should be embraced and promoted as a key benefit of a vegan diet.
Depending on what the pasta ingredients are, vegan pasta can turn out to be more protein-packed and fibre-filled. For example, when they're made with protein-rich quinoa or red lentils. If those sound too "new" for you, traditional buckwheat flour pasta is also considered to be one of the best gluten-free alternatives for its earthy taste and nutrition.
Eggless Pasta
Though it mostly consists of just flour and water, some types of pasta do contain eggs. Italian-style pasta in particular uses eggs. It's the eggs that give the pasta its moist, creamy texture during the making process. By observing a vegan diet, does that mean that you should just skip all Italian pasta dishes entirely? No, of course not! But, by skipping eggs, you actually skip on the cholesterol that usually comes with them!
Italian-style pasta is probably the most common. That's a no-brainer because the country is known to serve up some delicious pasta dishes, so that would be hard to skip.
That's why you just need to know where to go. One of the benefits of a vegan diet is that there's a community built on sharing what they love and know waiting just for you! This community will help you get a little creative with your food just so you can make as close to authentic pasta or make delicious dishes using certified vegan ingredients!
Vegan Pasta Brands
Here at PlantX, getting vegan pasta is as simple as clicking "add to cart", you just need to know which one you should get. When you plan on making spaghetti and vegan meatballs, get spaghetti! If you're going to make a casserole, something like fusilli is excellent for that. If you're making soup, get some buckwheat pasta or noodles.
Now that we mentioned noodles, we also need to take a moment to clarify. We believe that all noodles are pasta, and not all kinds of pasta are noodles. They're basically made up of the same ingredients! So, going back, here are a handful of options to get you started for the dishes we just mentioned. Think of it as your vegan pasta starter pack.
Let's get down to the noods first, and then pastas as you know it. King Soba is a great brand with a variety of types, which are all super-easy (and quick!) to make.
King Soba – Organic Pumpkin & Ginger Brown Rice Noodles
King Soba's Organic Pumpkin & Ginger Brown Rice Noodles combine zingy ginger with nutritious brown rice. It's got so much flavour, you could probably just eat the noodles by themselves! However, we suspect you'll still want your noodle dish with lots of veggies and tofu, for a great nutritional balance! If you're feeling a tad lazy, however, just boil 'em up with some veggie stock and Bon appétit. Thank us later!
King Soba – 100% Buckwheat Noodles
Made from organic buckwheat flour, which is high in protein, fibre and minerals, King Soba's 100% Buckwheat Noodles are packed with nutrition and wholesome goodness. In other words, fancy, yet simple! 
La Bio Idea – Organic Chickpea Penne
La Bio Idea is a fully organic company that produces high-quality products that are made in Sicily and other Mediterranean regions. La Bio Idea still makes pasta the traditional Sicilian way, as it has done for over 100 years. 
For a fantastic gluten-free option, look no further than this delicious Organic Chickpea Penne by La Bio Idea. With an authentic Sicilian pasta taste, you just can't go wrong!
Profusion – Organic Red Lentil Fusilli
Profusion makes a wide range of vegan foods, including all the staples like bread, salt and, of course, pasta! For lovers of fusilli, this is a great one. It's protein-rich and made from just 100% organic red lentil flour, which makes it a fantastic choice.
Biona – Organic Wholegrain Macaroni
Biona is well-known in the vegan food market and are a trustworthy option for devotees of a plant-based lifestyle. They have a huge range of pastas, but we couldn't write a blog about pasta without mentioning mac 'n' cheese!
Biona's Organic Wholegrain Macaroni tastes wonderful and is made with 100% pure natural organic ingredients. It's a traditionally-made pasta with a short ingredient list. This one's always great to have in stock.
Little Pasta Organics – Organic Tricolour Pasta for Kids
If you're a busy parent, then no doubt, you want to be able to feed your children healthy, wholesome meals that are quick to cook, too! This is where Little Pasta Organics comes into its own. 
These gorgeous pasta shapes are small enough for little mouths to handle and packed full of veggies, too. The Little Pasta Organics range comes in two great varieties – Teddy Bear Pasta and Travel Pasta – guaranteed to make meal times fun! 
Not only are all these varieties 100% vegan, but many of them are also gluten-free. That's another benefit of a diet consisting of vegan pasta. Most of the ingredients that are used are more thoughtful and that makes finding a gluten-free variety a lot easier. So, that's 2 allergens taken care of - no eggs and no gluten!
What is Vegan Pasta Made Of?
If you want to make your own vegan pasta, you still can! Plant-based ingredients are, of course, (typically!) healthier. You're less likely to come across artificial ingredients and preservatives if you make the pasta yourself and hand-pick the ingredients. 
What can you sub out for eggs? We know, we keep clucking about eggs, but they are important! There are now heaps of eggless eggs out there. You can even find some egg alternatives that suit pasta-making quite nicely. 
Fresh pasta at home is enough to make us want to stay in and cook. One of the benefits of a vegan diet is that you become more independent and knowledgeable in the kitchen. Plus, you'll save money and end up eating healthier. With fresh vegan pasta waiting for you at home, why not just whip up a quick and easy meal that you know will taste good?
Vegan Pasta Sauce
We took on raw and fresh vegan pasta, now let's get cooking! We'll break this down into three components. It's the pasta, the sauce, and the toppings. 
Vegan pasta sauce has its benefits, too. For starters, when making pasta at home, we bet you're grabbing a can or packet of pre-made sauce most of the time. While we don't necessarily think that's bad, we do know that there are sauces in the market full of artificial ingredients, flavourings, and preservatives. Vegan pasta sauce, even pre-made ones, has plant-based ingredients - which are generally cleaner and contain fewer artificial additives. Check out Biona's Organic Green Pesto or Le Conserve Della Nonna's Vegan Green Pesto if you like the sound of that.
Tomato sauce is more easily adapted to a vegan recipe than white sauce, as white sauce typically contains dairy. But, the great news is that there are heaps of options to choose from for cream alternatives. You may have heard of coconut and soy-based cream because the two are common choices for cooking. If you're worried about the taste, don't worry. A lot of manufacturers minimise the coconut or soy taste to blend with recipes better.
Pasta Ideas you can eat on a Plant-Based Diet
Let's get to the toppings. You may now be screaming, you can't make spaghetti and meatballs without the meat! In this day and age, you totally can. Check out this recipe and see for yourselves. One of the secrets and benefits of a vegan diet is that you actually get a ton of meat alternatives out there.
You can choose to make your own vegan meatballs or you can get pre-made ones. One might also argue that there are more vegan varieties than meat varieties when it comes to meatballs. And don't think that these vegan options lack nutritional value. You'll find loads of them packed with plant-based protein! You can find ones from THIS isn't meat, The Vegan Butchers, Future Farm, Suma, and Goodlife, just to mention a few!
Another "topping" or finishing touch to most pasta dishes is cheese. And, well you guessed it, there's a huge variety of non-dairy cheeses out there. You get mozzarella, cheddar, provolone, feta, cream cheese, and so much more. You can get them in all shapes and sizes, too. There are blocks, slices, shreds, and tubs of cheese all waiting for you to make vegan pasta. So, yes, vegan mac and cheese is totally a possibility.
Now Let's Get Cooking!
If you're reading this, thank you for coming to our TED Talk: Benefits of a Vegan Diet - Pasta Edition!
Jokes aside, we hope you enjoyed this little read. Healthy, delicious, and nutritious, vegan pasta is very easy to make especially when you have the right ingredients. Not only can you find varieties that are more nutritious, but they're also typically gluten-free and of course, egg-free.
PlantX is a great place to get everything you need to make vegan pasta and vegan pasta dishes. Our community just loves sharing. Just see for yourselves!