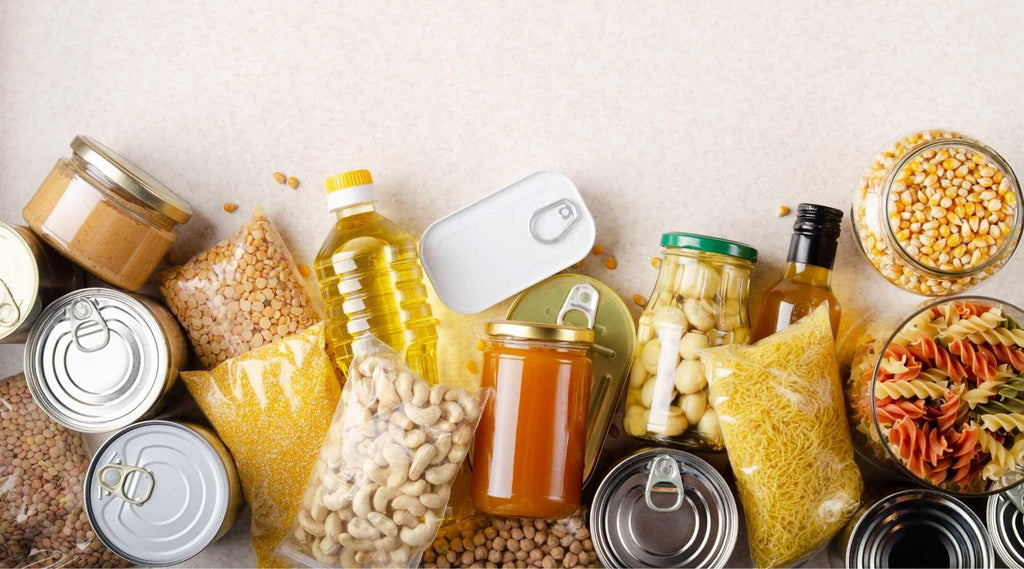 Whether you've recently made the switch to being vegan, or you're a long-time vegan, or even if you're just trying to eat more plant-based food, there are some staples that you won't be able to live without. Canned and jarred foods make up all decent pantries, so in this blog post we're going to check out which of these vegan go-to products should be lining your shelves.
Canned foods and jarred foods sometimes get a bad rep, but here at PlantX we recognise their endless possibilities. They've got an amazing shelf life, they're decently priced, and they're ideal for those days when you're feeling on the lazier side! Vegan canned foods can also be an incredibly healthy option. Stock up on canned vegetables and you have a foolproof way to make sure you always get your five a day. 
Read on to find out which vegan canned foods and jarred foods are the best products for you. Whether you're looking for sturdy staples or an easy quick-fix, we've got canned and jarred food products for everyone!
The Best Vegan Canned Foods and Jarred Foods to Try
Loma Linda - Tuno (Vegan Tuna) in Spring Water
Ensure your pantry is stocked with the right canned foods with this incredible vegan tuna. Made with soya and vegan fish flavour, this product is ideal for vegans in search of a cruelty-free tuna alternative!
Just one serving of this 'tuno' meets 14% of your daily protein requirement. Use it in sandwiches, in pasta salads, and in vegan fish tacos! We think it also tastes great with a dollop of vegan mayo
Suma - Vegan Meatball Bolognese
This heartwarming and wholesome Vegan Meatball Bolognese from Suma is a life saviour those evenings when cooking is the last thing you want to do! Vegan meatballs are coated in a rich, tomatoey sauce complete with red peppers and onions that make for a hearty, healthy meal that will leave you feeling super satisfied.
This canned food couldn't be easier to prepare. Just heat this sauce up in the microwave (make sure you put it in a microwave-proof container first!) or heat it up in a pan on the hob. Prepare your pasta - and you've got yourself a robust vegan meal in minutes. 
Clearspring - Organic Young Jackfruit Chunks
Made with organic young jackfruit, water, sea salt, and lime juice, this product from Clearspring really proves that less is more! These Organic Young Jackfruit Chunks can be enjoyed both raw and cooked, and they taste especially great in vegan stews and curries. 
If you're new to jackfruit, get on the jackfruit bandwagon! Jackfruit is a fruit with a mild taste and a stringy, meaty texture. It has become more popular in recent years as it is being used more and more as a vegan meat substitute. Why not try it out for yourself?
Mr Organic - Organic Black Beans
Here at PlantX, we think that all vegan pantries should be stocked with a wide variety of beans! Not only are beans believed to be super healthy, but this canned food is also essential for varied and diverse vegan cooking. With beans in the pantry, you can make anything from vegan stews, soups, salads, wraps, burgers, fajitas, chilli … the list is endless!
Mr Organic's Organic Black Beans is the perfect vegan canned food for making those vegan meals. Using just organic black beans and water, this simple and healthy product is a staple. Black beans are also a good source of protein and fibre.
Eaten Alive - Classic Kimchi (Mild & Spicy)
This award-winning Classic Kimchi from Eaten Alive embodies traditional Korean kimchi and comes in two delicious options, mild or spicy! The naturally fermented and unpasteurised, hand-cut ingredients are brimming with nutrients and beneficial bacteria. 
You can eat this product raw, straight from the jar. It makes a flavourful and healthy vegan snack. You could also add it to salads, wraps, and on a vegan burger. Make sure you refrigerate this jarred product after you've opened it.
Shore - Red Pepper Dulse & Chilli Pesto
The best thing about vegan canned foods and jarred foods is the variety! Our next vegan pantry essential is this Red Pepper Dulse & Chilli Pesto. Not only is it a vegan pesto, it's also gluten-free and made from 100% non-GMO ingredients. 
But trust us when we say this pesto is unlike any you've ever tried! Made with Scottish seaweed, rich Dulse peppers, and prosociano vegan cheese, this vegan pesto blends sweetness and spice with flavours of umami and sharp 'cheesiness.' It makes for a perfect, vegan pasta or pizza sauce.
Geo Organics - Organic Tasty Tadka Dahl
Vegan curry lovers, listen up! This canned food is the perfect product for you. Made with organic yellow split peas, tomato, ginger and an aromatic medley of spices, this Organic Tadka Dahl tastes like you've made it from scratch. 
We can't stress enough how dreamy this vegan canned food tastes. It tastes even dreamier because it's so simple to prepare! Get ready for some real comfort food that will leave you feeling full and satisfied with Geo Organics - Organic Tasty Tadka Dahl. Serve with some naan bread or rice for the full experience. 
Eat Wholesome - Organic Raw Sauerkraut
Treat your taste buds and your gut with Eat Wholesome's delicious Organic Raw Sauerkraut. Made with organic cabbage, salt, and water, this product makes a great addition to any vegan pantry. 
Not only is this vegan jar of goodness super rich in vitamin C, it's also kind to your stomach as it's full of fibre and friendly bacteria, aiding digestion. So go ahead and eat wholesome, with Eat Wholesome!
Free & Easy - Organic Sweet Potato Kale And Coconut Curry
Looking for an easy way to make a balanced, healthy, vegan meal? Well look no further! This amazing Organic Sweet Potato Kale and Coconut Curry is just the canned food you need. Made with super nutritious ingredients like kale, chickpeas, and red lentils, this product will fuel your body with all the right vitamins and minerals. 
Who knew a vegan canned food could be so healthy? It's winning on taste too. With a thick, creamy texture and a rich combination of flavours, you won't believe it's come out of a tin. 
Biona - Organic Peach Halves In Rice Syrup
Indulge in the luxurious sweetness of Biona's Organic Peach Halves in Rice Syrup. These organic peach halves are juicy and super sweet having been submerged in a smooth and sugary (and organic!) rice syrup. 
Use this jarred food to make for delicious vegan desserts like peaches 'n' vegan cream, fruit salads, or use them to top your vegan baking creations. You might just find yourself snacking on them straight out of the jar, and we wouldn't blame you!
To sum up
We hope that this blog has given you some inspiration for your vegan cooking moving forward. While eating fresh foods is definitely part of a healthy vegan diet, there are canned foods out there that can also be part of, and even enhance, a well-balanced plant-based diet. Have a browse of our vegan canned foods and jarred foods at PlantX, and find even more plant-based staples to enrich all of your vegan meals!