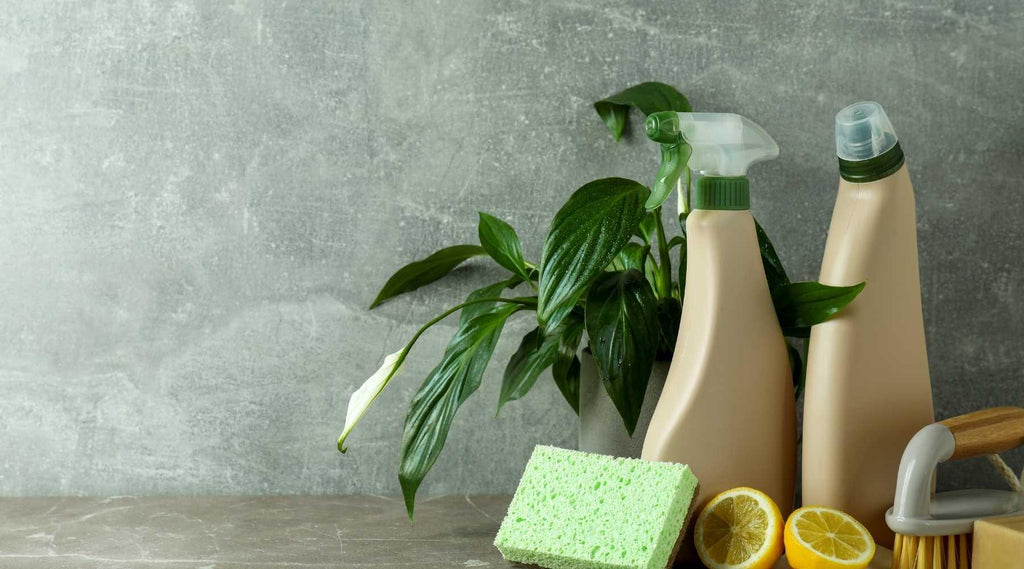 So You've Invested in Some Branded "Love-Forever" Clothing – But Now What?
Firstly, a massive congratulations! Taking the first step away from fast fashion and investing in an item (or two!) of branded "love-forever" clothing won't have been easy. But, you've made the right choice – some 10,000 items of clothing are sent to landfills every five minutes. 
As consumers, our most powerful vote is with our wallets! Choosing "love-forever" clothing means less waste and lower environmental impact from the fashion industry through carbon emissions and water pollution. 
But now that you've bought your "love-forever" clothing, you'll want to care for it properly. You've made the conscious, more eco-friendly choice to invest in branded clothes. And let's face it, branded clothes are often more expensive (hence, the investment!) and usually made from more delicate fabrics. So, just how do you wash your "love-forever" clothing in a way that's both eco-friendly and keeps our clothes looking vibrant? 
At PlantX UK, we've rounded up the best eco-friendly laundry detergent and vegan fabric softeners to keep your branded clothes looking their absolute best! 
What is an Eco-Friendly Laundry Detergent?
In today's modern world, "eco-friendly" is a term that is often thrown around, almost carelessly. According to the Cambridge Dictionary, "eco-friendly" means "not harmful to the environment, or trying to help the environment", and that's what we look for when we source eco-friendly laundry detergent and fabric softeners for our collections at PlantX UK.
Our range of eco-friendly laundry detergents is free from harsh ingredients that are potentially damaging to the environment, such as phosphates and parabens. They typically contain natural colourings and fragrances, and many work fantastically well at low temperatures. All of these little things will add up to make a big impact on our planet.
Best Non-Bio Eco-Friendly Laundry Detergents
When you've spent a small fortune on branded clothing, you want to make sure that your laundry detergent is gentle on the fibres. Non-bio natural laundry detergent is a great choice since non-bios are free of biological enzymes, which can fade colours and can be harsh on delicate materials. 
Bio-D – Concentrated Washing Powder
Bio-D has been bringing us natural cleaning products since the 80s. Its Concentrated Washing Powder is a non-biological, natural laundry detergent, which makes it gentle on our favourite clothes as well as the environment. With its concentrated formulation, you'll need less of this eco-friendly laundry detergent to get great results, helping you to save water per wash. It also works at temperatures as low as 30°C so you'll be using less energy per load, too.
Best Liquid Eco-Friendly Laundry Detergents
Choosing a liquid laundry detergent can be a really simple switch with huge eco-friendly benefits. Liquid laundry detergents generally dissolve more quickly than powdered laundry detergents, which means less water is needed for them to do their work. Oftentimes, natural liquid laundry detergents are free of bleach, so are gentler on your all-important branded clothing. 
Method – Concentrated Laundry Detergent
Method's Concentrated Laundry Detergent contains 5 naturally-derived enzymes for effective stain removal. It's another natural laundry detergent that comes in a highly concentrated formula, meaning you need less water to get the job done. This eco-friendly laundry detergent comes in three amazing scents that will leave your clothes smelling as fresh as they are clean. You could even try mix-and-matching the scents to create fresh-smelling clothes that are as unique as you are! 
Marcel's Green Soap – Laundry Detergent
Marcel's Green Soap is a brilliant Dutch brand that strives to fulfil three promises: products that smell wonderful, work fantastically, and are eco-friendly. Not only is Marcel's Green Soap Laundry Detergent made from naturally-sourced ingredients, but this vegan eco-friendly laundry detergent is palm-oil free, helping to stop the vicious cycle of deforestation. Its packaging is made from 100%-recycled plastic and most importantly, your clothes are left wonderfully clean and fresh. 
Eco-Friendly Laundry Detergents Best for Delicate Branded Clothing
Chances are if you've invested in some "love-forever" clothes, they're made from some pretty delicate fabrics like wool or silk. Your investment pieces will need some extra TLC to keep them looking amazing for a long, long time. But is it possible to keep your delicate clothing looking its best without hurting the planet? The answer is a resounding YES! Read on… 
Ecover –  Laundry Liquid for Delicates
Ecover's 40 years of experience in eco-friendly cleaning products deliver a natural laundry detergent that ticks all the eco-friendly boxes: it works at temperatures from 30°C, is made from plant-based ingredients, and is made in Ecover's Zero Waste certified factory. Most importantly, it's tough on stains and gentle on your clothes. 
Clothes Doctor - No.3 Eco Wash for Cashmere & Wool
For a brilliant cleaning alternative to dry-cleaning, which can lead to harmful chemicals being released into the environment, turn to Clothes Doctor's No. 3 Eco Wash for Cashmere & Wool. Its gentle pH-neutral formula will clean your fragile cashmere and wool sweaters without damaging them, thus extending the life of your best knitwear. 
This eco-friendly laundry detergent is scented with Himalayan cedar wood and orange oil, which are natural defences against pesky moths. We especially love the aluminium bottle, which can be recycled over and over again. 
Best Eco-Friendly Laundry Detergents with Sustainable Packaging
Nowadays when we're shopping, we need to be looking at the bigger picture. Our laundry detergent may tick all the eco-friendly boxes. Only natural, non-polluting ingredients? Tick! Works with less water? Tick! Effective at low temperatures? Big tick! 
But that's only half of the story. The manufacture of our natural laundry detergents and vegan fabric softeners' packaging can be just as damaging to the earth as the ingredients within them. 
Faith in Nature – Super Concentrated Laundry Liquid
We love our super-concentrated, liquid and natural laundry detergents. They let us make a collective sigh of relief that we've done a bit, even a little bit, to save the planet. However, Faith in Nature goes one step further in helping us to make good choices. Faith in Nature's Super Concentrated Laundry Liquid comes in a 5L bottle, which is enough for a whopping 150 washes! Use straight out of the bottle or use it to refill (and reuse!) old plastic bottles, saving them from the landfill. 
Ecover – Bio Concentrated Laundry Liquid Refill Bag in a Box
Ecover's Bio Concentrated Laundry Liquid now comes in a humungous 15L box! That's right, a box! This box contains enough laundry liquid for 450 washes, saving the equivalent of 10 of Ecover's regular bottles of Concentrated Laundry Liquid. It's the same concentrated natural laundry detergent that we've come to love, just in a handy, dandy, planet-saving box. 
So, What's the Deal with Vegan Fabric Softeners? 
We hold our hands up and admit that we've often skipped the fabric softener in our washes, and even wondered what the fabric softener was for. But a good quality natural fabric softener will go a long way towards keeping your clothes softer, smelling fresher, and generally maintaining them better. Well worth it to keep your branded investment clothing looking and feeling amazing for longer, right? 
Method – Fabric Softener Ocean Violet Scented
With a name like "Ocean Violet", we probably don't need to say a lot more! This gentle fabric softener slowly releases the aroma of jasmine, violet and cyclamen into your clothing, giving you a waft of irresistibly flowery scent every time you pull your top over your head. As well as great-smelling, Method's Fabric Softener is kind to the environment as it's made from naturally-derived, non-toxic softening agents. This vegan fabric softener helps you to enjoy soft, cosy clothes, free of static and clinginess. 
Ecover – Fabric Softener Gardenia & Vanilla Scented
Ecover delivers again with its natural fabric softener. Ecover's Fabric Softener is gentle on the skin, making it a great product for those of us with sensitive skin. Packed full of biodegradable, natural ingredients, Ecover's vegan Fabric Softener won't harm aquatic life. Your favourite clothes will be left soft and covered with warming notes of vanilla, artistically blended with the delicious floral scents of gardenia. This fabulous Fabric Softener comes in two different-sized bottles - 750ML or 1.5L, so you can decide how often you restock. 
What's the Difference between Natural Fabric Softener and Conditioner?
As you've browsed the supermarket shelves, you've probably come across fabric conditioners. Have you ever stood there wondering what the difference is between a fabric softener and a fabric conditioner? We certainly have! 
Well, it turns out the difference between a natural fabric softener and a natural fabric conditioner is a simple matter of geography! Here in the UK, we tend to refer to this magical liquid that keeps our clothes soft and stops piling and bobbling as a "fabric conditioner". However, across the pond in the US, the same product is referred to as "fabric softener". 
Don't quite believe us? Well, just for good measure, we've added some fabric conditioners to our list of the best vegan fabric softeners! We promise they do exactly the same thing as a fabric softener!
Bio-D – Concentrated Fabric Conditioner
For a natural fabric conditioner so gentle you can even use it on your pets' belongings, you want Bio-D's Concentrated Fabric Conditioner. It's available entirely fragrance-free, or in lavender or juniper scents, and will make your clothes silky soft and static-free. Sound familiar? Yep – just like a vegan fabric softener!
When it all Comes Out in the Wash…
By choosing branded, long-lasting clothing instead of fast fashion, you've already made some great life choices to help look after our planet. Throwing some eco-friendly laundry detergents and vegan fabric softeners are easy switches to go that little bit further in the fight to preserve our world for the next generation! Hopefully, we've convinced you that eco-friendly can still mean fresh, clean clothing that literally doesn't have to cost the earth.