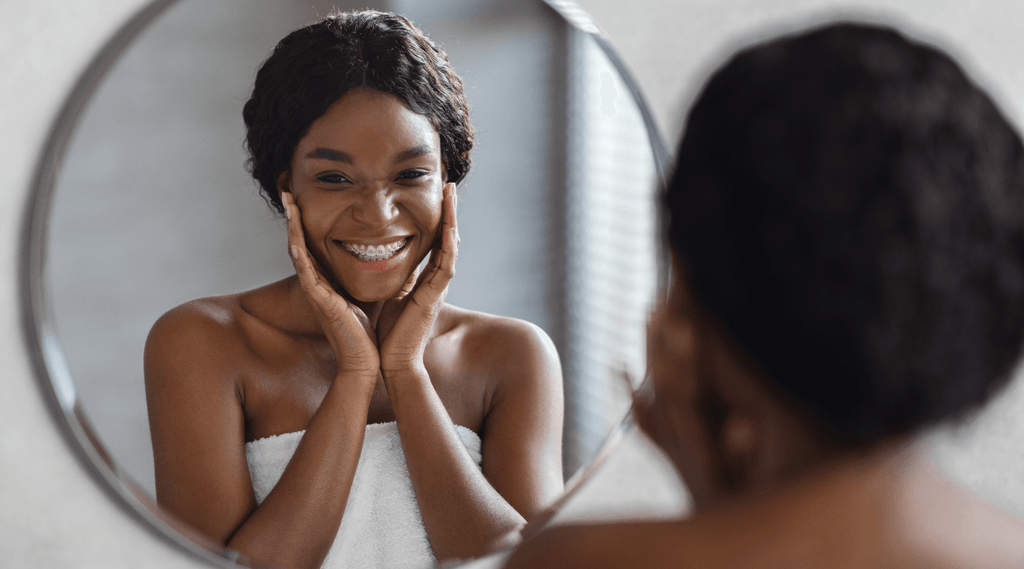 Do you dream of soft, beautiful skin but worry about where your products have come from? We've got your back at PlantX when it comes to all things vegan beauty products, because we know firsthand it can be a nightmare trying to find cruelty-free natural products. 
So, we've put together a list of seven of our favourite products to give you the softest and clearest skin around, even in a world full of stress and pollution. 
Sukin – Rosehip Hydrating Day Cream
This gorgeous hydrating day cream is a powerful vegan beauty product with its blend of Rosehip Oil, Avocado Oil, Kakadu Plum which is rich in Vitamin C and Pomegranate. It's designed to promote soft and clear skin by nurturing dehydrated skin and potentially helping to fight the signs of premature ageing.
Both rosehip oil and pomegranate are a source of antioxidants which can help to protect the skin from damage caused by free radicals. The avocado oil and Kakadu plum is thought to provide further protection by nourishing and hydrating your skin.
It's perfect to use as a day cream to keep your skin feeling fresh and moisturised, or as a lighter night cream if thick ones aren't your thing. For best results, use it immediately after cleansing.
Incognito - Organic Java Citronella Hair & Body Wash
We especially love it when one vegan beauty product can do so many things!
Formulated to ward off insects, this citrusy-smelling hair and body wash will keep your skin soft, clear, and bite-free, so you can enjoy those hot summer days to their full potential. It may also help to keep your scalp soft and clear from dandruff and head lice!
This gorgeous organic hair and body wash is made with organic ingredients, and it's free from parabens and harmful toxins so it's a lovely natural beauty product too. Simply use it just as you would shampoo and shower gel and you'll have that citrus-fresh feeling in no time.
And if that wasn't enough, it's also planet-friendly because it's contained in sugarcane packaging, which is much more sustainable and renewable than traditional plastic packaging.
Fushi - Organic Fresh-Pressed® Flax Seed Oil
Ok, so you might think it's a little odd that we have food on a list of vegan beauty products but you'll see why in just a second!
Flaxseed oil is amazing for your body and your skin because it's rich in omega 3, lignans, and antioxidants which may help keep your skin nourished and moisturised. Studies have shown that flax seeds can promote soft and clear skin by reducing dryness and flakiness. So, what you put in your body is as important for your skin as what you apply externally!
This beautiful and natural beauty product is made from premium organic UK-grown seeds, perfect for drizzling over salads or blending into smoothies.
Sukin - Super Greens Facial Moisturiser
We've all heard it before that it's important to get your greens, and now we know why! This gorgeous natural beauty product contains veggies like kale, spirulina, parsley, and chlorella because it's crafted to promote a soft and clear complexion.
Açaí and goji berry extracts mean that this heavenly vegan beauty product is rich in antioxidants to keep your skin radiant and glowing. This Super Greens Facial Moisturiser also contains rosehip oil, avocado oil and jojoba oil which are believed to promote hydration
To get the best results, apply this moisturiser morning and night after your cleansing routine. 
Aloe Pura - Organic Aloe Vera Face Mask
This Aloe Pura face mask is the vegan beauty product of dreams, designed to soothe and hydrate your skin.
Formulated with organic ingredients like aloe vera juice, green tea leaf, and bamboo leaf extract, this is one of our favourite natural beauty products for calming and rejuvenating our skin after a long stressful day. Aloe vera is a magical ingredient in any skincare product because it has anti-inflammatory properties which may reduce swelling and soreness, as well as speed up the healing process of wounds.
To get lovely soft and clear skin, apply a thin layer and leave for 10 minutes, then rinse it off with lukewarm water.
Natures Aid - Rosewater (Triple Strength)
Vegan beauty products don't get much more natural than this Nature's Aid Rosewater, made from 100% naturally sourced ingredients. Rosewater is exactly what it sounds like, it's made primarily from roses (rose oil) and water just like nature intended.
Rosewater is wonderfully soothing and is thought to have cooling and calming effects on the skin. It's believed to be gentle enough to use on even very sensitive skin, so everyone gets to benefit! You can also use rosewater on cuts and wounds to restore your skin to its soft and clear self because rosewater has antiseptic and antibacterial properties. Alternatively, you can dilute this rosewater and use it as a hydrating cleanser, apply it directly on a cotton pad, or add it to your bathwater.
Westlab - Dead Sea Bath Salt
Bring the wonder and healing power of the dead sea to your bathtub!
Westlab's Dead Sea Bath Salt is a natural beauty product designed to soothe and restore dry, itchy skin with the 20+ minerals it contains. These minerals come entirely from the Dead Sea and may help to restore your skin to the soft, clear, beautiful entity it was meant to be.
The best way to use these bath salts is to pour them generously into a warm bath and then climb in and relax, while the minerals do all of the hard work for you. However, you can also use these salts as an exfoliating scrub while you're in the shower, to give your skin a quick reset before you take on the day.
Frequently Asked Questions
Are there any ingredients in vegan beauty products I should avoid?
There are a number of ingredients that you might find in some vegan beauty products that should be avoided because they may cause harm to your skin. Such ingredients are phthalates like DBP and DEP, which are chemicals that may irritate skin and have potentially been linked to other health issues. It's also important that you use exfoliants with care because over-exfoliating and scrubbing too hard can make your skin dry and irritated. Always use gentle exfoliants and stick to the recommended usage.
Are vegan beauty products and cruelty-free beauty products the same thing?
No! Not all cruelty-free products are free from animal products and not all vegan products are completely cruelty-free. Confused? Read our blog on our US branch for a more extensive investigation into this. However, to be certain that your vegan beauty products are cruelty-free, check for symbols like the leaping bunny or PETA certification because this means none of the ingredients has been tested on animals. It can be tricky doing your own research because often products contain a lot of ingredients that are hard to trace.
And there you have it. Our favourite vegan beauty products for soft and clear skin!
Hopefully, now you feel armed with knowledge about a whole array of vegan beauty products so you can put your best (soft and clear) foot forward. At PlantX we only stock brands you can trust to be sustainable and cruelty-free, so you can shop our natural beauty products safe in the knowledge they're good for you, the animals, and the planet.