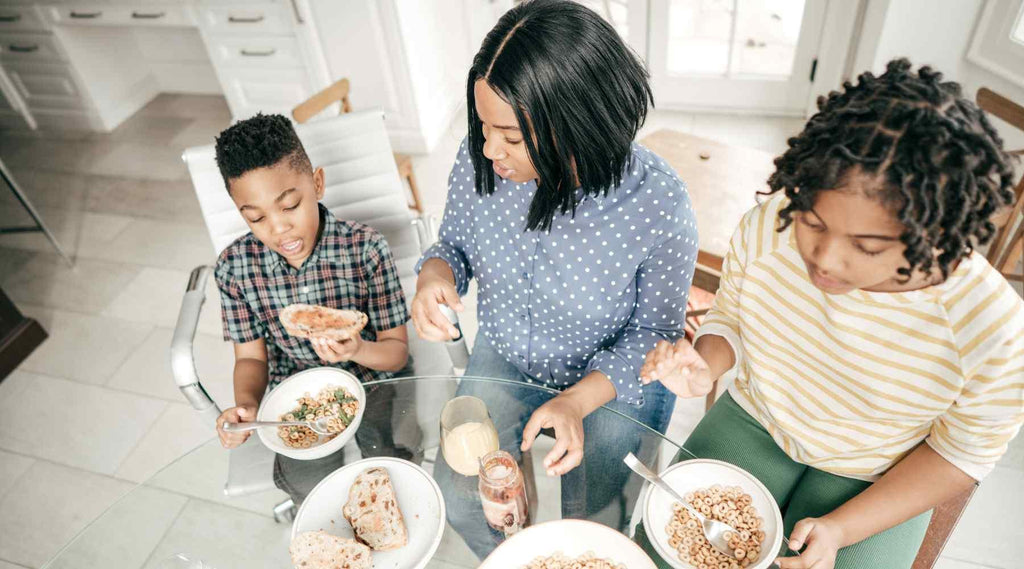 Here at PlantX, we love healthy, hearty breakfasts. We don't necessarily believe it's the most important meal of the day for all, but for kids, it is pretty essential. Kids of all ages are expending so much energy every day, growing at rapid rates. It's important that they start their day off right with a healthy, hearty, nutrient-dense breakfast.
We know everyone has different ideas for vegan breakfast for kids. Some families might be more pressed for time than others in the mornings. So, we have included some more easy vegan breakfast for kids, as well as some that will take longer to prepare.
Oatmeal
One of the most versatile, filling, delicious, and nutritious morning meal ideas. We love making our oatmeal in a pan with these amazing oats. We add equal parts milk to water, banana, some nut butter, and top with fresh berries. The best part is, it's completely customisable!
If you're making multiple portions per morning and need a helping hand, we've got you. This oatmeal pot is so easy to prepare, just add hot liquid, stir, leave it to absorb for a couple of minutes, and you're good to go!
Granola
Granola gets a bad wrap, generally. Most people think it is packed with calories, sugar, and bad ingredients. Though this might be true for many big brands, at PlantX we stock so many amazing, healthy granola options. This dark chocolate macaroon flavour is lower in sugar and higher in protein than other granolas for example!
If you want to avoid giving your kids chocolate-flavoured things every day, we love this blueberry hemp-flavoured granola. It's packed with amazing amino acids from hemp and delicious plant flavour from blueberries!
Smoothie
A smoothie is always a fantastic, easy idea for juice-loving kids! We love having a refreshing, light smoothie to start the day. We add frozen berries, oat milk, a handful of oats, a tablespoon of peanut butter, and a pinch of salt!
Pancakes or Waffles
We need to bring some joy to the table some mornings. On a slower weekend morning, why not whip up some amazing pancakes or waffles for the family? If you have a good recipe then please go ahead with that! We love using this mix. All you need to do is add some warm water and vegan butter to the mix and get to cooking! They're totally customizable so you can do whatever you wish with them.
Vegan Sausage Sandwich
Protein is known to be the most filling of all nutrients. This is why having a high-protein breakfast is amazing for kids going off to school. They won't need to snack or eat junk food as much if they eat this amazing sandwich!
Simply slice two of these amazing plant-based sausages in half, creating 4 halves. Cook them in a pan until a nice crust forms. While this is happening, toast your bread of choice. Add your condiment of choice to the warm bread, add the sausages and send them on their way!
Vegan Juevos Rancheros
Who says that vegan food is boring? Whip up some incredible plant-based eggs using this tofu! Simply crumble the tofu in a pan with some oil or vegan butter, with plenty of salt. Cook until warmed through. Add some black pepper, nutritional yeast, and a dash of turmeric. Cook until you've achieved the most amazing plant-based eggs.
Add these eggs to your favourite wrap with a little salsa and bean mixture. Top with vegan cheese if you like and enjoy!
PB & J
There's not much we need to say about this American classic. We love using this peanut butter for its creamy, rich flavour. This blueberry jelly is a worthy collaborator to make the most amazing breakfast sandwich. Serve with some cold plant-based milk for the best results! 
Vegan Lebanese Wrap
A slightly unusual recipe we know, but hear us out. If you have any leftover veggies in the fridge why not chuck them into an amazing, fresh wrap for a savoury breakfast? Add in your favourite hummus, we love this amazing, slightly spicy option. Add in some fresh veggies such as cucumber and tomato, wrap it up in a pita and enjoy! A squeeze of lemon wouldn't go amiss here either.
Vegan Breakfast Tacos
We love these vegan breakfast tacos with our families on a weekend morning. Start by crumbling up these plant-based burgers. Add some of this fantastic taco seasoning, your vegan cheese of choice, and this fantastic salsa. Toast up your taco wraps and get to eating cause these tacos are sure to be absolutely amazing!
Vegan Smoked Salmon Cream Cheese Bagel
This is another slightly unusual option but we absolutely love these! A Jewish deli staple, and one of our favourites at PlantX. Simply toast up your favourite bagel, and add on plenty of this vegan cream cheese. Top with this fantastic vegan smoked salmon, some pickled onions, and a bit of black pepper and enjoy! If you're a dill enthusiast this would go fantastically well too.
Breakfast Bar
Sometimes you just don't have time to cook your kids breakfast. Don't feel bad though, we've got some incredibly easy vegan breakfasts for kids. This soft-baked breakfast oval are packed with nutrients and flavour that your kids will love!
Yoghurt and Fruit
A healthier, but equally easy breakfast option for your kids comes in the form of a yoghurt bowl. Vegan yoghurt is packed with plant protein and healthy gut bacteria. This cashew nut milk yoghurt is delicious and works so well with any fruit that you might like to add to it.
We hope you've gathered some inspiration for some vegan breakfast ideas for kids. It's great to have a wide-ranging list as we all know that kids change their tastes pretty regularly! Don't feel like you have to labour over an intricate breakfast every morning, find some choices that don't require that much prep!