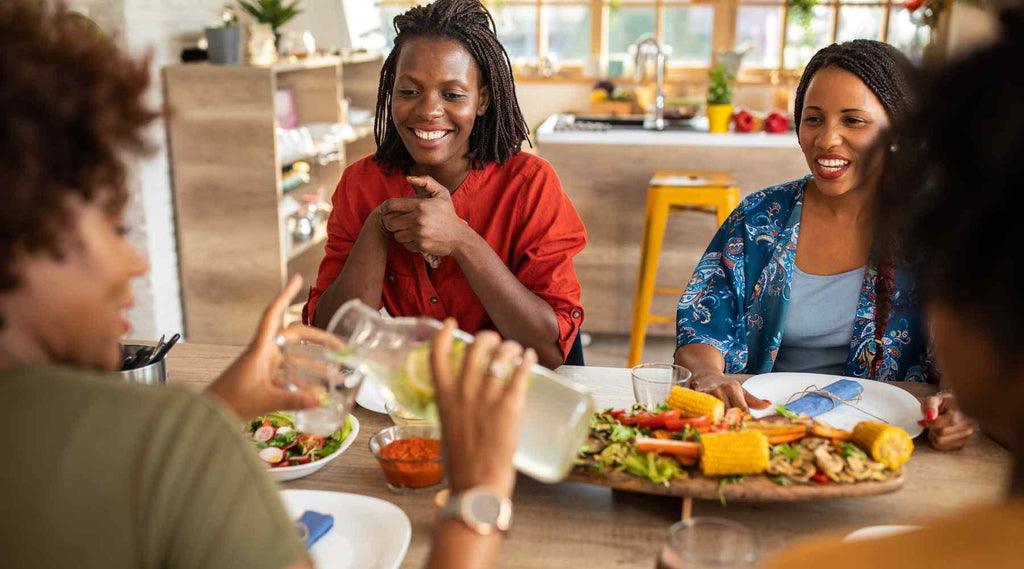 Here at PlantX, we love collecting and creating amazing recipes that you look forward to eating. There's nothing better than when you're having a difficult day at work and you have the most amazing, delicious, happiness-inducing lunch. 
People have differing relationships with breakfast these days. Some still staunchly follow the big breakfast mentality. Others prefer something smaller, others simply skip it altogether. When it comes to lunch, we know people have a variety of preferences as well. Some prefer lighter, some prefer more hearty, it really depends on your situation.
That is why we have compiled this list of a variety of lunches for every occasion, for every diet, the two things they have in common are that they are delicious and vegan. From all over the world, here are our 11 easy vegan lunch ideas.
Butternut Squash Soup
This one is a fall favourite. It is one of the most amazing vegan lunch ideas because of how simple it is. Harness the natural sweetness of butternut squash with an amazing, heart-warming soup. 
We love making this by cubing and roasting some squash and seasoning it with salt, pepper, and nutmeg. Add a few unpeeled garlic cloves to the roasting tray and bake until brown and tender.
Blitz in a blender with some veg stock until you reach the desired consistency. No cream is required but you can add it if you wish! It is one of our favourite, easy vegan lunch recipes.
Vegan Reuben
A little bit less usual but an incredibly delicious and easy vegan lunch is this vegan Reuben. Acquire some rye bread from your local baker and some of this amazing vegan pastrami. Grab some of this amazing sauerkraut and assemble your sandwich! Make some vegan Russian dressing, add some optional vegan cheese and you're good to go! 
Jamaican Chickpea Curry
We all love curry but sometimes find it too filling, especially for our vegan lunch ideas. This Jamaican chickpea curry is packed full of flavour, and nutrients, and won't make you feel sleepy! Simply add some onion and garlic to a pan and saute until fragrant. Add some washed, red lentils. Add some mild curry powder, veg stock, and coconut milk and cook until thickened. Add some fresh lime juice, chickpeas, and whatever amount of chilli you desire and you're good to go! Serve with rice for extra heartiness or alone for one of your more healthy vegan lunch ideas.
Vegan Thai Chicken Salad
This is another favourite of ours, one mainly for the summer but it works well all year round if you're warm enough! It is one of our favourite vegan lunch ideas as you can use up any veg that has been sitting around. The base of the salad is important and that is the dressing. Mix together peanut butter, some of this vegan fish sauce, fresh lime juice, a touch of rice vinegar, a little bit of sugar, some fresh garlic, and some chilli if you desire. Make sure the dressing is nice and incorporated.
Next, all you need to do is assemble a salad! Both fruit and veggies work amazingly well here, as well as some toasted nuts. We are not following a traditional Thai salad here so the rules are less strict.
Veggie Burrito
We love a veggie burrito! They're so easy to transport around and keep you full for a while. Perfect if you're in the gym and need some protein, or you just need to satiate yourself to get through the day.
Simply add rice, some of these amazing refried beans, your favourite veggies, guac, and salsa, alongside whatever vegan cheese you may have, and enjoy! Make sure to seal the burrito by warming it in a pan before you take it on the road with you!
Work From Home Vegan Pizza
Our favourite thing about working from home is the more elaborate lunches you can whip up. One of our favourites to make is pizza. When you have this amazing vegan, gluten-free pizza dough mix it is so easy! 
Simply follow the instructions on the packaging, add your favourite vegan sauce and toppings and you're ready to rock! It's so easy and delicious.
Mushroom Risotto
A really fun, easy vegan lunch is this amazing mushroom risotto. Simply sear whatever mushrooms you have. We love maitake, king oyster, and oyster. Sear on high heat with a good amount of salt and pepper until a crust forms. 
Next, sautee onion and garlic until fragrant. Add the uncooked risotto rice and toast for a couple of minutes. De-glaze with white wine. When it is evaporated, add a cup full of warm stock until the risotto is cooked. Garnish with some chives and mushrooms and enjoy!
Hearty Smoothie
This is one for when the day just gets away from you. Sometimes life can be so packed you forget to eat lunch! This hearty smoothie is so easy to make and keeps you nice and full. We add peanut butter, vegan protein, frozen blueberries, a banana, and oat milk for a creamy, filling, drinkable meal!
Vegan Bagels
One of our new favourite easy vegan lunch ideas is a bagel with some of this amazing vegan cream cheese, some cherry tomatoes, homemade pickled onion, and rocket. It takes seconds to make and is absolutely packed with flavour and crunch! If you want it to be one of the more healthy vegan lunch ideas, opt for bagel thins over bagels!
Chocolate Protein Oats
Oatmeal is absolutely amazing for so many reasons. It is super cheap, and packed with so many nutrients! Simple shake up a protein shakes with water and this vegan protein. Add it to a cold pan with your oats. Add in a banana, and some sweetener, and stir until thickened. Add some fresh fruit on top and enjoy!
Giant Cous Cous Salad
This is a beauty. Simply cook this giant cous cous according to the packaging and set to one side in a bowl. Next, grill up any veggies and add to the cous cous. Toss in olive oil, grated garlic, and a splash of apple cider vinegar. Enjoy!
There you have our favourite, healthy vegan lunch ideas. We hope we've given you a range of options depending on your lunch habits. They are all sure to delight your palate and keep you at the right level of fullness until dinner!