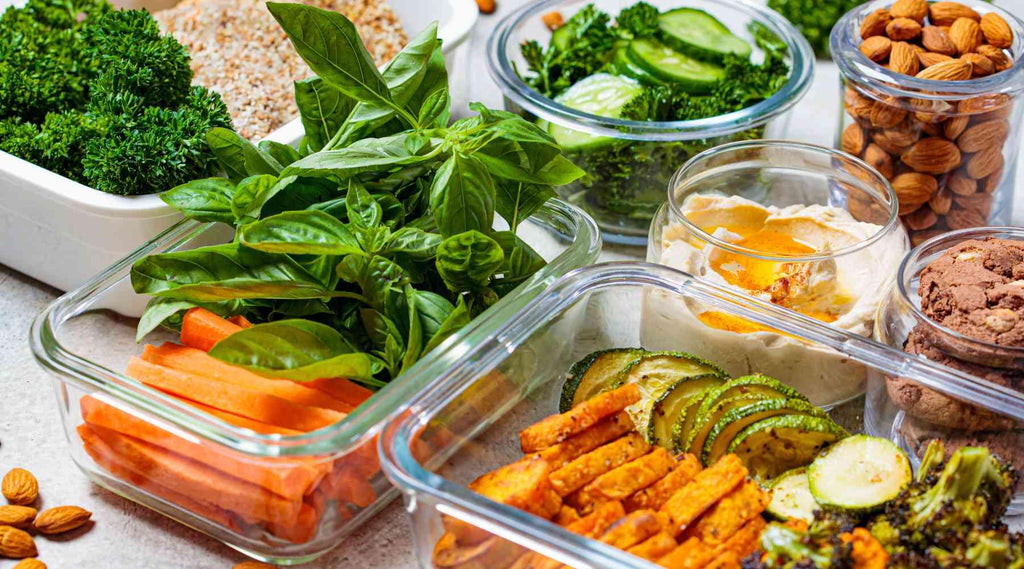 Time is so precious, but so is your health! Here, we're going to run through our list of fave quick vegan meals. We've got some recipes you can make yourself and we've got some that you can simply pop in the microwave. We're going to show you how plant-based is superior!
But why do we think vegan dishes are better? It's all in the ingredients. Even instant, quick and easy vegan meals use better ingredients than their counterparts and usually use far fewer preservatives and artificial ingredients (if not none at all!).
So grab those pots and pans… or the microwave… and let's get cooking!
Recipes for Quick Healthy Vegan Meals
Lentil Salad
Salads are quick healthy vegan meals. This particular recipe is good for 2 servings!
Ingredients
1 14-ounce can of lentils, rinsed and drained
¼ cup chopped red onion
¼ cup chopped red bell pepper
¼ cup chopped green bell pepper
¼ cup chopped carrots
¼ cup chopped cucumber
The juice of 2 limes or lemons
2 tbsp extra virgin olive oil
1 tsp sea salt
½ tsp garlic powder
Black pepper to taste
Directions
Place all the ingredients in a bowl and mix well. That's it! It's a salad after all.
Pesto Pasta
Every family has a pesto pasta recipe that they whip out when they need a hearty meal. This is ours! While it may look complicated, it's anything but - we just took the time to really go through each step.
Ingredients
Pasta of your choice
1 large bunch of basil (around 2-3 cups of leaves but you can adjust quantities to suit)
½ cup toasted pine nuts
1 lemon, juiced
3 garlic cloves, roughly chopped
1 tbsp nutritional yeast
Olive oil
Salt
Black pepper
Directions
Fill a pan with water and cook your pasta as per the instructions on the packet. You might want to add a dash of salt to the water too.
Whilst your pasta is cooking, make your pesto. Put your basil leaves, toasted pine nuts, garlic cloves and lemon juice in a food processor or blender. Add a glug of olive oil. You can adjust the quantity of olive oil depending on the consistency you would like your pesto to have.
Blend until combined and smooth. You can add more olive oil if required and add salt and pepper to taste.
Mix your pesto through the cooked pasta and serve. Garnish with basil leaves and pine nuts.
Plant-Packed Pasta Bolognese
Not a fan of pesto? Try this bolognese recipe instead. This makes three to four servings!
Ingredients
1 package of veggie grounds/ground meat alternative
1 package spaghetti
1 package of nutritional yeast
1 can tomato sauce
Directions
Prepare pasta as per instructions on the box.
Heat a pan with cooking oil of choice, add in ground meat alternative, and cook for 3 minutes. Add in all the tomato sauce and cook for another minute.
Strain pasta once it's cooked and add in sauce mixture to the noodles. Mix well.
Serve immediately and garnish with nutritional yeast
Best Broccoli Salad
You've heard of broccoli salads - well this one's the best! This is still a quick vegan meal, but with a little cooking involved. 
Ingredients
1 whole broccoli, with the florets chopped into 2-centimetre-long pieces, and the stalk into 1-centimetre cubed pieces 
1 red onion, finely chopped
Seeds from half a pomegranate
70 grams of whole almonds 
5 tablespoons of seeds
1 tablespoon of soy sauce
¼ teaspoon smoked paprika
Dressing
3 tablespoons of extra virgin olive oil
1 teaspoon of balsamic vinegar
1 teaspoon of vegan honey or agave syrup
2 teaspoons of Dijon mustard
1 garlic clove, minced
Directions
Chop off the bottom inch of the broccoli stalk, and any woody parts on the sides. Then cut the stalk into 1-centimetre cubes pieces and chop the florets into 2 cm long pieces.
Finely chop the red onion and put it, along with the chopped raw broccoli, into a big salad bowl.
To make the dressing, mince 1 clove of garlic then mix it with the extra virgin olive oil, balsamic vinegar, agave syrup, and Dijon mustard.
Drizzle the dressing over the broccoli and onions and give it a good stir.
Add a little olive oil to a frying pan on low heat. Once the oil has warmed through, add the soy sauce, almonds, and seeds and give it all a good stir until all the seeds are coated. Frequently mix the seeds and almonds so that they get toasted on both sides. 
Once they begin to turn a golden toasted colour, add the smoked paprika.
Mix ⅔ of the toasted almonds and seeds into the salad, and sprinkle the rest on top.
Pop the seeds out of half a pomegranate and sprinkle them on top as a final garnish.
You may like to add a pinch of salt and additional smoked paprika to season.
Spaghetti Aglio e Olio
The last-a of our pasta recipes is this delish Spaghetti Aglio e Olio. 
Ingredients
340 grams spaghetti 
½ cup olive oil
8 garlic cloves 
½ tsp pepper flakes
A handful of chopped parsley
Directions
Peel and finely slice the garlic cloves as thin as you can get them (the thinner the better).
Bring a medium-sized pan of water to the boil and salt well. Add the pasta and cook for the time recommended on the packet.
While the pasta is cooking, fry the chopped garlic in a pan with the olive oil and pepper flakes. Cook on medium heat for 2-3 minutes, or until the garlic begins to golden (but not brown).
When the garlic is cooked, transfer 1 cup of pasta water from the boiling spaghetti to the garlic. Bring to a simmer and then add the cooked spaghetti and the chopped parsley. Toss until the pasta is evenly coated in the sauce. Add more pasta water if the mix is dry. 
Allow to rest for 1-2 minutes and serve!
Quick And Easy Vegan Meals in an Instant
Suma's Organic Mushroom Soup
We think medium spice is nice! Heat up Suma's Organic Mushroom Soup in a pot and you'll have a classic quick vegan meal that's ready in no time.
Biona's Organic Chilli Con Quinoa
Savoury and fantastically tomato-y, Biona's Organic Chilli Con Quinoa comes ready to eat. Transfer into a bowl and heat it up in the microwave or grab a pot to heat it on a stovetop.
Mr Organic's Egg-Free Formaggio Ravioli
Deliciously cheesy but without the dairy, each pack of Mr Organic's Egg-Free Formaggio Ravioli can serve 2. It's so easy to cook and it's made with organically grown ingredients.
Geo Organics' Cheesy Macaroni Vegan Pasta Meal
Everyone knows instant mac and cheese! Geo Organics' Cheesy Macaroni Vegan Pasta Meal, however, is creamy and satisfying… but made with a dairy-free recipe!
Artisan Grains Golden Couscous Ready Meals
Artisan Grains Golden Couscous Ready Meals makes easy and quick vegan meals. It comes in many tasty flavours and, too! You can serve 3 to 4 with every pack.
Free & Easy's Organic Sweet Potato & Chia Seed Soup
Since we think soup is the ultimate quick vegan meal, here's another one for you! Free & Easy's Organic Sweet Potato & Chia Seed Soup is rich, tasty, and everything a good meal should be.
Get Your Quick Vegan Meals Sorted Here!
Whether you're cooking or simply heating, you can get all your essentials here at PlantX! Seriously, you'll have fun shopping around here and seeing what wonderful vegan items are here. The kicker? No need to get up and drive to the store - we'll deliver all of them straight to you!