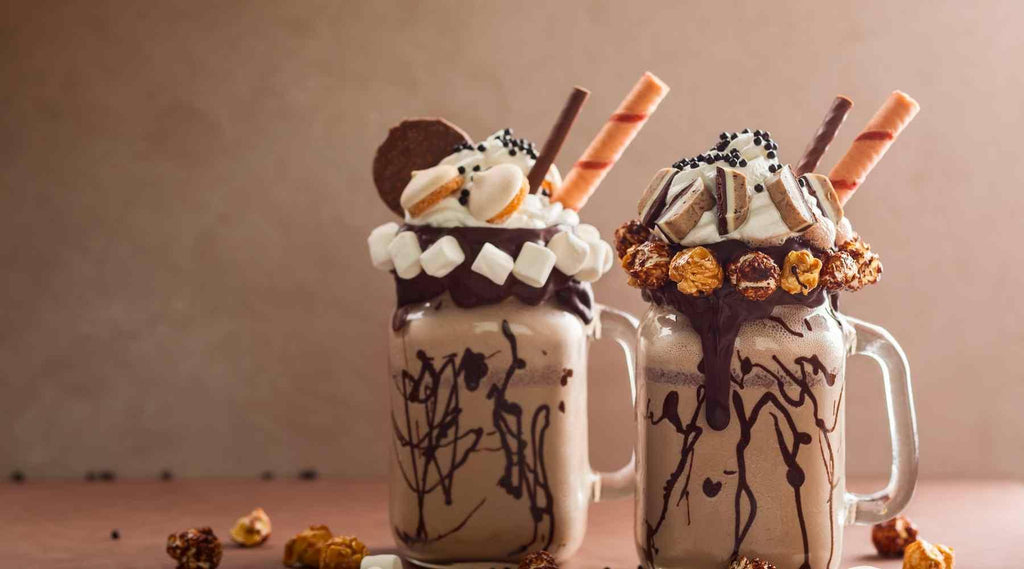 It's hard not to love milkshakes. It's basically like drinkable ice cream. They are so easy to drink the hardest thing about them is not drinking them too fast! Here at PlantX, we much prefer vegan ones. We live in a wonderful time where the plant-based diet is no longer a restriction, and we can eat/drink a plethora of vegan-friendly alternatives to our favourite foods!
We will talk about ice cream a lot in this article, as it is the most crucial ingredient in a milkshake. Ice cream has been one of those things that really didn't live up to the non-vegan version for a long time. We would often be more than happy with sorbet on a hot day, but sorbet just isn't the same, is it?
Luckily, within the last decade, the quality of vegan ice creams has skyrocketed! This is due in part to some big brands putting in the effort to develop vegan flavours. Their ability to reach the masses has made it possible for most supermarkets to have plant-based options. Ben & Jerry's was a big one in our opinion!
Anyway, simply eating ice cream can be a little repetitive. We've got some fantastic milkshake ideas to elevate your dessert time! Here are our favourite vegan milkshake ideas. There are many ways to make a vegan milkshake, we will add our knowledge to different recipes so in the end, you can decide how you want to make your milkshake!
Vanilla
There are many ways to make a fantastic vanilla milkshake vegan, and delicious. Our favourite way is super simple. Simply add vegan vanilla ice cream, sweetened soy milk, a dash of vanilla extract, and a couple of ice cubes to a blender, and enjoy!
This is the most simple recipe we have created. You can play around with the measurements, we like to add a bit more ice cream than milk to give that thick texture, but it's up to you! Add a small dash of cinnamon for some added flavour if you desire.
Chocolate
Heaven in its purest form. Vegan chocolate is not always the greatest, but there are some amazing options out there. For this recipe, we like to either use dairy-free chocolate syrup or melt our favourite vegan chocolate down. This Magic All-In-One vegan chocolate is perfect for this recipe.
Simply melt half of a bar of this chocolate down for the best vegan chocolate milkshake. Add all the ingredients from the vanilla milkshake to your blender, add a tablespoon of cocoa powder, and the melted chocolate, and enjoy! Adding a dash of coffee can also really bring out the chocolate flavour in this drink.
Strawberry
For the strawberry option, we're going to try out a slightly different recipe. We're going to add a cup full of raw cashews that have been soaked in water for 1 hour to a blender. Add in ½ a cup of coconut milk, two tbsp of maple syrup (or sweetener of your choice), a dash of vanilla extract, and a handful of frozen strawberries.
Blend until smooth and delicious. Adjust for sweetness. You're welcome to strain this mixture if you like, but we love the little seeds adding a lovely little crunch with every mouthful. This vegan strawberry milkshake is insanely good.
Salted Caramel
Salted caramel has got to be one of the most widely used dessert flavours in the present day. It has become so popular the world over. Usually, there are a few key non-vegan ingredients in caramel. However, due to global popularity, there are many vegan products that contain a caramel alternative!
This recipe welcomes some caramel vegan ice cream, vanilla extract, almond milk, and a generous pinch of sea salt to a blender. Blend until smooth. Top with some amazing vegan whipped cream from this coconut whipping cream!
Caramel Brownie
We want to take the caramel milkshake to the next level! Simply follow the salted caramel recipe above, adding the whipped cream is pretty essential for this! Chop up a few of these vegan brownie bites and add them on top. Drizzle a little chocolate syrup and marvel at your creation.
You can, if you want to be truly wholesome, make your own brownies from scratch for some extra decadence. This brownie mix from Miss Jones Baking Co is an incredibly fudgy, satisfying option.
Biscoff
Something giving salted caramel a run for its money at the moment in terms of popularity is Biscoff. You can find Biscoff everywhere these days! Biscoff is a truly addictive, sweet, satisfying, rich cookie spread that coats your mouth and satisfies your sweet tooth all at once.
Did you know that Biscoff is actually vegan? We were just as surprised as you! To make this delicious milkshake add some coconut ice cream to a blender, along with a few heaving spoons of Biscoff, a dash of vanilla extract, and some of this luscious oat milk, and blend. Add some whipped cream and to top it off, crumble some of these biscoff cookies as a garnish. This has got to be up there with the best vegan milkshakes.
Banana Split
Not only is this recipe delicious, but it is much healthier than the others! You can enjoy this shake on a diet, or simply include it in your daily meal rotation! First, you'll want to freeze some ripe bananas, make sure to peel them first! Our recipe is three frozen bananas, added to a blender, alongside 1 and ½ cups of your favourite vegan milk. Add a teaspoon of vanilla, and blend! Top with some vegan whipped cream and grated dark chocolate for this wonderful take on a classic!
Tiramisu
This is one of our favourites! Follow our vanilla milkshake recipe, adding two tablespoons of coffee to the blender! Top this milkshake with some cocoa powder and biscuits for a delicious take on another classic dessert!
Peanut Butter Chocolate
This one will rock your world, and fill you up for sure. Simply follow our chocolate recipe, add two tablespoons of peanut butter, and enjoy! Make sure to use some quality peanut butter, we love this one from Essentials! The only ingredients in this are peanuts and salt! Garnish with some whipped cream and these vegan peanut butter cups for some extra deliciousness. 
Oreo Milkshake
If you didn't know that Oreos are vegan, you're welcome. Simply make the vanilla milkshake recipe. Add in several Oreos after it is blended and pulse until you gain your desired consistency. Enjoy!
We hope you've got some new ideas for your vegan milkshakes! We have some vegan chocolate milkshake options, a vegan strawberry milkshake option, and many, many more. We're sure that there will be something for everyone on this list!