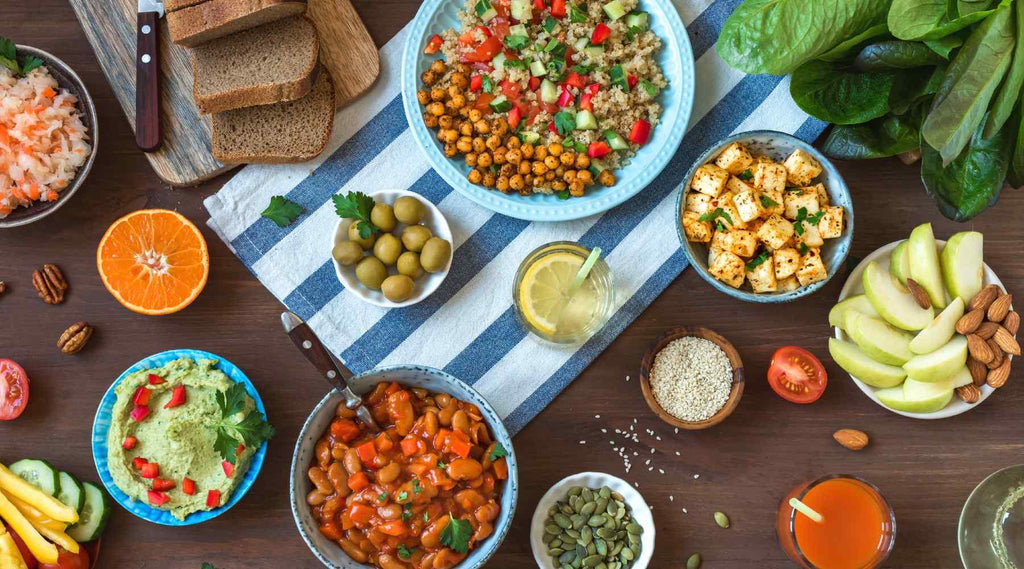 At PlantX, we are always thinking about ways we can make eating delicious food easier. Cooking can be a lot to juggle with work, social life, family, self-care, and all the other things we do on a daily basis. One thing that makes it even harder is trying to eat healthily. There are only so many salads we can cope with!
However, fear not. We've got some easy vegan dinner ideas. Not only are these really easy, but they are also healthy vegan dinner ideas. These will be useful for anyone following any kind of diet for any type of health goal. We hope you enjoy it, we've included some of the best vegan dinner recipes that we know!
Butternut squash Cous Cous Bowl
Cous Cous and butternut squash are both packed with nutrients, are super delicious, and are easy as anything to make. We love cutting up the squash and putting it in the oven for around 30 minutes to get a nice, soft, lightly charred colour on it. We really recommend adding a few unpeeled garlic cloves to the tray for some added garlic goodness.
When making your cous cous, don't boil it! Please follow the instructions on the packet. Add a little drizzle of olive oil, plenty of seasoning, and spices to the bowl while it soaks up the water for added flavour!
Korean Beef Lettuce Wraps
We love some high-protein, low-carb ways to end our days. This Korean BBQ-flavored vegan beef mince is perfect for this! Simply separate the leaves from a lettuce head, heat the mince in a pan, and serve! Add in your favourite pickled vegetables, Kimchi, or whatever else you like on this fresh, deeply flavorful dish.
Thai Salad
If you're in a warmer place, you might want a lighter dinner. We love compiling a super flavorful, not-at-all-bland Thai Salad for these occasions. Simply shred any desired veg, lettuce, protein, and whatever else you might like to eat. Create a dressing of fish sauce, a bit of soy sauce, sesame oil, a neutral oil, lime, and an optional dash of sugar. Shake well and toss into this delicious, bright, divine salad.
For some bonus protein, nutrition, and texture, add in some toasted peanuts of cashews to really make this dish pop!
Dinner Hash
If you're on a diet, you sometimes have to be smart with your eating. Potatoes are actually one of the most satiating foods. They keep you fuller for longer. That's why we love having them for dinner so we're not tempted to snack later on in the evening.
Simply cut a potato and boil it in salted water until almost soft. In the meantime, saute any and all veggies you want/need to use up. Add the potatoes to the pan with some mustard (calorie-free flavour!), plenty of seasonings, and some vegan cheese if you like. It's healthy, easy, cheap, and delicious.
Vegan Chicken Quinoa Bowl
A pretty classic vegan dish is the quinoa salad. Quinoa is one of the only grains that is a complete protein. A complete protein is sometimes that contains all the essential amino acids we need as humans. This is a healthy vegan dinner that is not only macro-friendly but healthy for our entire body.
Simply fry off some of this chicken. While that is frying cook your quinoa. Toss the quinoa in salt, pepper, a bit of oil, and whatever other veggies you want. Add the chicken on top for a wonderful, high-protein dinner!
Sweet Potato Tray Bake
One of our easy vegan dinner ideas is this amazing tray bake. Toss some cut sweet potato in smoked paprika, a little bit of cumin, and garlic granules. Cut some onion, zucchini, and eggplant. Toss them in a little bit of olive oil and place them in your oven. Bake at 375 until nice and cooked, and lightly charred. Add it all to a bowl and enjoy!
Easy Pesto Pasta
Pasta isn't as evil as people think. It is delicious, filling, and gives us so much necessary energy we need as busy people. We love making it healthier by adding our basil to a blender alongside a handful of spinach. Add in some raw cashews, a little olive oil, and some of the water that is boiling the pasta. This makes it less oily and fatty. When it is all blended add some nutritional yeast for that cheesy flavour we love!
Vegan Ramen
One of our best vegan dinner recipes is this vegan ramen. It's so easy to make! Simply add tahini, white/blonde miso paste, sesame oil, ginger, garlic, and chilli to a blender. Blend until a paste is made. Add the paste to a bowl and mix in some hot veg stock. Add in some noodles and your toppings of choice for a healthy vegan dinner you'll love!
Cold Peanut Noodle Salad
Noodle dishes can be made to be quite low cal, and healthy. Simply cook some noodles until done before placing them in a bowl of ice water to stop the cooking. Make a dressing of peanut butter, lime, sesame oil, and a dash of fish sauce. Toss the noodles for a hearty, filling dinner that will keep you going.
Low-Calorie Mac n Cheese
One of the things we love to do is diet hacks. We love making lower-calorie versions of our favourite dishes! Simply boil a portion of macaroni. At the same time, create a roux from some vegan butter and flour. Slowly add in some almond milk until you have a thick bechamel. Add in some nutritional yeast until your desired cheesiness is achieved! Add a teaspoon of dijon mustard and paprika for some depth of flavour, and add the macaroni to the party. It's one of our favourite healthy vegan dinner ideas.
Vegan Eggs on Toasts
We love a good tofu scramble, don't you? Get some of this tofu and crumble it into a pan. Add plenty of salt and cook until the water has evaporated. Add in a knob of vegan butter, turmeric, and nutritional yeast. Stir until combined. Add it on top of your favourite bread or in a wrap. Who doesn't love breakfast for dinner?
Here you have some of our favourite healthy vegan dinner ideas. We know you'll love them. When making any of these dishes, don't forget to have a look through our website for easy, simple, affordable vegan goodies!