Buy Ingredients
Ingredients
Directions
Top Tips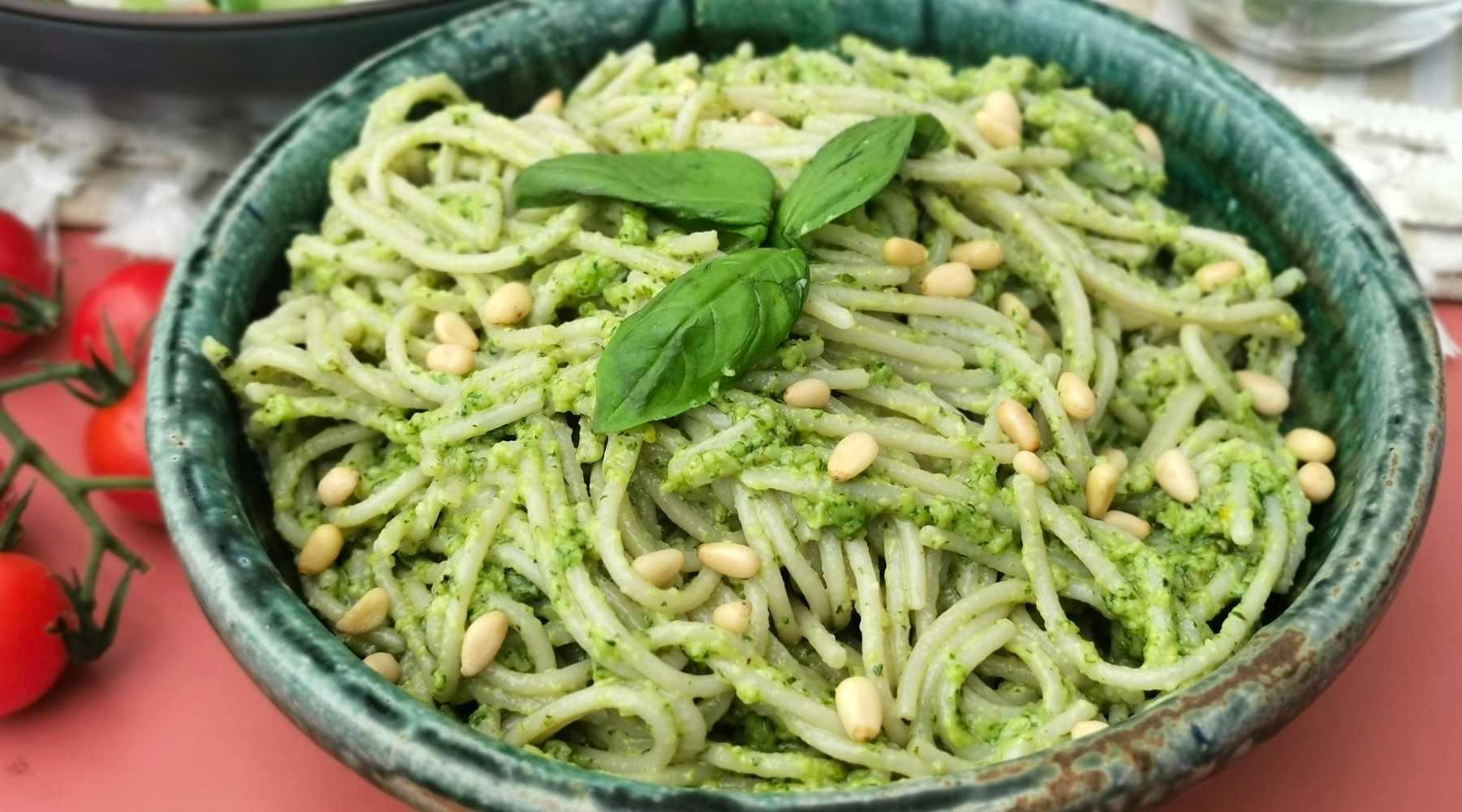 Opening
Pesto pasta is a dish I seriously got into during my student years. It's quick and easy, and you can eat it alone or throw in whatever veggies you have lying around at home. I probably ate it a little too often as a student, if I'm honest! But now that I'm all grown up, I've learnt that a good diet is all about balance! I make this pesto pasta recipe around once a week. Classic pesto pasta has parmesan cheese in it, but I've developed the perfect vegan pesto pasta recipe that doesn't compromise on taste.
Introduction
Yes, I know you can buy readymade pesto and save yourself the hassle but honestly, making your own only takes a few minutes! It really pays to make it fresh, and it's good enough to serve to guests. I always have a few jars of pesto in the cupboard for when I'm caught without fresh basil to hand and can't be bothered going to the shop. But, when I remember to pick up the ingredients (there aren't many), I love to make it from scratch.
Basil has a sweet and savoury taste with peppery undertones and a hint of anise. It's a staple in Italian cooking and makes an excellent addition to pizzas and pasta sauces. But the ultimate use of basil is without a doubt pesto. Read on to learn how to make pesto pasta!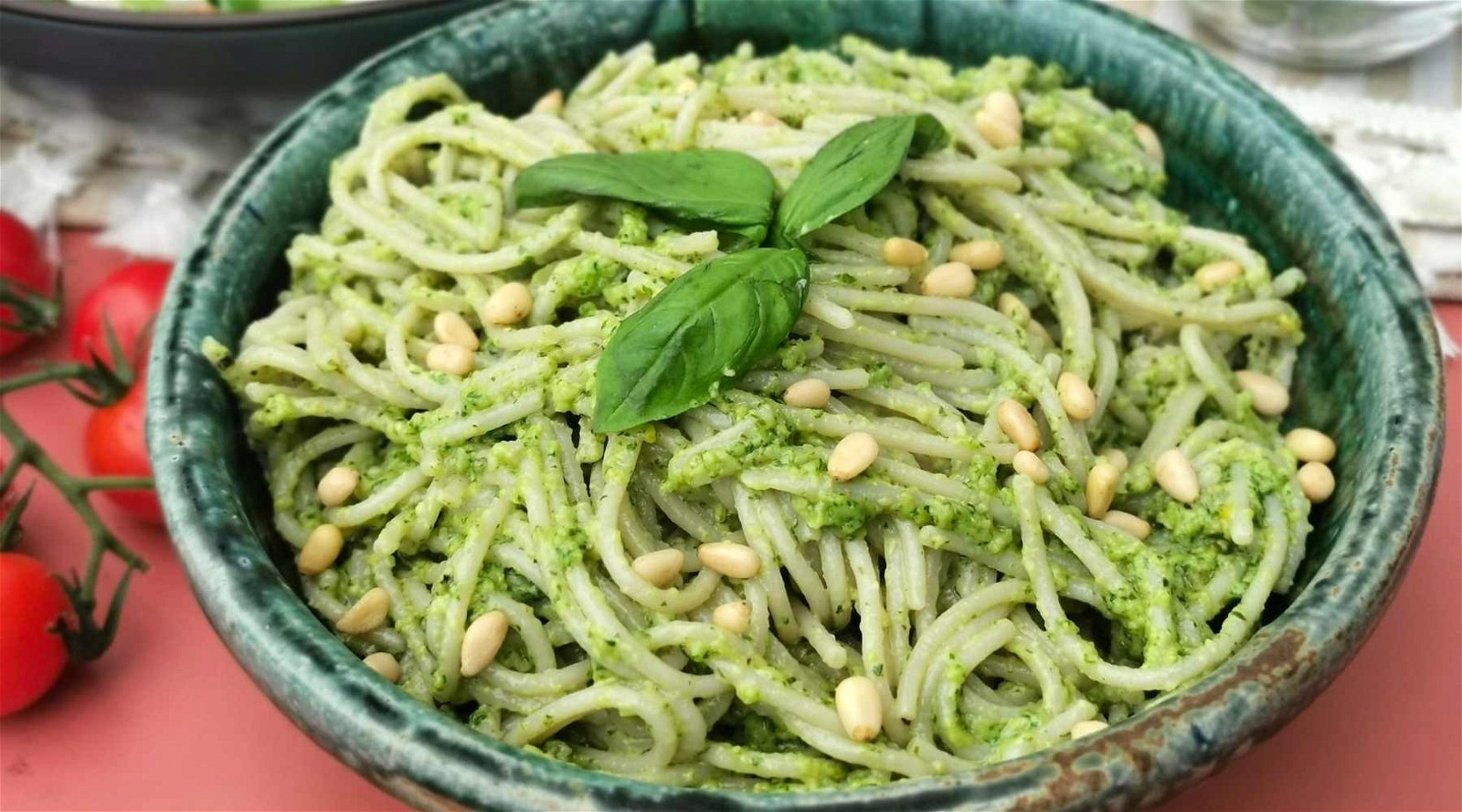 Pesto Pasta
Here's what you need:
Main Ingredients
1 large bunch of basil (around 2-3 cups of leaves but you can adjust quantities to suit)
½ cup toasted pine nuts
1 lemon, juiced
3 garlic cloves, roughly chopped
Black pepper
Pasta of your choice. I used this delicious brown rice pasta.
1 tbsp nutritional yeast
Olive oil
Salt
Directions
Fill a pan with water and bring to a boil. Add your pasta and reduce the heat to a simmer. Cook as per the instructions on the packet. This usually takes around 10 minutes. You might want to add a dash of salt to the water too.
Whilst your pasta is cooking, make your pesto. Put your basil leaves, toasted pine nuts, garlic cloves and lemon juice in a food processor or blender. Add a glug of olive oil. You can adjust the quantity of olive oil depending on the consistency you would like your pesto to have.
Blend until combined and it resembles a smooth paste. Now you can add more olive oil if required. Add salt and pepper to taste.
Mix your pesto through the cooked pasta and voilà - it's ready to serve! I kept it simple and served mine with a garnish of basil leaves and pine nuts, but there are loads of ways you can customize this basic pesto pasta recipe.
Top Tips
When it comes to cooking, I don't like to impose too many hard and fast rules. I think everyone should be free to use their creative mind, or whatever they have in the kitchen at a particular time! Here are a few fun ideas for variations you can make on this pesto pasta recipe:

Whilst pine nuts are essential in an authentically Italian pesto, you can substitute them for other nuts if you have none to hand. Try using walnuts, almonds, or cashews instead.

Basil is another essential in a classic pesto but sometimes it's good to break the rules. Try half pesto, half spinach, or substitute the lot for kale, broccoli, wild garlic, or peas. You could try a Pesto Rosso by swapping basil for sundried tomatoes.

Whilst not remotely traditional, adding some roasted onion will bring a bit of sweetness and help achieve a creamy, smooth texture.

The Best Pasta for Pesto

Well, this is a bit of a trick question! In actual fact, this vegan pesto recipe goes well with literally any type of pasta. Saying that some people do like to recommend specific pasta shapes to go with pesto.

Whilst I'm adamant that ANY pasta works amazingly, it is often recommended to use thinner pasta such as spaghetti or linguine. Pesto also works well with pasta that has a lot of twisting and intricate crevices! For example, fusilli or farfalle.

Variations

Make sure there's enough olive oil for the ingredients to blend into a smooth paste. If you don't want to add more oil, add a little water, or some more lemon juice.

If toasting your pine nuts yourself, make sure you don't burn them! Heat a frying pan and toast for 4-5 minutes, stirring regularly. Keep an eye on it at all times as pine nuts can burn very quickly. You want them to turn a nice golden brown colour.

Don't add the pesto to the hot cooking pot with your pasta. Transfer to a bowl and mix the two there. The heat from the cooked pasta is enough to warm the pesto.

OK, so we've already established that pesto pasta is great hot or cold. But what else can you do with it? Yep, pesto isn't just for pasta. Here are a few ideas for delicious meals flavoured with pesto:

Drizzle pesto over a freshly baked vegan pizza

Spread some pesto into a sandwich. I love it on a crusty baguette with vegan deli meat slices, vegan cheese, and slices of fresh tomato.

Stir some vegan pesto into a hearty vegetable soup such as minestrone.

Use vegan pesto as a simple dip for dunking breadsticks, crackers, or fresh veggie batons.
To Wrap It All Up...
I hope you've enjoyed learning how to make pesto pasta with me! As you now know, it's one of the quickest pasta sauces you could possibly make. The amazingly bright green colour never fails to cheer me up. The taste? Well, it will transport you all the way to the streets of Rome!
If you're cooking for many heads, this is a convenient crowd-pleaser. I think I've only met one person in my life who told me they didn't like pesto! It's one of my favourite weeknight dinners (Wednesdays are usually pesto night!) and I love pairing it with a crisp green salad and some crusty garlic bread.
This vegan pesto recipe is every bit as good, if not better, than any pesto I tried before I went vegan. In fact, it's incredibly difficult to detect any difference. Nutritional yeast is a miracle worker!
Now you know how to make pesto pasta the PlantX way, I'm going to be quiet so you can go make a jar!
Frequently Asked Questions
Your vegan pesto pasta can be stored in an airtight container in the fridge for up to 4 days. If you have excess pesto you can also store this in an airtight container in the fridge for up to 1 week. Pesto also freezes well. Freeze in small plastic containers for up to 12 months.
Absolutely! This vegan pesto pasta recipe is just as delicious hot or cold. Sometimes I use it for a pasta salad that I can meal prep on a Sunday and take to work for lunch during the week. If eating it cold as a salad, I like to add fresh cherry tomatoes and a handful of fresh baby spinach.
You do not need to heat pesto. You can simply stir the cold pesto into your cooked pasta and the heat from the pasta will warm it. You can even stir it into cold pasta if you're going to be eating it cold. You should avoid heating pesto as it is likely to destroy the fresh flavour.
If you love this recipe…
Try pairing it with one of these other easy vegan dinner recipes!
Share This Recipe
Did you make this recipe? We want to see!
Tag @plantx.uk on Instagram.
Buy products in the recipe
Please choose options for all selected products:
Recipes You Also May Like