Buy Ingredients
Ingredients
Directions
Top Tips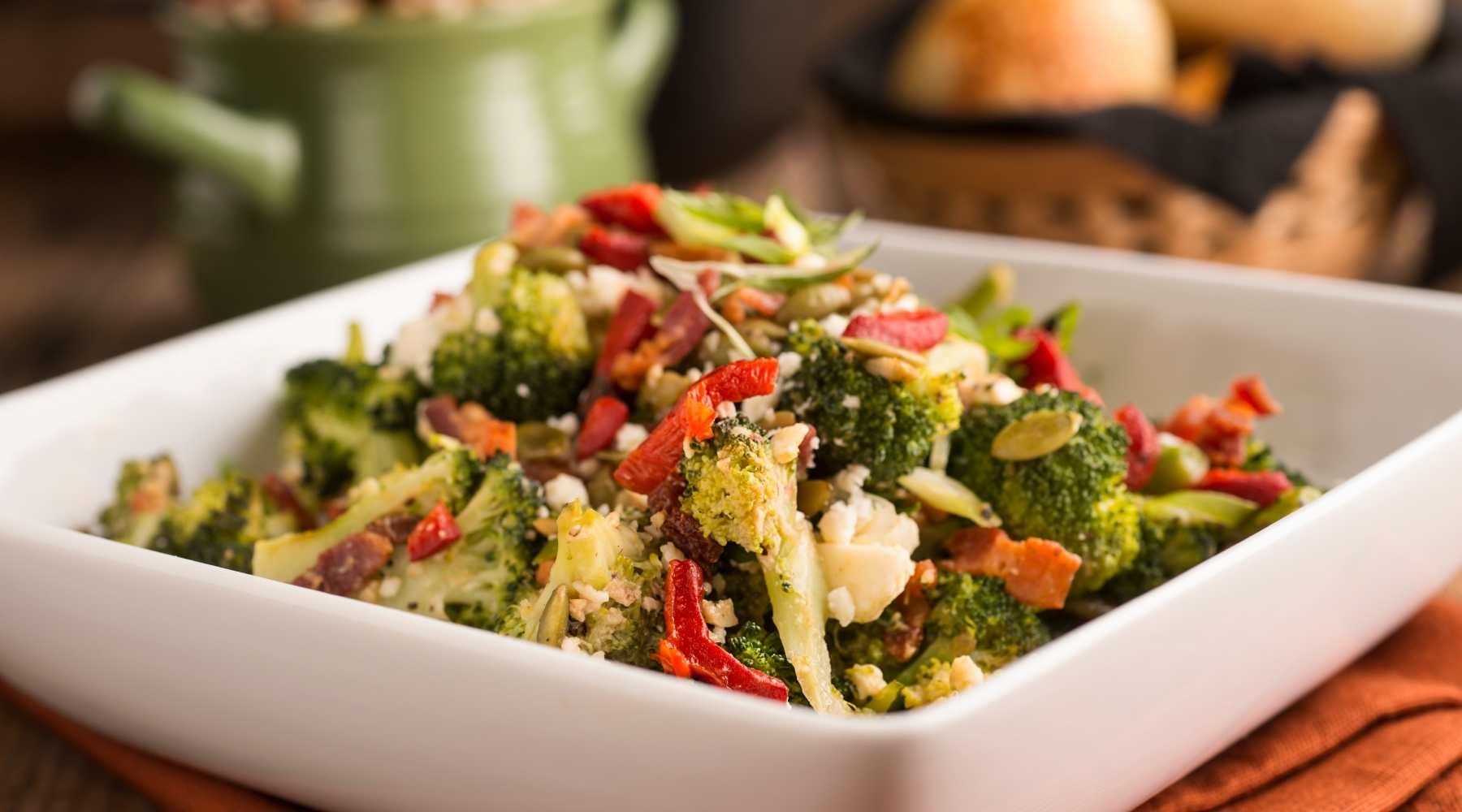 This deliciously crunchy and fresh vegan broccoli salad is packed with vitamins and protein. Don't be fooled by its flavoursome dressing and a stunning garnish of jewel-like pomegranate seeds, this recipe for broccoli salad is surprisingly quick and simple to make!
Introduction
If you are looking for ways to turn consuming raw green veg into a mouth-wateringly healthy meal, this is the recipe for you!
Salads and coleslaws are great but they can easily become boring if you have them too often (as I did in the summer). Broccoli salad is a great way to up your salad game and to make sure you are getting a range of veg in your diet.
This salad has become one of my go-to recipes for when I'm feeling in need of a vitamin boost, but also want to make something tasty and filling.
This salad is a variation of a traditional midwestern broccoli salad and has a tangy, sweet dressing with a spicy kick from Dijon mustard. Topped with smoky toasted seeds and nuts, and jewel-like pomegranate pips, it is full of crunch, flavour, and texture. 
Although many broccoli salad recipes use dried cranberries, I have instead used pomegranate seeds. They have a similarly sharp but sweet taste, but are much more fresh and juicy and make an impressive garnish on the salad.
This recipe is particularly great for taking to share at picnics in the summer. Unlike leafy salads, it will not go limp in the heat and will stay just as crunchy and fresh.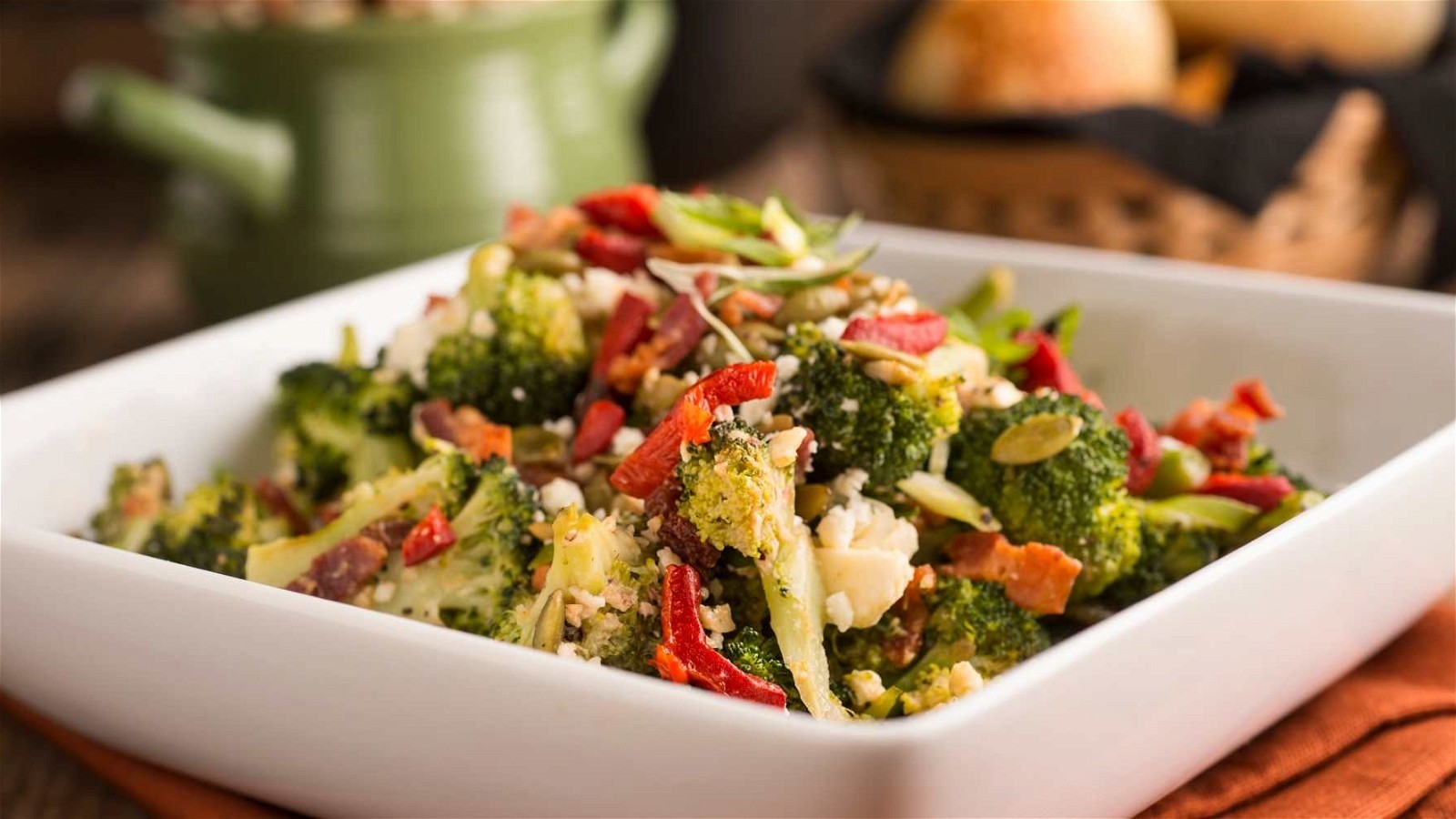 Best Broccoli Salad
Prep Time:

15 minutes

Servings:

4-6
Here's what you need:
Main Ingredients
1 whole broccoli, with the florets chopped into 2 centimetre-long pieces, and the stalk into 1 centimetre cubed pieces
1 red onion, finely chopped
Seeds from half a pomegranate
¼ teaspoon smoked paprika
1 garlic clove, minced
70 grams of whole almonds
5 tablespoons of seeds (I used a mix of pumpkin, sunflower, and hemp seeds but you can choose your favourite!)
1 tablespoon of soy sauce (or you can use tamari sauce to make it gluten-free)
3 tablespoons of extra virgin olive oil
1 teaspoon of balsamic vinegar
1 teaspoon of vegan honey or agave syrup
2 teaspoons of Dijon mustard
Directions
Chop off the bottom inch of the broccoli stalk, and any woody parts on the sides. Then cut the stalk into 1-centimetre cubes pieces and chop the florets into 2 cm long pieces.
Finely chop the red onion and put it, along with the chopped raw broccoli, into a big salad bowl.
To make the dressing, mince 1 clove of garlic then mix it with the extra virgin olive oil, balsamic vinegar, agave syrup, and Dijon mustard.
Drizzle the dressing over the broccoli and onions and give it a good stir.
Add a little olive oil to a frying pan on a low heat. Once the oil has warmed through, add the soy sauce, almonds, and the seeds and give it all a good stir until all the seeds are coated. Frequently mix the seeds and almonds so that they get toasted on both sides.
Once they begin to turn a golden toasted colour, add the smoked paprika.
Mix ⅔ of the toasted almonds and seeds into the salad, and sprinkle the rest on top.
Pop the seeds out of half a pomegranate and sprinkle them on top as a final garnish.
You may like to add a pinch of salt and additional smoked paprika to season.
Top Tips
The beautiful thing about salads is that they are easy to experiment with, so feel free to try changing different details of this salad to work out your favourite variation.

If you are not able to get hold of fresh pomegranates, you can use dried cranberries, which have a similarly tart but sweet taste.

It is super easy to make this recipe gluten-free - simply replace the soy sauce with gluten-free tamari!

To add a little extra sweetness, colour and volume to this salad, you may like to add 1 (or 2 small) grated carrots.

Variations

Be careful not to burn the almonds and seeds while toasting them. I warn you, from personal experience, this is not as easy as it may sound! Being smaller, the seeds will toast faster than the almonds. I recommend starting with just the almonds in the pan and when they begin to turn a toasted brown colour, add the seeds. It will also help if you stir frequently.

To avoid burning the smoked paprika, wait until the almonds and seeds are almost toasted before adding it. It already has a smokey flavour so does not need to be toasted itself!

Taking the seeds out of a pomegranate is not an easy task. To make it easier, before cutting the pomegranate, press down on it with your hand and roll it along the worktop. You will feel the seeds popping away from the inside as you roll it.

Wrapping Up

This is a tasty and fresh raw recipe for broccoli salad that is easy to pre-make. Its fresh summery crunch makes a deliciously welcome addition to a summer BBQ, or why not make a big bowl of it at the start of the week to prepare yourself with several healthy lunches?

With its garnish of ruby red pomegranates standing out against the fresh green of the broccoli, this salad looks stunning and is great for special occasions. As a vegan and easily gluten-free (if using tamari instead of soy sauce) recipe, this healthy broccoli salad is a great thing to bring to a pot luck dinner to be enjoyed by all!

Also, unlike most fresh green salads, because this salad is made for broccoli rather than salad leaves, this vegan broccoli salad will not go limp in the heat. This is therefore the ideal salad to bring along to picnics on sunny summer afternoons.
Frequently Asked Questions
Broccoli can be eaten either cooked or raw and is packed with nutrients either way. However, the nutrients available will differ slightly depending on how it is prepared. Raw broccoli often contains more vitamin C and sulforaphane, while cooked broccoli can have higher levels of antioxidants.
Removing the seeds from a pomegranate is never an easy process, but this technique can make it easier! Cut the top and bottom off your pomegranate and chop it into quarters. Then submerge the quarters in a big bowl of water, turn the skin inside out and remove the seeds with your fingers. The water will stop the seeds from flying all over the place and will naturally separate the seeds from the peel as the peel floats while the seeds sink. When you are done, skim the white peel from the top of the water, and drain the seeds.
This tasty salad is perfect as a refreshing side dish, accompanying seasoned roasted squash and spicy falafels. It also makes a great accompaniment to vegan hotdogs and burgers at a BBQ, adding some freshness and extra vitamins to the meal. For a picnic, it is a great accompaniment to fresh bread with vegan cheese and sun-dried tomatoes. With its balance of vitamins, fibre, and protein, this salad is also strong enough to stand alone and makes a convenient healthy lunch!
If you love this recipe…
Share this Broccoli Salad Recipe
Did you make the recipe? We want to see!
Tag @plantx.uk on Instagram.
Buy products in the recipe
Please choose options for all selected products:
Recipes You Also May Like