Buy Ingredients
Ingredients
Directions
Top Tips
Roasted Butternut Squash Soup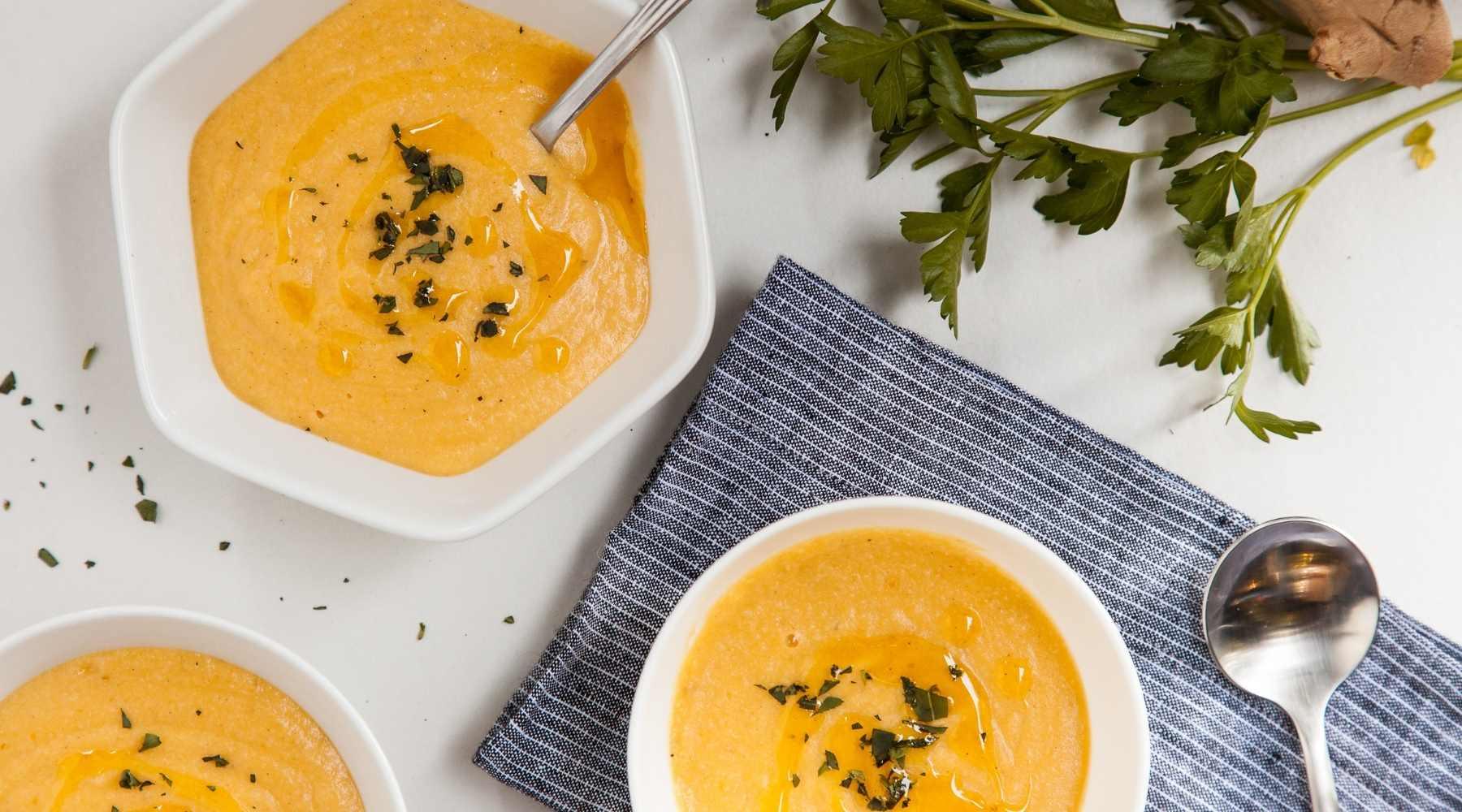 Are you looking for your go-to soup recipe for a delicious hit of healthy veg? Look no further. Learning how to make this Roasted Butternut Squash Soup recipe will change your life (like it did mine).
For me, there is no better lunch than soup. It ticks all the boxes of practical, healthy and delicious, and I love whipping up a batch that I can take to work or eat at home for the rest of the week. And this vegan Roasted Butternut Squash Recipe is an absolute staple I honestly could not live without.
This soup showcases yummy squash flavours at their finest. Sweet and nutty in all the right ways, this soup feels like a warming hug on a cold day. With the added vibrancy of aromatic spices and creamy coconut milk, this soup is light, flavoursome and perfect for any occasion. Trust me - I'm the envy of the office when I bring this one in.
My favourite thing about this vegan recipe? How easy it is to make. Ready in under an hour, the hardest part of this recipe is peeling the butternut squash, which is actually a great job to do sitting in front of the TV. Aside from that, this recipe practically cooks itself - I'm just here to reap the yummy rewards.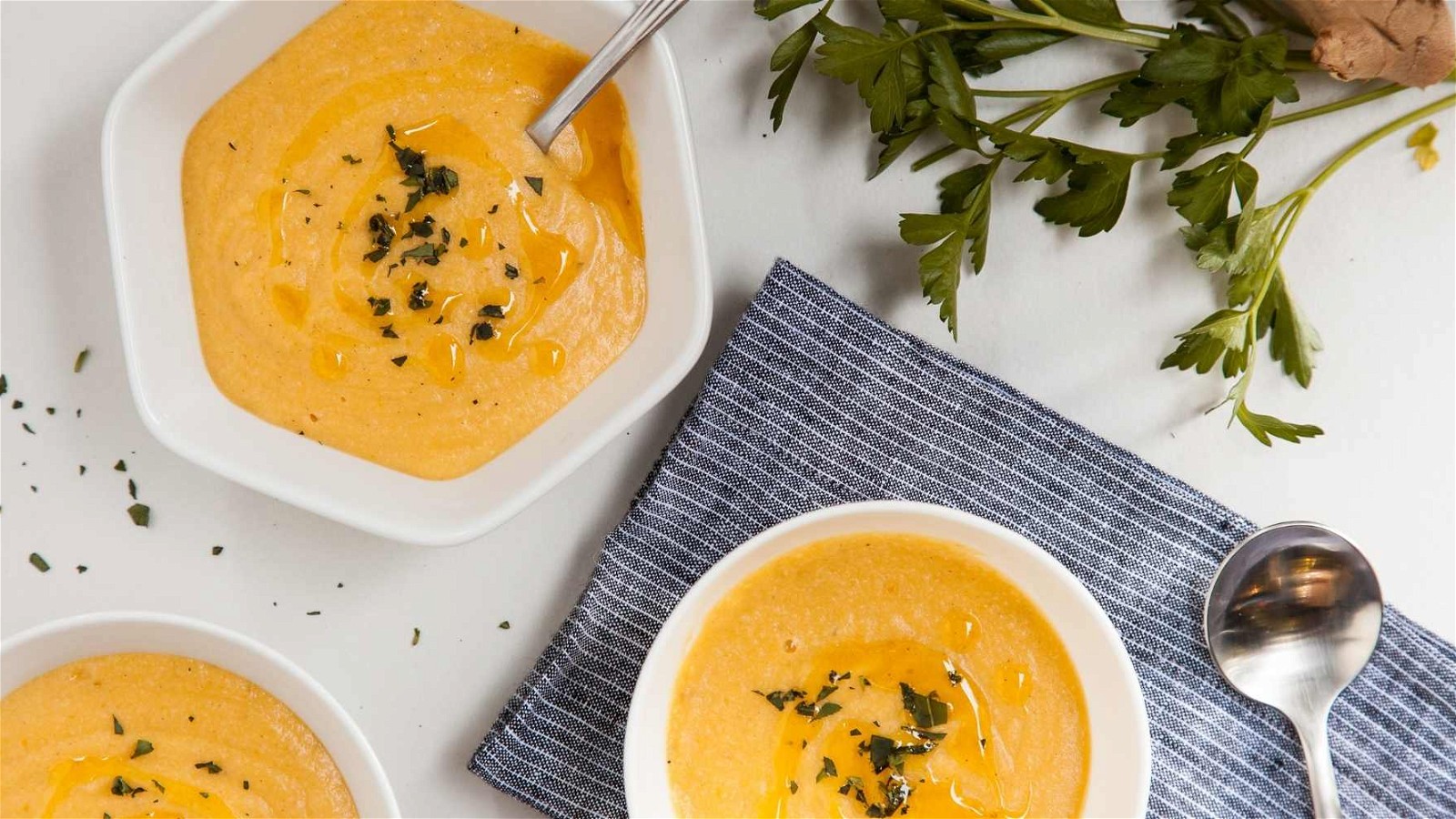 Roasted Butternut Squash Soup
Prep Time:

15 minutes

Servings:

6
Here's what you need:
Main Ingredients
1 whole butternut squash, peeled and cut into small cubes
3 red peppers, roughly chopped
1 medium-sized white/yellow onion, roughly chopped
5 garlic cloves, peeled and left whole or slightly crushed
¼ tsp sea salt
¼ tsp black pepper
¼ tsp ground cinnamon
1 tsp grated fresh ginger
1 pinch of ground nutmeg (optional)
2 tsp of olive oil (or any equivalent neutral oil)
2 tsp of maple syrup
400ml vegetable stock (made with Vecon's Concentrated Vegetable Stock for example)
1 tin of coconut milk
Directions
Directions

Preheat the oven to 200C (or 180C for a fan oven/ gas mark 6 for gas oven). Line a large baking tray (or two smaller baking trays) with baking parchment.
Add your cubed butternut squash, chopped peppers, chopped onion and garlic to the baking tray. Drizzle over the oil, maple syrup, sea salt, and black pepper. Toss so that all of the vegetables are mixed and evenly coated in oil.
Bake in the preheated oven for around 30-35 minutes, or until the butternut squash is tender. Check regularly to make sure the vegetables aren't burning, and give the mix a stir.
Once cooked, remove your vegetable mix from the oven and transfer it to a large saucepan on the hob. Add the vegetable stock, coconut milk, cinnamon, ginger and nutmeg, and stir through. Simmer at a medium heat for around 15 minutes.
Use either a hand blender or transfer your soup to a food processor and blend until there are no lumps. Adjust the thickness by adding more stock if you prefer a thinner soup.
Taste and add more seasoning, spices or maple syrup if required.
Serve and enjoy!
Top Tips
The amazing thing about soup is it's so easy to experiment with ingredients and get a slightly different flavour every time - and it pretty much always tastes great!

For this Vegan Butternut Squash Soup recipe, we opted for red peppers to add a lighter twist to butternut squash's strong hearty flavour. However, if you want an even richer soup, why not try adding carrots or sweet potato instead? This will enhance that root veg flavour, perfect for a winter's afternoon.

Additionally, experimenting with herbs and spices is also really fun to do with this soup. We opted for warming spice with cinnamon, nutmeg and ginger, however, why not add some fresh herbs like rosemary or thyme to give this soup an aromatic twist?

Finally, if coconut milk isn't your thing, this soup will taste equally delicious without it, just add a little extra vegetable stock!

Variations

First things first, roasting veg sounds simple, but it can be hard to know when to call it and remove them from the oven. Our advice? To test if your butternut squash is ready to come out, take a fork and press it into the centre of some of the cubes. If it goes through easily, it's ready, if it still feels tough, give it a little longer.

Also, make sure to stir your veg often so it doesn't burn. Without stirring, your red peppers will catch and burn before your butternut squash is cooked, however, stirring will keep everything on the same timeline.

Our final top tip? If you want to really make this soup look a million dollars, we recommend getting boujee with your toppings. A splash of vegan cream across the top of this orange soup will really pop, but why stop there? Classic Croutons or sunflower seeds roasted in salt and pepper make perfect soup toppings to really impress guests, so why not give them a try?

To Wrap Up…

So, there you have it. A Roasted Butternut Squash Soup recipe that is ready to eat in under an hour. This recipe is my vegan soup go-to, and trust me, with the perfect blend of spice, coconut milk and veg, this combination knocks other vegan butternut squash soup recipes out of the park.

Whether you are looking for the perfect starter for your dinner party, the perfect mid-week meal to feed the whole family or something to take to work for lunch, this recipe ticks all the right boxes.

Totally vegan and also gluten-free, this recipe is a real crowd-pleaser. Give it a go and you will see what I mean!
Frequently Asked Questions
Cooled leftovers of this Butternut Squash Soup will last in your fridge for 4-5 days. Or, in the freezer for up to 1 month. All you have to do is reheat it on the stovetop and it will be ready to eat. This makes this soup great for making in advance and saving for a rainy day!
One of our favourite things about this soup is how amazingly healthy it is. With minimal oil and salt, but tuns of scrummy veg, one spoonful of this broth will feel like it's healing your soul. And, butternut squash itself is extremely nutritious!
We know first-hand that peeling and chopping a butternut squash is harder than it looks. To make the job more manageable, we recommend starting by slicing off the top and bottom, then the squash will stand straight.Then our method is to chop the squash into four sections and peel them individually. This makes the job more manageable! Picking a peeler with a larger handle should make the job easier for you. And, make sure you have a nice sharp knife to cut through the squash!
If you love this recipe…
If you love this vegan butternut squash soup recipes and want to learn how to make more delicious vegan treats, why not try some of my other favourite savoury treats?
Buy products in the recipe
Please choose options for all selected products:
Recipes You Also May Like