Buy Ingredients
Ingredients
Directions
Top Tips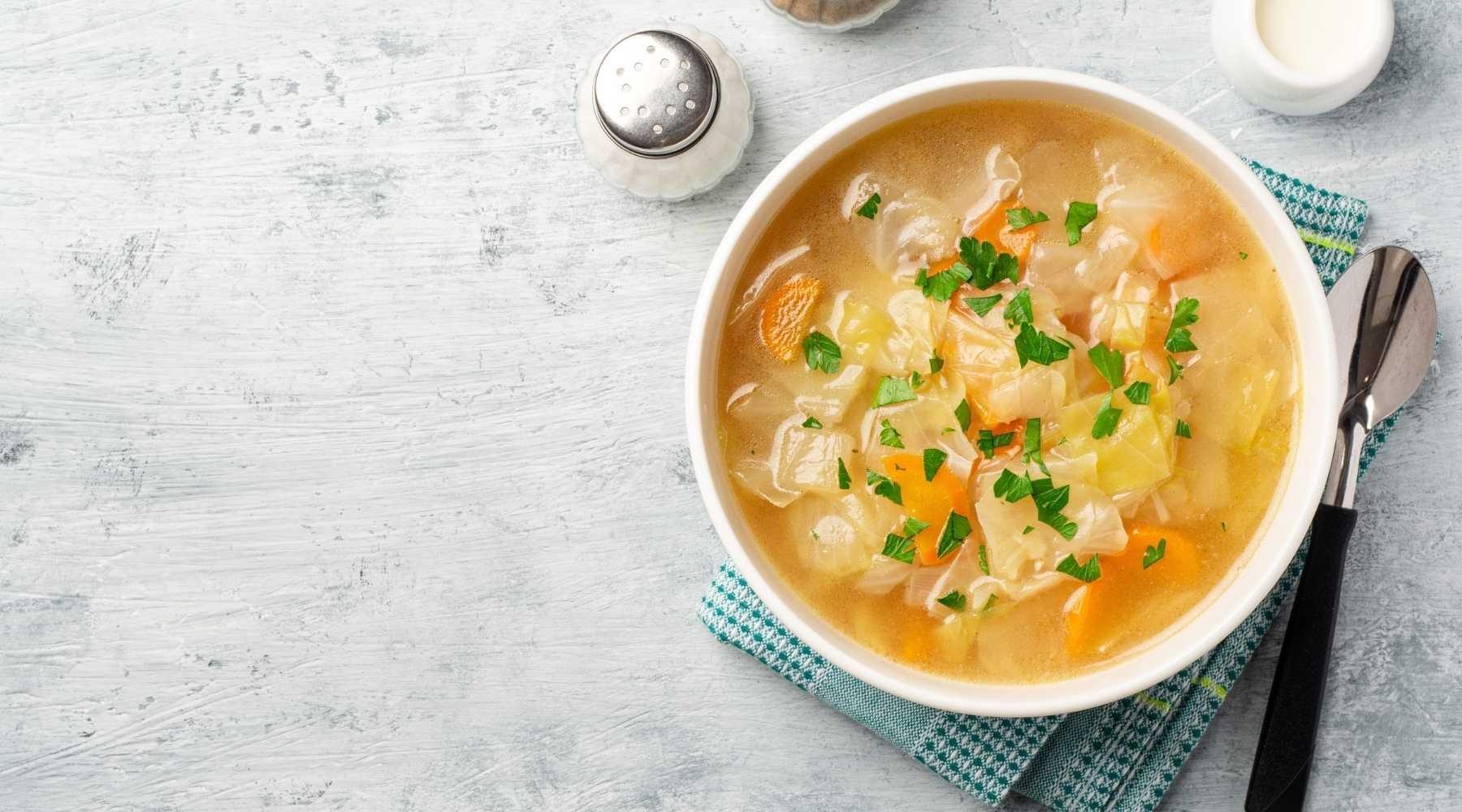 Opening
Let's be honest, vegan cabbage soup doesn't sound like the most exciting of meals. Whether it reminds you of old school dinners or Charlie and the Chocolate Factory - we promise you that this vegan cabbage soup is not like the others!
Introduction
Partly inspired by Allison Roman's famous cabbage stew, this soup is full of flavour and is super creamy in texture. It's also very versatile - you can easily make this cabbage soup recipe your own by making simple changes. 
So don't be put off by your past cabbage soup experiences! Reclaim cabbage soup with our delicious, vegan recipe. It's wholesome and full of goodness.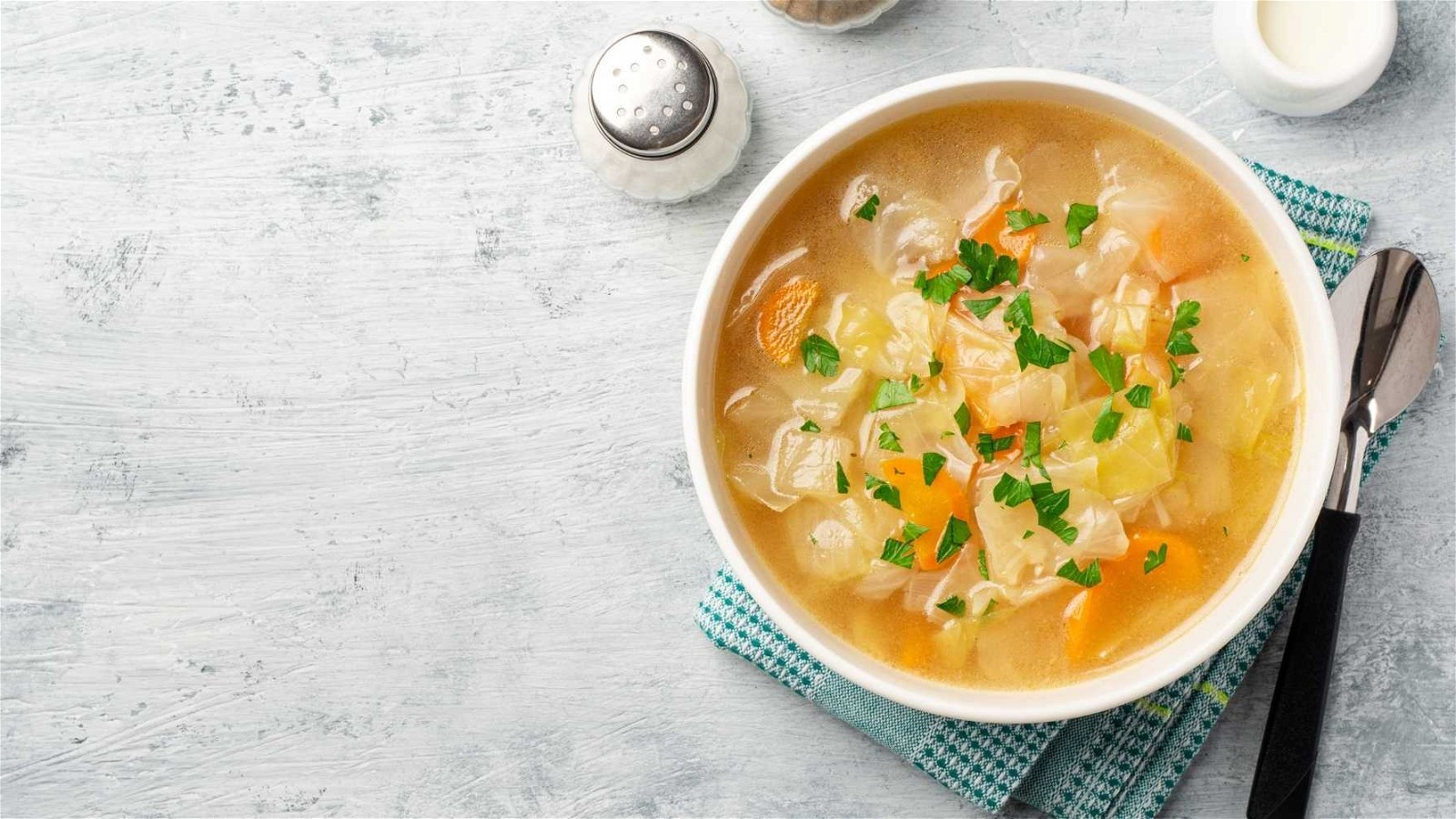 Cabbage Soup
Here's what you need:
Main Ingredients
¾ one green cabbage head, roughly chopped
1 white onion, finely sliced
3 tablespoons of white or distilled vinegar
1 cup of finely chopped dill
Salt and pepper
2 tins (or 800g) of butter beans, drained and rinsed
4 tablespoons olive oil
1 litre vegetable stock
Directions
In a large pot, heat your olive oil on a medium-high heat. When the oil is hot, put in the onions and fry for around 15 minutes. You want the onions to become slightly crispy, so avoid over-stirring them. Season well with salt and pepper.
Once the onions are done, set aside one quarter of them in a bowl (they will later be used as a garnish!). Add your butter beans to the pan and season with more salt and pepper. Stir for one minute.
Add the vegetable stock and leave to simmer for 15 minutes.
Add your chopped cabbage and vinegar to the soup. Leave to simmer for a further 15 minutes, or until the cabbage has softened. The soup should become thicker, but if it is becoming too thick, feel free to add some water to achieve your desired consistency.
Take the pan off the heat and stir in half of the dill. Taste the soup and add whatever you think is needed (more salt or pepper? More vinegar?).
Serve the soup in bowls. Garnish with the set aside onions, the rest of the dill and a drizzle of olive oil. Bon appetit!
Top Tips
There are a ton of ways to change up this soup to make it healthier, slightly less healthy - whatever floats your boat! Take a look at our substitution ideas for some tips…

Vegan butter - If you want your soup to be that bit more indulgent, instead of using 4 tablespoons of olive oil, use only 2 tablespoons of olive oil and 2 tablespoons of butter. Add in an extra nob while the butter beans are cooking.


Red cabbage - Make your vegan cabbage soup extra healthy by using red cabbage instead of green cabbage. It's supposed to be packed with even more vitamin C!


Beans - If you don't have butter beans, no problem. You can basically use any type of white bean, like navy or cannellini.
Spice - If you like your food with a bit of a kick, add in some chilli flakes for some heat!


Lemon - If you don't have vinegar, you can substitute it with the juice of one fresh lemon. You could also use some lemon zest as a garnish!


Make this soup extra delicious with a dollop of vegan creme fraiche on top. We reckon the more garnish - the better!

Variations

If you've got some leftovers, allow the soup to cool completely before putting it in an airtight tupperware. You can either keep this in the fridge to be eaten within the next couple of days or store it in the freezer for future consumption.
One of the best things about soup is that it's a great excuse to eat plenty of bread! We used a white french baguette, but any bread will do. You can toast it so it's nice and warm, and serve with olive oil or vegan butter!
We also served this soup with a side salad of lettuce, cucumber, tomato and a balsamic vinaigrette. Why not use up the last ¼ of your cabbage head to give your salad a bit of crunch?

To Wrap Up…

We hope that this deliciously creamy, vegan cabbage soup sees you through some cold, wintry nights when you're feeling in need of a bit of comfort. Here at PlantX, we think it's the perfect vegan soup recipe to have up your sleeve. It's healthy, it's easy to make, it uses few ingredients, and it's super tasty. It'll be one of your go-to vegan recipes in no time!
Frequently Asked Questions
Buy products in the recipe
Please choose options for all selected products:
Recipes You Also May Like