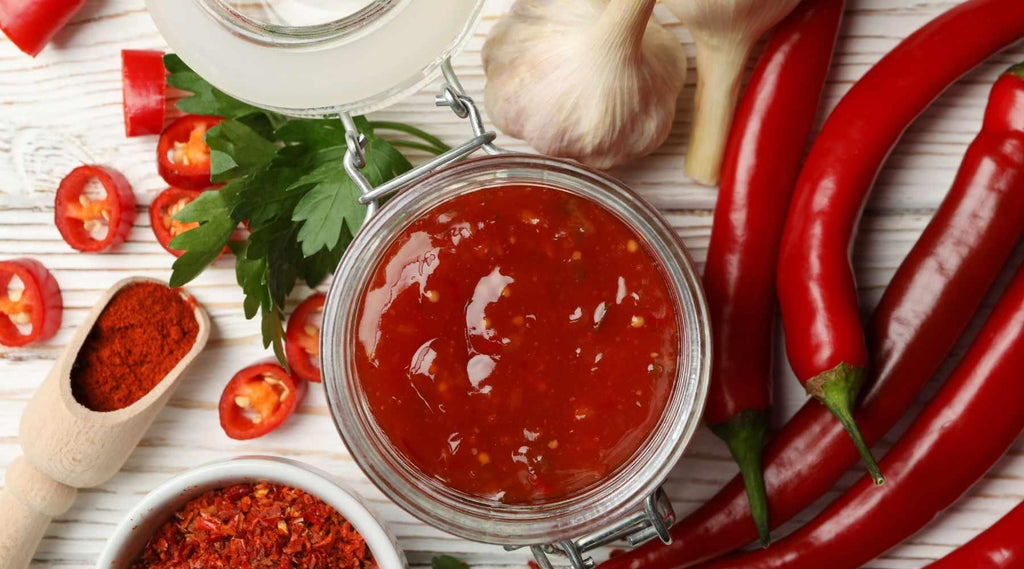 Hot sauce is often a divisive one. Some relish the prickles of sweat that come with a powerful punch to the palette, others just can't hack it. If you're on team hot then you're in luck, as we have collected a list of potent vegan hot sauces that will make you hum! 
Perhaps you've already forayed into the world of vegan hot sauces, but you need some inspiration on new ways to use the stuff. We've got you covered! And finally, we will explore some of the amazing health benefits of Capsaicin, the compound that creates the heat in hot sauce. 
Our favourite vegan hot sauces
Eaten Alive
Eaten Alive make one of the most interesting vegan hot sauces out there: the much-adored Smoked Sriracha Fermented Hot Sauce. We know, that's a lot of exciting words in one sentence. Deeply smoky, rich and of course scintillatingly spicy, this sauce is one of our ultimate favourites here at Plantx. 
Bonsan
Bonsan's vegan and organic hot sauce is an absolute fail-safe. Not for the faint of heart, this vegan hot sauce is certainly fiery and will instantly make any meal burst into a sensory explosion. We love Bonsan for their commitment to exciting vegan culinary endeavours!
Cholula 
You'll probably recognise Cholula's unmistakable vibrant sauce bottles from restaurant tables. It's bright, fun, always delicious and totally plant-based. Cholula has a whole range of vegan hot sauces which are like a party in the mouth - try putting a dash in some vegan mayonnaise for a tasty dip!
Flying Goose
Now here's for a real classic. Made from intensely flavoursome Thai chillies, Flying Goose have a range of fantastic vegan hot sauces, ranging from the blisteringly hot Sriracha Blackout to cooler, creamy vegan Sriracha vegan mayo. Definitely worth exploring, Flying Goose have perfected the rich, salty power of a solid good vegan hot sauce. 
Exciting uses for vegan hot sauce
If you're looking to give your dishes a boost of flavour and sensation, you can't go wrong with a good vegan hot sauce. Introducing a spicy kick into your average stir fry or cooked breakfast opens a door to a whole new sensory experience. 
A warning to you all: once you've dabbled in the world of vegan hot sauces, you may find it difficult to eat any meal without instinctively reaching for the hot sauce to spice things up a little. 
Vegan hot sauce is malleable to pretty much any food out there. A bold statement that may be, once you've developed a taste for hot sauce you will see what we mean. Short of glugging it straight from the bottle, we've put together a little list of exciting uses for vegan hot sauce for you to try. 
Scrambled tofu 
Scrambled tofu can often require a fair bit of work to pump flavour into it. We vegans have got creative with spice mixes, fresh herbs, cubed tomatoes and many other additions to make scrambled tofu truly tasty. If you haven't already, it's time to try a dash of vegan hot sauce on top of your morning scrambled tofu to really take things up a fiery notch. Our Blue Dragon Firm Silken Tofu is perfect for this. 
Spicy mayonnaise dip
As mentioned, vegan hot sauce and mayonnaise combined make for a quick and easy dip which is utterly delicious. You can whip this dip up in a matter of moments and are guaranteed to enhance your BBQ, spiced chips, vegan pizza, or whatever it is you're tucking into. Perhaps try this with our silky Avocado Oil Vegenaise for an extra rich sauce. 
Salad dressing
Adding a gently sour tang and buzz of spice, vegan hot sauce is a wonderful addition to salad dressings. You can simply add a tablespoon or so (maybe more depending on the hot sauce tolerance of the people you're cooking for) to a good quality olive oil such as our Mani Organic Extra Virgin range and you'll have yourself a perfect salad dressing. We find a vegan hot sauce salad dressing goes particularly well with a fresh and zesty East Asian style salad. 
Popcorn 
Salty, sweet, okay and more recently salty and sweet, popcorn is hardly pushing the boundaries so far in terms of flavour. Let's put a twist on the much-loved snack and add a kick! Simply melt down some vegan butter with a dash of the vegan hot sauce of your choice and adorn your popcorn with fiery goodness. You may want to add a little sweetness to balance things out - our Meridian Maple Syrup fits the bill well here. 
Vegan cheese on toast
The undisputed ultimate comfort snack: vegan cheese on toast. The only thing that could possibly improve this is a few drops of vegan hot sauce on the bubbling cheese. A particularly good combination is our Applewood Vegan Smoky Cheese with Eaten Alive's fantastic Smoked Sriracha Fermented Hot Sauce. 
Benefits of Capsaicin in Vegan Hot Sauce
Capsaicin is the compound that gives chilli peppers their spiciness. There is a multitude of surprising health benefits to Capsaicin which make vegan hot sauces not only delicious but actually good for you when eaten in moderation. 
Reducing inflammation 
There is evidence to show that Capsaicin can help to reduce inflammation in the body, and possesses some impressive healing properties to help treat the painful effects of inflammatory diseases such as rheumatoid arthritis. This study also shows that Capsaicin is a powerful antioxidant that can help to control the effects of muscle-related diseases such as myotube atrophy. 
Pain relief
Capsaicin has been proven to act as effective pain relief. Interesting studies show that when applied topically or injected into the body, Capsaicin can help to reduce chronic pain. 
Vitamin C content
Vegan hot sauce contains vitamin C: an antioxidant and immune-boosting vitamin. This study demonstrates the power of vitamin C in its ability to support the immune system. 
Vegan hot sauce makes for a brilliant splash of vibrancy in any savoury meal. Versatile, dangerously tasty, and varied in the styles available on the market, vegan hot sauce is truly a must-have in your kitchen cupboard. 
And that's a wrap!
We've taken you through some of our favourite vegan hot sauce brands, a few surprising and appetizing uses that you may not have thought of, and the plethora of health benefits from the magical Capsaicin compound which makes hot sauce hot! 
We hope you feel inspired to take the plunge and play with fire. Trust us, once you're initiated into the vegan hot sauce club you won't be turning back anytime soon. Bring on the heat!