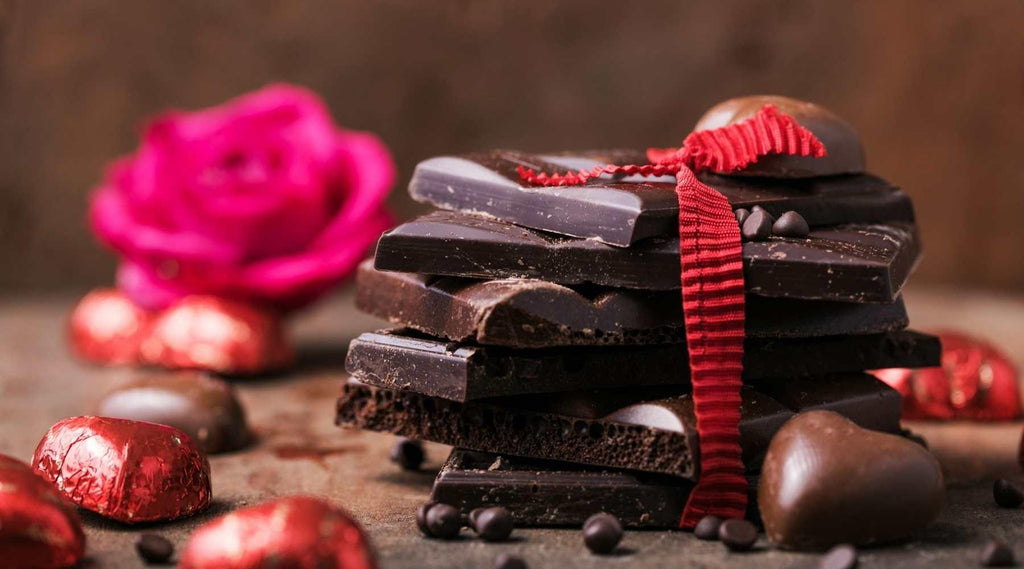 Did you know that gifting chocolates for Valentine's Day actually started in England? It all started around the 1860s - Victorian times in England - when Cadbury began selling chocolates contained in fancy boxes. Back then, these boxes were so beautifully decorated that people would keep them after they have finished the chocolate and then store mementoes in them.
Enter the 21st century and we're still gifting chocolates! Only now, things have taken a modern twist. The star of the gift is now the chocolate and no longer the box it comes in - chocolate now comes in many different flavours and is made with a variety of unique ingredients.
This is why everyone can and should have chocolate. There's even dairy-free chocolate now, and it's getting better and better! Vegan chocolates have now made a name for themselves and are becoming some of the best-tasting chocolates out there!
Vegan Tall, Dark, and Chocolatey Bars
Dark chocolate is some of the best-selling chocolate out there. A lot of people like the bittersweet taste it has as well as the richness it brings. Here are some of our best dairy-free chocolates - all of them dark and delicious:
Let's start with sugar-free, shall we? So Free's No Added Sugar Finest Dark Chocolate is a thin bar of vegan chocolate that's made with xylitol. It's still sweet, but it skips on the bad sugar.
Here's another one or two from Raw Halo! These bars are made with ethically sourced, organic cacao and they're available in a couple of different variants. Their original Dark 76% Organic Raw Chocolate and their Dark + Salted Caramel Organic Raw Chocolate!
What if you don't like bars? Well, we're not going to push your buttons. What we can do is give you Montezuma's Organic Dark Chocolate Giant Buttons! They're bite-sized dark chocolate pieces that are great for sharing. If you do like bars, thank Montezuma because they made their Organic FitzRoy 74% Dark Chocolate in bar form!
Vegan Fruity Bars
Chocolate is such a versatile food that goes with many things, and one of those is fruits! Fruity chocolate bars are tasty, sometimes tangy, and intense-tasting. Of course, PlantX has a bunch of these bars waiting for you or special someone to try!
Chocolate And Love's Dark Chocolate with Pomegranate is exactly what the name says. It's a blend of rich, dark chocolate and the fruit that sealed Persephone's fate - the pomegranate! It's a chocolate that Hades himself would be tempted to try!
Here's another smooth and sinful bar, Divine's 70% Dark Chocolate with Raspberries! It's a vegan chocolate bar made with real raspberries, giving it a fruity taste that's all-natural.
This one is a wild trio. Bittersweet dark chocolate, figs, and wild orange! Pana Organic's Raw Chocolate Fig And Wild Orange is definitely a unique masterpiece. It's gluten-free and made with organic ingredients!
Another brand with a great fruity chocolate selection is Ombar. They've got fantastic fruit bars like the rich Organic Centres Coconut & Vanilla Chocolate Bar or their awesome Organic Blueberry & Acai Chocolate Bar. All their chocolate is Fairtrade Certified!
Vegan Smooth and Milky Bars
Milk chocolate. The OG. But the OG isn't dairy-free! That's why we've searched far and wide for the best alternatives out there. That's right, these are vegan-friendly chocolates hand-picked for you. Take a gander at these dairy-free chocolates made with "milk", mylk, or even m*lk!
Here's Ombar's Organic Coco Mylk Chocolate Bar. It's smooth and creamy just like the real deal. In fact, this is the real deal! One of the reasons why it made our list? It's free from refined sugar!
H!P's Salty Pretzels Oat Milk Chocolate Bar is a great vegan chocolate bar that should be on everyone's radar. It caught our attention because it's such a unique flavour and it's a no-brainer! Pretzels and oat milk? Delicious combination!
And, of course, Raw Halo appears on the list yet again. That's because they also have a Mylk + Salted Caramel Organic Raw Chocolate! It's a classic dairy-free chocolate bar made with sustainably and ethically sourced ingredients.
Also, have you ever heard people say that chocolate milk tastes great especially when you add a bit of salt to it? Raw Halo proves that true with their Mylk + Pink Himalayan Salt Organic Raw Chocolate!
Vegan Nutty Chocolate Bars
We've gone over fruit, now we're taking on the nuts! Here you'll find some deliciously nutty combinations for vegan chocolate. We have the classics, and we also have some with unique ingredients that take them to the next level.
Let's start with the hazelnut! Hazelnut chocolate is very familiar. But, you've yet to taste hazelnut chocolate like Vego! Their classic Organic Whole Hazelnut Chocolate Bar is so good, they even made a Fine Hazelnut Chocolate Spread and Fine Hazelnut Chocolate Melts!
There's nothing nuttier than peanut butter. Montezuma's back at it again with their Dark Chocolate Peanut Butter Truffle Bites. It's a delicious blend of their signature Dark Chocolate and rich peanut butter!
Here's one with N.P.E. That's natural plant energy! Tribe's Choc Peanut Triple Decker is a three-layer bar! What are the layers, you ask? A granola base, peanut butter filling, and vegan chocolate topping.
We get what you're probably screaming right now. You want something a little more different. Well, we've saved one of the best for last, Ombar's Organic Centres Pistachio Chocolate Bar! That's right, it's a blend of dark chocolate and salty pistachios! Delicious, plant-based, and dairy-free chocolate - what more could you ask for?
Your Other Chocolatey Buddies
For truly unique chocolates that we couldn't quite categorize into any of the above, we put them here. If you'd like to be remembered as the chocolate connoisseur that gifts the best and most unique vegan chocolate, then this is the list that should tickle your fancy.
Speaking of fancy, nothing screams fancy more than truffles! If you'd like to go a more traditional route (boxed chocolates!), these are for you. Here's an award-winning truffle, Booja Booja's Organic Honeycomb Caramel Chocolate Truffles. Rich, delectable, gluten-free, and 100% made in the UK, it's no wonder why this made our list.
Another boxed chocolate comes in the form of Rhythm 108's Vegan Chocolate Truffle Selection! You get three different truffle flavours in one pretty little pink box! Hazelnut Praline, Orange Cocoa, or Noir et Blanc… no matter what you bite into, it's sure to satisfy your chocolate cravings.
If you've come to the end of our list, congratulations! We're now going to give you the secret to really owning Valentine's Day… What is it? Love Potion No. 9! No, we're not talking about the movie starring America's Sweetheart, Sandra Bullock. No, we're not even talking about the awesome song by The Clovers. We talking about Conscious Chocolate's Love Potion No. 9!
And that's a wrap!
At this point, Valentines' Day just isn't the same without chocolates. You're bound to see a ton of them this season of love. But, remember! Vegan chocolates and dairy-free chocolates are your friends! Get them all here at PlantX!