Buy Ingredients
Ingredients
Directions
Top Tips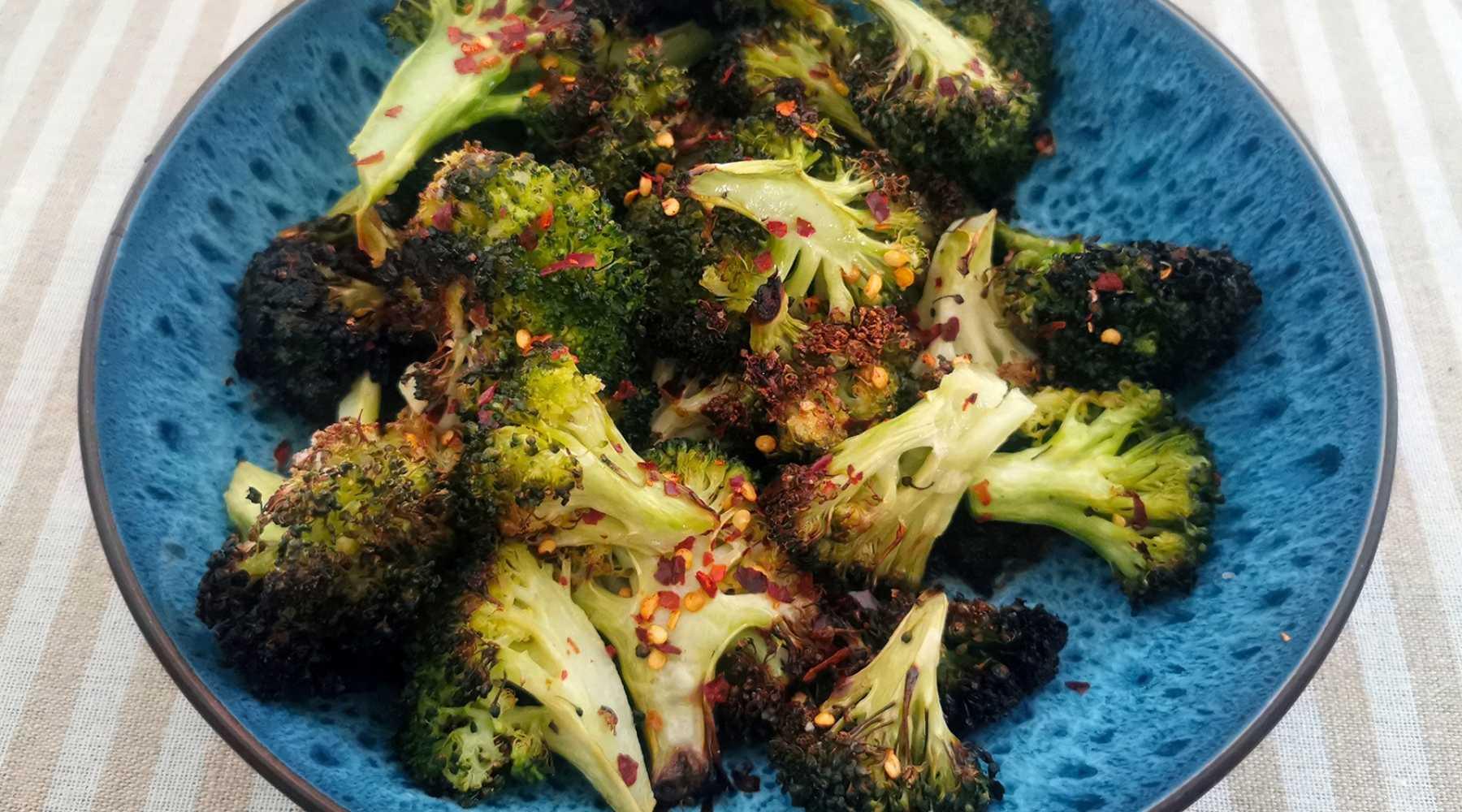 Opening
Looking for the perfect roasted broccoli recipe? Look no further! This is a super simple recipe that makes a perfectly nutritious side dish. It requires very minimal prep and will be ready in 25 minutes. Read on to learn how to roast broccoli to get the best of its flavour!
Introduction
Bored of the same old side dishes? This roasted broccoli recipe is here to turn things up a notch! And it's so good you might want to just eat it on its own. If you're a serious broccoli fan like me, then you might already know about the simple joy that is roasted broccoli. If not, you're in for a treat. Either way, I thought you might need a hand to get the perfect roasted broccoli every time.
I've done a LOT of broccoli roasting to get my roasted broccoli recipe down to a tee. I'm sharing with you a fairly basic roasted broccoli recipe, but there are so many different flavours you can add to make this your own. You can adapt it to make it go with practically anything. Well, maybe not ice cream…
Why does roasted broccoli taste so damn good? Basically, roasting broccoli caramelises its outer surface, which makes it crispy and sweet. The dry heat releases the broccoli's natural sugars, which brings out loads of aromatic compounds that smell and taste amazing. Even the most vegetable-averse kids will love this roasted broccoli recipe!
Read on for my top tips on how to roast broccoli to pure perfection.
Key Information
Prep Time: 5 minutes

Cook time: 20 minutes

Total Time: 25 minutes

Serves: 3-4 as a side dish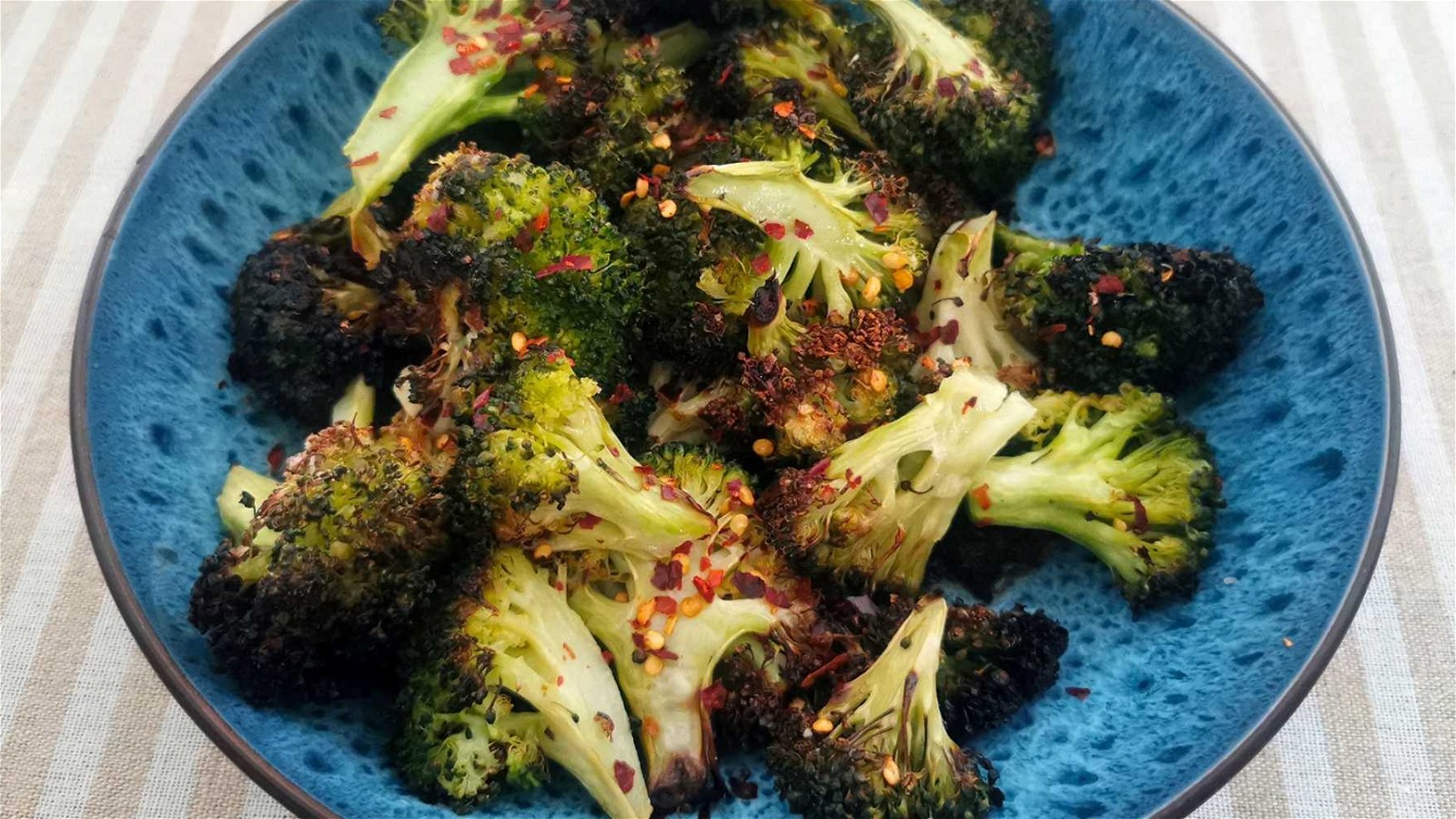 Roasted Broccoli
Prep Time:

5 minutes

Servings:

3-4
Here's what you need:
Main Ingredients
2 heads of broccoli
Black pepper
1 lemon (optional)
Chilli pepper flakes (optional)
Olive oil
Sea salt
Directions
Pre-heat your oven to 220℃.
Cut your broccoli into small pieces. Try and make sure each piece is roughly the same size, so they cook evenly and you don't get too many charred pieces in the process (though the slightly-burnt bits are the best!).
Wash your broccoli heads and thoroughly dry them. You can pat them with a clean towel. It's important they're completely dry before roasting, otherwise, they won't get nice and crisp!
Line a roasting dish with parchment paper, then evenly distribute your broccoli pieces in the dish. Try and make sure they're only in a single layer.
Drizzle the broccoli with cooking oil (I used olive oil) and dash over some salt and pepper.
Pop it into the hot oven and let it roast until the edges are browned. This should take around 20 minutes but do keep an eye on it as you don't want them to be completely charred!
Remove the dish from the oven, and you can now add any additional flavourings. I like to squeeze a lemon over the roasted broccoli and add a sprinkle of chilli pepper flakes. Enjoy!
Top Tips
My roasted broccoli recipe is just the beginning! Whilst I flavoured mine with lemon and chilli pepper flakes, you can experiment with so many different flavours. Here are a few ideas to get the creative juices flowing:

A sprinkle of nutritional yeast after roasting will add a rich and savoury cheesy taste - a vegan alternative to roasted broccoli with parmesan!

Drizzle some balsamic vinegar or balsamic glaze over your roasted broccoli.

Try drizzling some tahini over your roasted broccoli and adding a dash of sumac, for a Middle-Eastern twist. You could also add some fresh chopped parsley.

Sprinkle over some pine nuts and crumble in some vegan feta cheese.

For an Asian-inspired take on my roasted broccoli recipe, drizzle over some sesame oil and add some freshly chopped chilli and minced garlic. You could also try a dash of soy sauce and some freshly sliced ginger.


Variations

If you've made more of this roasted broccoli recipe than you can eat, you can store it in an airtight container in the fridge for up to 3 days. To reheat, pop it into the oven for 3-5 minutes. Alternatively, heat it in the microwave for 2 minutes (though it won't be quite as crisp this way). I doubt you'll have leftovers anyway!

To Sum Up

Sometimes I make this roasted broccoli recipe to eat on its own. At other times, I like to make it as a side dish to go with various delicious meals. Here are a few ideas that I love:

Serve roasted broccoli as a side dish for a vegan Sunday roast. I have mine with a scrumptious nut loaf, vegan Yorkshire puddings, and other veggies such as carrots, parsnips, and braised red cabbage. Get the vegan gravy ready and prepare to fill your belly!

I like to stir roasted broccoli into hot and cold pasta dishes. Try pasta with roasted broccoli, vegan pesto, and cherry tomatoes!

Made too much of this roasted broccoli recipe? Add chunks of roasted broccoli to stir fry or salads, or enjoy with a serving of wholesome grains
Frequently Asked Questions
You can easily prepare this roasted broccoli recipe in advance. Simply cut the broccoli into florets, add to a bowl with the oil and seasonings and mix well. Cover the bowl and pop it into the fridge till you're ready to roast the broccoli. Once you've learnt how to roast broccoli, you'll see how quick it is and I doubt you'll need to prep it in advance!
You can also use an air fryer to make this awesome roasted broccoli recipe. We love air fryers, and they can be a great way to speed up the cooking process and use less cooking oil. In case you don't know how to roast broccoli in an air fryer, simply pop it into the basket of your pre-heated air fryer, and wait till it's nice and crispy. This will only take around 6-8 minutes!
Buy products in the recipe
Please choose options for all selected products:
Recipes You Also May Like