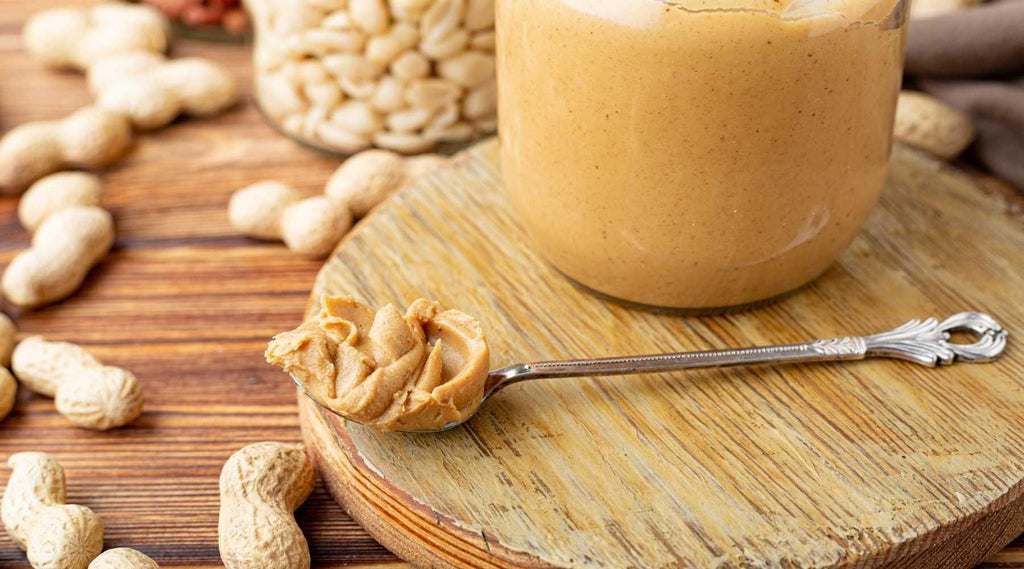 Who doesn't love a bit of vegan peanut butter? The much-loved superfood spread has got everything you need to see you through the day! Packed full of protein, fibre and healthy fats, what's not to love? Not only just a hugely versatile ingredient, but vegan peanut butter can also be used in a range of fun and original ways in all of your plant-based cooking. 
Crunchy or smooth, salty or sweet? Whatever your persuasion, we've got you covered. Read on to find out more about our range of organic peanut and nut butters that you can try out in your next dish. 
Let's get nutty! The health benefits of this superfood staple
Inexpensive and a great source of plant protein, peanut butter is also rich in fibre, carbs, healthy fats. It's an excellent nutritional snack that can be easily incorporated into a range of vegan dishes. Let's get into the nitty-gritty and break down the key nutritional elements of vegan peanut butter.
1. Protein: Protein is responsible for the growth, repair and maintenance of cells in the body. This means that if you're looking to build strength and muscle, it is crucial to up protein intake.
2. Fibre: Found in many plant-based ingredients, fibre helps promote healthy digestion and can also support you in maintaining a healthy weight. 
3. Carbohydrates: Carbohydrates give you energy during the day, and your body prefers to use carbs over any other nutrient as their main energy source. They also provide stored energy and help preserve muscle. 
The origins of nut butters and spreads
It's not just a modern North American delicacy, original vegan peanut butter is a little (well, a lot) older than you may actually think.
Food historians have discovered that it is the Aztecs - who lived in modern-day Mexico from the 14th to the 16th century - that were the very first people who were eating what we would now call peanut butter. Like us, they knew that roasting and mashing nuts were a simple and effective way to get all of the protein, fats and fibre you need throughout the day. 
Is palm oil bad for the environment?
In recent years it feels like everywhere you go, the quest for vegan peanut butter is inevitably followed with whispers of the p-word. 
Yes, the palm oil debate has become a key talking point in plant-based and environmental circles. And here at PlantX, we agree it's an important discussion that needs to be had. 
Over 25% of Indonesia's rainforests have been destroyed in palm oil production, meaning it's one of the main contributors to deforestation. 
Despite this, nearly half of all products you find in most UK supermarkets contain palm oil. And that's not to mention that the majority of peanut butter contain this hugely damaging ingredient. 
We think that when going plant-based, it's just as important to be conscious of your health as it is to be conscious of your environmental impact. We take pride in the fact that all of our vegan peanut butters and nut butters are 100% palm oil free.
Breaking down our organic peanut butters 
Meridian Foods 
If you're looking for a simple yet delicious vegan peanut butter, look no further! Experts at Meridian Foods use 100% natural and organic ingredients in all of their vegan peanut butters. Coming in smooth, crunchy, salted and "rich roast" - you're really are spoiled for choice. 
1. Smooth vs Crunchy
Meridian Foods O.G Organic Peanut Butter, 100% Nuts comes in both smooth and crunchy varieties. Although there is zero nutritional difference between these two varieties, it is worth considering which consistency will work best in your next vegan dish. 
This may sound obvious, but crunchy is the best choice when you want an extra bit of peanut crunch and texture in your cooking. This is perfect in stir-fries or jambalayas, whereas smooth is the ideal choice for desserts or smoothies.
2. Salted vs Unsalted 
If you like a bit of extra seasoning in your food, why not try out the Peanut Butter with a pinch of sea salt from Meridian Foods. 
Carefully adjusted using sea salt, the richness of this peanut butter is taken to the next level making it a delicious spread that is to-die-for.
3. The "rich roast"
If you're a lover of deep and complex flavour, then you'll love the Rich Roast Peanut Butter from Meridian Foods. 
Here, Argentine peanuts are roasted for a long time to give the nuts an elevated smokey taste. This peanut butter should be enjoyed much like a delicacy, working excellently with some agave syrup or dark chocolate shavings on a slice of toast.
PB&Me Organic Powdered Peanut Butter 
If you're concerned about the high levels of fat in your average organic peanut butter, we have just the thing for you. The Organic Powdered Peanut Butter from PB&Me contains zero added sugar and contains about 87% less fat than rival brands.
With just 45 calories per serving, this peanut butter would be an excellent choice if you're looking to lose some weight but just aren't willing to give up everyone's favourite nut spread!
How can I include more peanut butter in my plant-based cooking? 
Morning: Peanut butter breakfast 
What better way to start the day than with delicious vegan peanut butter and cold-oat smoothie. This high-calorie, high-protein, high-fibre breakfast is the perfect thing if you're looking to make some real progress at the gym or just wanting to get all of the goodness you need for a high-energy start to the day.
Begin by breaking up an overripe or brown banana and placing it into a blender. Add about a cup of organic rolled oats (150g) as well as a cup (236ml) of your favourite nut, oat or soy milk. Finally, drizzle in a tablespoon of vegan peanut butter - we think smooth works best - and sprinkle over a dash of ground cinnamon. All that's left to blitz away and serve in a tall glass (or bottle)!
Option to add some red berries or any other in-season organic fruit. Why not? 
Noon: Peanut butter lunch
Much like a potato dauphinoise, this sweet potato, chilli and peanut butter gratin is a rich and hearty dish that's perfect alongside a fresh green summer salad. For the full recipe, see Hugh Fearnley-Whittingstall's recipe in his excellent cookbook River Cottage Veg Everyday!
Begin by slicing your sweet potatoes into thin slices and then toss in a large bowl with a deseeded red chilli, three cloves of garlic, one tablespoon of organic sunflower oil and 250ml of a plant-based cream alternative. Season with plenty of salt and pepper.
Next, beat together 150g of crunchy vegan peanut butter with some lime juice and zest and dollop over your sweet potatoes.
Roast your gratin in a large dish for about 50 minutes until the sweet potato is tender and the top is crispy. Voilà!
Night: Peanut butter dinner 
You may have guessed it, the perfect way to incorporate some vegan peanut butter into your evening meal would be with a simple vegan stir-fry. Easy and low-hassle! A stir fry really is the perfect way to get all lots goodness and is bursting full of tangy creamy taste! For more inspiration, follow the link to this recipe.
Begin by slicing your chosen vegetables into long strips - we like red pepper, carrots, broccoli and bean sprouts. In a large wok, fry some ginger and garlic at medium-high heat in a tablespoon of organic extra virgin olive oil. Add your vegetables and season with salt, pepper, cumin, cayenne pepper and soy sauce.
In a separate pan prepare your rice or noodles according to packet instructions and then add to the wok. Cook for a few minutes longer before adding a mixture of soy sauce, sesame oil and organic peanut butter. Stir well and enjoy!
Nut butters
If, for whatever reason, you have an aversion to peanut butter, fear not! Cashew, almond and hazelnut butters are just as easy a way to get all the same goodness, taste and nutrients of a peanut spread. 
So let's break down some of the key differences and find the alternative nut butter that is best for you.
Cashew butters
Cashews are an excellent thing to incorporate into your cooking and everyday diet as they are rich in proteins, iron, magnesium and copper. Plus, they're oh so creamy and smooth.
Why not try out Meridian Food's Smooth Cashew Butter, or, if you're feeling fancy, the Organic Caromel Cashew Nut Butter from Nutcessity?
Almond butter
Almonds contain extremely high levels of vitamin E. Just one serving of almond butter, and that's not all! Almond Butter is also packed full of omega-3 fatty acids and plant sterols. Almond butter has an intense, deep nutty flavour, which is delightful when added into smoothies and porridge bowls.
We love the Organic Gingerbread Almond Nut Butter from Nutcessity. Fun and original!
Hazelnut butter 
We're all familiar with those deliciously chocolatey hazelnut spreads, but what about a simple hazelnut butter? Meridian Food's Crunchy Hazelnut Butter Is rich in antioxidants, vitamin E and magnesium and is just the thing for a morning slice of toast or a crumpet. 
To wrap things up 
All in all, organic peanut butter is the staple ingredient every vegan needs in their kitchen cupboard. Whether you are making breakfast, cooking dinner, or just need a quick snack - vegan peanut butter is always an ingredient that can be relied on. 
Browse our delicious selection of palm oil free and organic peanut and nut butters to find just the thing to try in your next dish.