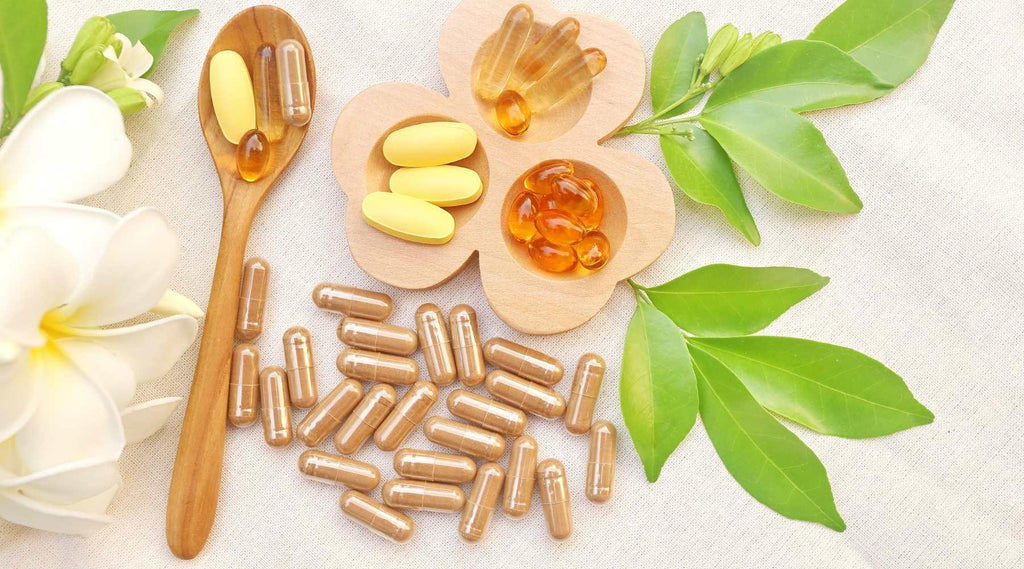 Many vegans will never experience a vitamin deficiency from following a plant-based diet, however, no matter how well planned out your diet may be, you might still need to lean on vegan supplements, meaning you'll have a vitamin boost.
Together, let's check out the best vegan supplements that suit a plant-based lifestyle and how they can benefit your general health. 
What is a supplement?
Put simply, a supplement is a dose of a vitamin or mineral for you to take alongside a well-balanced and varied diet. 
Vitamins and minerals are best absorbed when they are ingested in food or drink form, but there are some scenarios in which supplements are advised to be taken in order to benefit your health.
Most commonly found in tablet, capsule or droplet form, supplements are very commonly found in health food shops or online, including our impressive range at PlantX! 
Are supplements vegan?
Not all supplements are vegan, no. Some supplements quite obviously contain animal products, such as cod liver oil, however, some are non-vegan in a slightly less easy-to-spot way. 
Occasionally, supplements will be encased in a gelatine capsule, which is made using animal fats. Be vigilant of these non-vegan supplements, always make sure you check the label! 
Here are some other potentially non-vegan ingredients in supplements you should look out for:
Glycerin
Collagen
Estrogen
Fish oil
Progesterone
Propolis
Vitamin A (usually comes from an animal source)
Vitamin B12 (usually comes from an animal source)
Hyaluronic acid
Lipase
Lactose
Lethicin
D3
Cysteine 
Why do vegans need supplements?
Research shows that it's more than possible to live out your days on a vegan diet and not meet any obstacles in the road in the form of vitamin deficiencies. 
In fact, many vegans don't take any supplements at all and are just fine. 
However, all bodies are different, and it's not a failure in any way to lean on the support of supplements to help you feel in your best health. It's just about listening to what your body needs, and trying to meet those needs as well as you can. 
Due to the vegan diet being comprised of plant-based foods, it is usually rich in nutrients, antioxidants and fibre. Although that's not to say we don't all know an incredibly unhealthy vegan. We're all human after all! 
What we're trying to say is, when it's done right, it is an extremely healthy way to live.
Despite this, there are certain minerals and vitamins usually sourced from animal products that you may need to find another way to ingest. No biggie, PlantX has got your back with our top range of vegan supplements. 
What are common vegan vitamin deficiencies?
The one you hear most often is probably the classic B12 vitamin deficiency. Found in animal products, the B12 vitamin plays an important role in hemopoiesis and nervous system function. 
It's pretty common for vegans to experience a B12 vitamin deficiency which can develop, if left unattended, into anaemia, or in very extreme cases, a stroke.
Fear not! There are heaps of vitamin B12 supplements and sources in a vegan diet, some of which include: fortified soy, certain cereals, broccoli, spirulina, asparagus, and some types of tempeh and mushroom. 
But of course, vitamin B12 supplements are excellent to give you an additional boost! What's great with vitamin B12, as well, is that your body will excrete any excess amount. So consuming a lot typically doesn't cause adverse effects on your body, unlike some other nutrients.
Here are a few fantastic B12 supplements and other vegan products which can boost your vitamin B12 levels: 
1. Together - WholeVits B12 Complex Diet Support
These capsules are powered by plant nutrients and a great safety blanket if you're on a restrictive diet.
2. Meridian Foods - Natural Yeast Extract With Salt & B12 
Deep, salty, and a wonderful source of umami - you're going to want this gluten-free yeast extract in your kitchen at all times!
3. Bonsan - Organic Kofu Grill Sausages
Made from fermented kombucha tofu, these tasty vegan sausages are great for the BBQ and the B12 levels!
Vitamin D supplements
Vitamin D is the other big-name deficiency you've probably heard about along the grapevine. Essential for the forming of healthy, strong bones and calcium absorption, this key vitamin can sometimes be lacking in a purely plant-based diet. 
If you're a vegan living in a country where sunlight is in short supply, it's a good idea to consider taking vitamin D supplements to ensure your body is firing at all cylinders. 
This is because we also harness vitamin D from exposure to sunlight. So to all our readers in the North, get yourself on the vitamin D supplement train!
Non-meaty sources of vitamin D include certain mushrooms treated under ultraviolet light, soy, plant milk and some cereals. 
To make your life a bit easier, here are some PlantX answers to vitamin D:
1. Together - Vegan Vitamin D3 Food Supplement
These capsules are high-strength (2500IU, 63mcg per capsule) and highly bioavailable. Using the genius of Cholecalciferol from lichen, your bones and teeth will thank you!
2. Marigold - Engevita Nutritional Yeast Flakes
Sort of cheesy, kind of nutty, these tasty flakes enhance any savoury meal! Rich in iron and vitamin D, you can't go wrong.
3. Together - Bone Health Food Supplement 
With calcium, vitamin D3 and K2, this supplement helps your bones stay strong and helps to prevent them becoming brittle.
4. Taka Turmeric - Organic Joint Care + Vit D
Turmeric is hailed for its anti-inflammatory properties, so with added vitamin D, these capsules make for a trusty supplement for joint health. 
Iron Supplements
Iron is another deficiency common amongst vegans. Although vegans tend to eat iron-rich foods in the form of leafy green vegetables, soy and tempeh, sometimes it isn't enough for certain bodies, and that's okay!
A vegan and a non-vegan may consume the same daily amount of iron, but the level of iron and ferritin in the blood of the non-vegan is typically be lower than their meat-eating counterpart. 
This is due to the fact that the iron absorption from animal products is higher than from non-heme intake from plant foods. 
So, this is where the supplements come in! Here are some of our favourite iron boosts:
1. Together - WholeVit Gentle Iron Complex Food Supplement
Soft on your tummy, these vegecaps are packed with iron and vitamin B to help increase iron supply in the blood and provide energy.
2. Hubner - Iron Vital F Tonic 
A liquid iron supplement that's made easy for your body to absorb, this tonic is good to turn to if you're feeling tired and run down.
3. Aduna - Moringa Superleaf Powder
With vitamins A, E and K, calcium and iron, this super powder is versatile for sprinkling on all sorts of food, sweet or savoury. 
Zinc supplements
Zinc is also a fairly common mineral deficiency that vegans experience. Similarly to iron, zinc aids the process of iron metabolism and is also not as easily absorbed by the body from plant sources. 
Low levels of plasma zinc in the body can potentially lead to iron deficiencies in those who follow a plant-based diet. 
So, here are some zinc-rich foods that will help to keep iron deficiency at bay:
1. Biona - Organic Linseed Gold
This zinc and protein-rich seed is great for both savoury and sweet foods. Try making protein bars with it!
2. Carley's - Organic Pumpkin Seed Butter
Dense with nutrients, this pumpkin seed butter is glorious on fresh toast with a splash of sweet jam.
3. Good Hemp - Barista Hemp Seed Drink
Also packed with omega 3, 6, and 9, this creamy hemp seed drink is silky and delicious in all manner of hot drinks.
4. Hodmedod's - British White Quinoa, Wholegrain
Perfect for a salad, quinoa is full of fibre, fatty acids, and protein, as well as our old friend zinc!
5. Blue Dragon - Firm Silken Tofu
Made of fermented soy beans, this versatile silken tofu contains all 9 essential amino acids as well as zinc and other minerals. 
We've covered some of the main vitamin deficiencies commonly found amongst vegans, but there are so many more supplements out there for you to feel like your most vivid and vibrant self. 
Here's a little shout out to some other fantastic supplements we love here at PlantX:
1. New Nordic - B-Energy Mega Strength
Vitamin B all over the place! If you're looking for a way to keep your energy levels high throughout your busy days, look no further than New Nordic's B-Energy Mega Strength. Enhanced for optimal absorption and containing additional beneficial vitamins, this one's a keeper.
2. Naturya - Organic Maca Powder 
Another great source of vitamin B2 and Iron, this powder is great on breakfast musli or stirred into hot drinks. A good way to fight tiredness and to keep your immune system supported.
3. New Nordic - Meno Joy Hormonal Balance 
A supplement focusing on symptoms of menopause, these tablets are fuelled by herbs, vitamins and minerals such as red clover and hops extract. Magnesium works to regulate mood, and vitamin B helps to balance serotonin levels. 
4. New Nordic - Clear Brain 
focusing on cognitive function and memory, this supplement supports concentration levels, memory and brain performance. New Nordic's Clear Brain is rich in vitamin B, omega 3 and iodine: all compounds known for improving brain health. 
And there are many, many more! Feel free to browse our supplements, meaning you can find supplements that fit your lifestyle and the needs of your body. 
Never fear, supplements are near!
Hopefully, you're now an expert in supplement benefits for vegan health! 
Truth is, you're not in any mortal danger just by following a vegan diet, and if you notice you may be deficient in a vitamin, there's always a supplement out there that can help you out.
We can always rely on the power of plants and the intelligence of our fellow vegans to weather us through the storm!