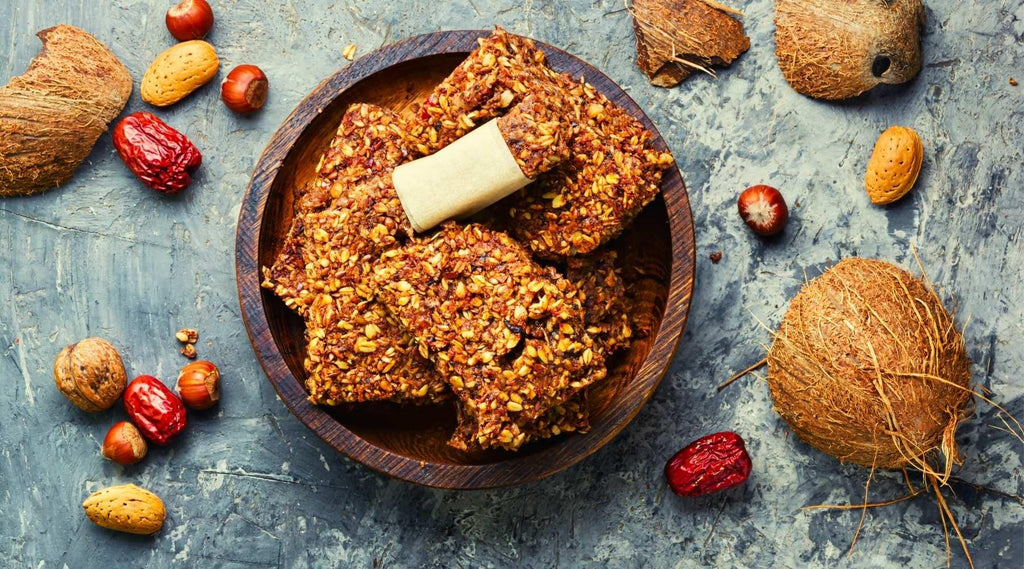 Vegan cookies and biscuits are essential stock for your kitchen cupboard. Perfect for tossing on a plate for when the neighbour pops around, chomping on while you're watching a film, or snaffling alone, late at night in your pyjamas. These delicious little discs are ubiquitous in homes everywhere; indeed, cookies and biscuits are an important punctuation mark to the everyday Brit's life!
Granted, a lot of regular supermarket cookies and biscuits contain milk or other animal products, and even more of them aren't gluten-free cookies. Yes, we know. It can be rather frustrating. However, don't fear! We're happy to tell you that there are actually heaps of gluten-free vegan cookies out there for you to sink your teeth into! 
So if you're a vegan and/or gluten intolerant and you're suffering from unsatisfied cookie and biscuit cravings, you've come to the right place. We've put together a handy list of some of the best vegan cookies and biscuits out there, with a special focus on cookie ingredients that are suitable for gluten-free folks.
1. Rhythm108 - Organic Soft Filled Cookie Chocolate Hazelnut Ganache
Start as you mean to go on. Unbelievably delicious, soft and filled with gooey ganache goodness, Rhythm108 have strode forth with no holds barred when it comes to the yumminess of this cookie. 
100% plant-based and free from gluten, this cookie certainly makes no concessions on taste. Handmade by patissiers in the Swiss Alps, these gluten-free vegan cookies are as good as it gets when it comes to treating yourself! Oh, and did we mention that these cookie ingredients contain only organic, whole foods and no artificial flavourings or sweeteners? 
2. The Foods of Athenry - Brownie Cookie Shots
Small but powerful, these tasty little brownie cookie bites are an excellent accompaniment to your afternoon tea or coffee. Although they are delectable and dangerously moreish, you'll be happy to know that these Brownie Cookie Shots are only 18 calories per cookie. Kiss goodbye to any guilt and chomp your way to freedom!
Containing no dairy or gluten, these cheeky little Brownie Cookie Shots from The Foods of Athenry are a great option for folks who are after a healthy dose of gluten-free vegan cookies to brighten their day. They also come in a convenient resealable bag for extra freshness if you don't gobble them all in one go. 
3. Vegan Bakery - Biscuits 
Simple, yummy, and without any of the trendy frills and complicated packaging of some current food products, you know what you're getting with Vegan Bakery Biscuits. Trusty, tasty cookies coming in 3 familiar flavours: Choco Cookies, Coconut Clouds, or Cookies N' Cream.
Cheap and cheerful, these vegan cookies do contain gluten so sadly aren't gluten-free cookies, but they redeem themselves by being lower in salt and sugar than their cookie counterparts on the market. Rather than being loaded up with nasty cookie ingredients, these biscuits are powered by nuts, giving them a wholesome taste and high protein content.
4. Kookie Cat - Organic Cashew & Oat Cookies
 
This fun and tempting gluten-free vegan cookie comes in 3 exciting flavours: Vanilla Choc Chip, Chia Lemon, and Cacao Nibs Walnut. With cookie ingredients containing only a natural, high-quality, organic mixture, these gluten-free cookies are an instant favourite.
Conveniently packaged in individual wrappers, simply chuck one of these divine Organic Cashew & Oat Cookies from Kookie Cat in your bag so you know you've got a treat coming up in your day. 
Made with organic cashews and gluten-free oats, these gluten-free vegan cookies are suitable for people with all sorts of allergies and dietary needs. All this, and they're scrummy! We've lucked out. 
5. Lazy Day Foods - Millionaire Crispie Bite Size Sharing Tub 
Okay, okay… it's not exactly a cookie or biscuit, but we couldn't help but include this outrageously delicious Millionaire Crispie Bite Sharing Tub on our list of gluten-free vegan cookies and snacks for you guys to enjoy. 
So, if they're not cookies or biscuits, what are they? Enrobed in Belgian dark chocolate, these little bites are comprised of rice crisps and silky caramel. And best of all: these bite-size explosions of sweetness are totally free from dairy, eggs and wheat!
6. Nairn's - Coconut & Chia Oat Biscuit
Subtle and mature, these Coconut & Chia Oat Biscuits from Nairn's are less of a sweet punch in the face and more of a sweet gentle caress. With less than half the sugar of regular biscuits, this offering from Nairn's is full of fibre, vitamins and nutrients as opposed to artificial flavourings and sweeteners. 
These biscuits boast a particularly impressive list of cookie ingredients, including chia seeds (a superfood containing omega-3 fatty acids) wholegrain oats, and toasted coconut for a gentle hum of flavour. 
7. Billy's Farm - Organic Spelt Cookies 
Coming in either Apple & Cranberry or Ginger & Walnut flavour, these homely cookies would be perfect dunked in your cup of English Breakfast Tea, whatever time of day!
Bejewelled with dried fruits and nuts, all of these cookie ingredients are organic and natural. Enjoy a taste of home with these Organic Spelt Cookies thanks to Billy's Farm. 
8. Freee - Organic Double Chocolate Cookies (GF)
Back on track with the gluten-free vegan cookie options: Freee is truly a brand we can trust. Experts in producing delicious foods for people with food intolerances and dietary needs, it's safe to say it's not its first rodeo. That's why these Organic Double Chocolate Cookies (GF) are obviously delicious. It's predictable really! 
Chewy on the outside and gooey within, these gluten-free cookies are proudly free from the top 12 allergens and provide the perfect treat for anyone who's looking for a dose of the divine, allergies or not.
9. Mrs Crimbles - Vegan Choc Macaroons 
Again, if you want to be pedantic you might say these Vegan Choc Macaroons aren't technically cookies or biscuits. What do we say to that? Whatever! They are scrummy as heck, and we thought you should know about them. 
Mrs Crimbles' Vegan Choc Macaroons cookie ingredients include desiccated coconut by the shedload, chicory fibre, and lots of other natural goodies. So, if you're looking for a sweet coconutty treat of the gluten-free cookie-esque variety, you'll now know where to go!
10. Freee - Organic Stem Ginger Cookies (GF)
It's gluten-free vegan cookie number 2 from Freee, and oh goodness it's a corker. These Organic Stem Ginger Cookies (GF) are a solid favourite of the PlantX team, unbeatable when dipped in tea, and disappear in seconds when you open them. 
Free from peanuts, dairy, gluten, nuts and egg, these cookies are warmed by organic ginger, providing gentle spiciness and sweetness. 
Totally accessible for people with the main intolerances, Free's Organic Stem Ginger Cookies (GF) have been certified gluten-free by Coeliac UK, so you can guzzle these gluten-free vegan cookies up with no fear of allergies interfering!
And that's how the cookie crumbles
This exploration into yummy gluten-free vegan cookies and biscuits has been a broad church indeed. We've had coconut macaroons, rice crisps, and brownie-cookie hybrids, as well as the more traditional options for purist cookie and biscuit lovers. 
We hope that you feel relieved to see the masses of choice out there for you if you're wanting to quench the desire for gluten-free cookies. Really, companies like Freee, Rhythm108 and the Vegan Bakery (and many others) have all got your back - you won't have to go without a scrummy sweet treat anymore!