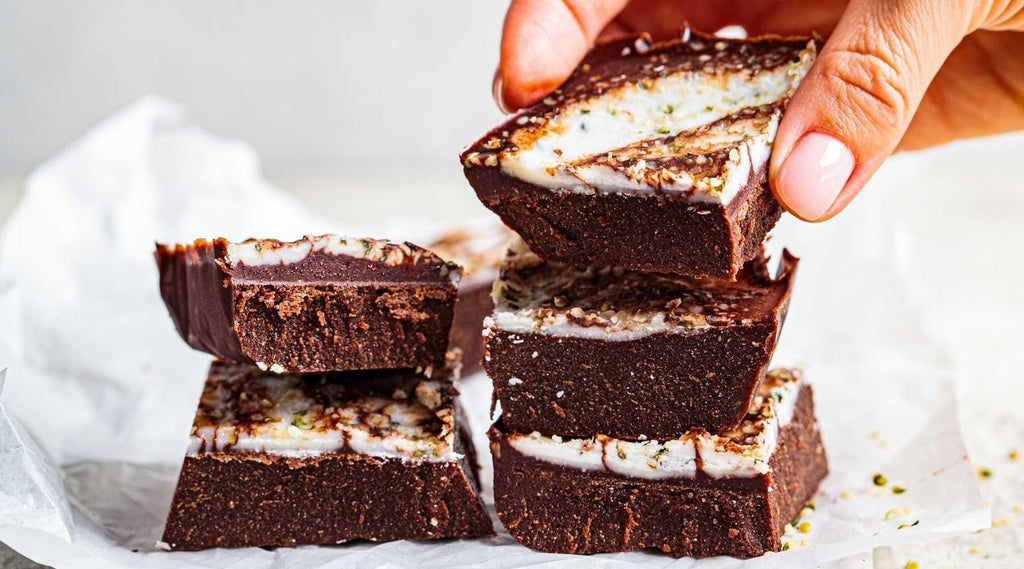 Anyone who says that being vegan means saying goodbye to chocolate is just wrong. There's a wonderful world of vegan chocolate and vegan sweets out there for you to explore. It's just as rich, creamy and delicious as regular chocolate. In fact, we think it tastes better!
In this post, we list our favourite vegan chocolate bars and answer extremely important questions you might have about these plant-based treats. So if you're looking for your new favourite vegan sweets, or are wondering to yourself, is dark chocolate vegan?, you've come to the right place.
Top 8 Dairy-Free Chocolate Bars You Must Try
1. Galaxy - Vegan Chocolate Bars
Galaxy lovers will be pleased to know that the brand now has a range of delicious dairy-free chocolate bars! With that classic, milky taste and silky smooth texture, you'll forget that you're eating vegan chocolate. These bars come in a Caramel & Sea Salt, Smooth Orange or Caramelised Hazelnut flavour - and each one tastes like a bite of heaven…
2. NOMO - Dark Chocolate Bar
So is dark chocolate vegan? Well with this NOMO Dark Chocolate Bar it is! There's no missing out with the NOMO Dark Chocolate Bar. This chunky bar of rich, dark chocolate is 100% vegan and Rainforest Alliance Certified. It's also a super-safe option, as it's free from gluten, nuts, dairy and palm oil. It's simple but delicious.
3. H!P - Salty Pretzels Oat Chocolate Bar
Made from single-origin cocoa beans, this hip bar of chocolate has the well-loved combination of sweet and salty flavour. Vegan, smooth chocolate made with oat milk perfectly contrasts with the salty crunch of the pretzel pieces inside. The top-quality taste makes it hard not to finish off the whole bar of this dairy-free chocolate in one sitting!
4. Divine - 70% Dark Chocolate with Raspberries
Indulge yourself with a truly divine bar of Divine's 70% Dark Chocolate With Raspberries. Powerful and silky dark chocolate surrounds sweet, tangy (not to mention real!) raspberries. The vegan chocolate and burst of berry flavour will take over your taste buds with pleasure. You can't help but feel classy biting into these luxurious vegan sweets. 
5. Raw Halo - Pink Himalayan Salt Organic Raw Chocolate
This vegan chocolate bar is one of our favourite vegan sweets here at PlantX. Made with raw cacao, creamed coconut, lucuma and coconut sugar. The result? A creamy, melt-in-your-mouth dairy-free chocolate sprinkled with pink Himalayan salt. All the ingredients in this bar are ethically and sustainably sourced, and the packaging is completely plastic-free!
6. Enjoy! - Naturally Salted Caramel Filled Bar
Truly enjoy life's pleasures with an indulgent, vegan chocolate bar from Enjoy! Raw cocoa powder and coconut sugar are used to create the rich, sweet chocolate that encases a gooey, salted caramel middle. With a perfect balance of flavours, this vegan treat is dangerously good. Not to mention it's also organic, natural and free from refined sugar!
7. Ombar - Organic Centres Coconut & Vanilla Chocolate Bar
Send your taste buds to heaven with this organic, Fair trade chocolate bar from Ombar. Sweet, nutty coconut & vanilla cream is encased in a thick layer of 60% dark Ecuadorian chocolate. With just five ingredients, this vegan chocolate bar is simple in its make-up but rich and complex in its taste. Vegan sweets never tasted so good…
8. Hu - Hazelnut Butter Dark Chocolate Bar 
If you find yourself wondering, is dark chocolate vegan? We can assure you that this bar is! These vegan sweets from Hu contain a thick, creamy hazelnut butter surrounded by a luxurious, dark chocolate shell. Every bite gets better and better… It's also paleo-friendly, organic and gluten-free, meaning even more of us can enjoy this tasty vegan sweet. 
Still got some questions?
If you've only recently become vegan, or are simply new to the world of plant-based chocolate and vegan sweets - you might have some questions! And we're here to answer them. So sit back, relax, and read on for all you need to know about vegan chocolate. 
Is dark chocolate vegan?
The big question: is dark chocolate vegan? Sadly, we can't give you a simple yes or no answer. The good news is that dark chocolate can be vegan, especially if it has a higher cacao percentage, although this doesn't automatically make dark chocolate vegan. 
To keep it simple, always check the ingredients list for any non-vegan additives such as milk, butter, and buttermilk. It's also worth noting that there may be non-vegan substances used in the preparation process (such as gelatin). We recommend making sure the bar itself says it's vegan, looking at ingredients in bold, or shopping from our PlantX website to be 100% sure. 
What makes vegan chocolate, vegan?
Chocolate is made from cacao beans which grow on cacao trees. To give us regular chocolate, non-vegan ingredients (such as milk, eggs, butter or honey) are added. Vegan and dairy-free chocolates use vegan substitutes for these ingredients, such as plant-based milks and butters. Common additions to vegan chocolate might be cocoa butter or oat milk.
What is raw chocolate? 
Regular chocolate is made from cacao beans that are then roasted and ground. However, the cacao beans in raw chocolate do not roast the beans, but instead, dry the beans. Because it is manufactured in low heat, some say that nutrients from the cacao are preserved, supposedly making it healthier!
PlantX Tip: Just because a chocolate bar says it uses raw chocolate, doesn't mean it's definitely vegan. Always read the ingredient list!
Is vegan chocolate better for me?
Vegan chocolate (especially the ones we have listed in this article) can be healthier than regular chocolate, which is often heavily processed and has lots of added, refined sugar. If you're looking for a vegan chocolate that's healthy, look out for a vegan dark chocolate with a high cocoa percentage (75%+). We also think that fewer ingredients and no added / refined sugar also points to a healthier, vegan chocolate bar!
Which vegan chocolate bar is the best?
That depends on your taste! Are you a 'less is more' kind of person? Try out the NOMO Dark Chocolate Bar. Or if you love your sweet treats that aren't overly sweet, try one with a bit of salty flavour like the Enjoy! Naturally Salted Caramel Filled Bar. And why stop at chocolate bars? 
There are loads of other delicious vegan sweets right here on the PlantX website! Whether you're into chocolate-filled butter cups, gummy bears or truffles - we've got something for everybody.
If you're on the hunt for some truly irresistible and delicious chocolate, that may even deceive you into thinking it's the real thing, is Hotel Chocolate's Nut Milk Vegan Chocolate range. One bite and you're exported to chocolate heaven. Trust us!
Let's wrap up…
We hope the magical world of vegan sweets now seems as exciting to you as it does to us! We've aimed to answer your burning questions about vegan chocolate, like is dark chocolate vegan? What's the best vegan chocolate? Is vegan chocolate good for me? 
There's no reason why more of us (non-vegans included!) can't enjoy a creamy, smooth bar of vegan chocolate once in a while. So whether you're stocking up for yourself, or putting together a gift for someone you love, vegan chocolate is always a winner. 
Because let's face it, it tastes just as good (if not better!) than non-vegan chocolate, it often uses healthier ingredients, and it's much kinder to the planet and all the animals living on it. Why wouldn't you make the switch?