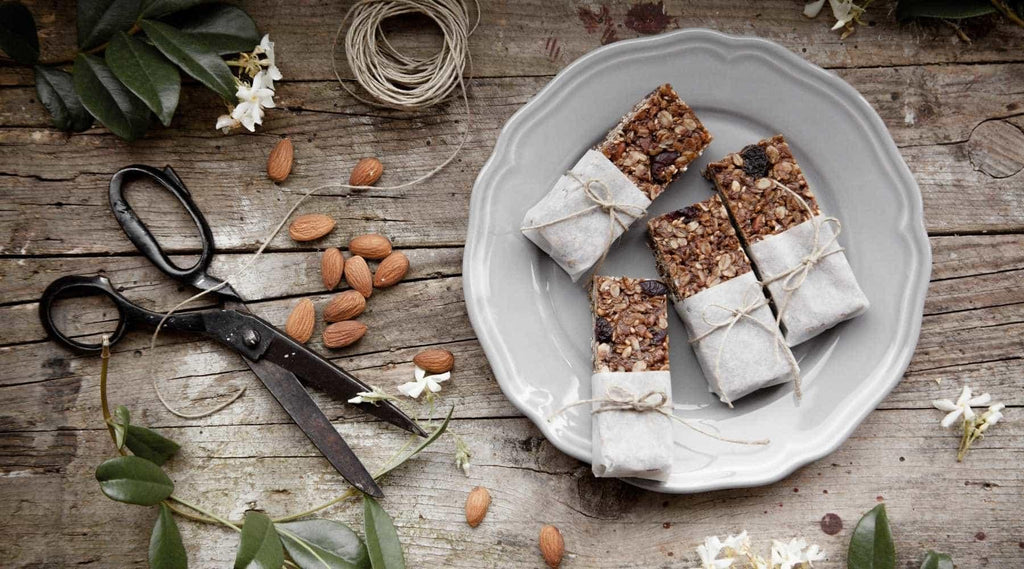 Sometimes it can feel like a bit of a minefield having to navigate all of the different vegan and gluten-free energy bars available on the market. 'High protein', 'low sugar', 'caffeine-free' may just seem like just another marketing technique but in this guide, we will help you read between the lines and help you find the best energy bar for you, according to the different requirements that you have in your body. 
Who? What? Where? When? Why? The Energy Bar 101
Vegan energy bars
Vegan and gluten-free energy bars can be an easy and effective way to boost your energy levels throughout the day in a totally natural and healthy way. Packed full of healthy fats, grains, proteins and dietary fibre these pocket miracles are a total lifesaver on those fast-paced days when you need a title pick-me-up! 
Generally speaking, opting for vegan energy bars and gluten-free energy bars is the best choice as non-vegan alternatives have a high-carb concentration and use "bad carbs". Too many "bad carbs" can prevent healthy digestion and, in turn, impact energy release.
High sugar and high-caffeinated bars can often give you a more powerful short burst of energy immediately after consumption. However, this feeling does not last for long and may actually leave you feeling more tired and drained of energy. But we'll get into that later…
The dangers of caffeinated energy bars
Many energy bars that you find on the market are packed full of sugar and caffeine, which can be damaging to your overall health and wellbeing, actually leaving you feeling more tired and worn out.
Caffeine is a central nervous system stimulant and is widely recognised as the world's most popular psychoactive substance. Official studies have demonstrated that overconsumption of caffeinated bars can lead to a variety of health problems ranging from insomnia to nausea and cardiovascular diseases. So eating too many caffeinated bars can possibly push you over the threshold if you're drinking coffee and tea all day!
The dangers of sugary energy bars
Likewise, high sugar bars will give you short bursts of energy but can often leave you feeling jittery, affecting overall energy levels and ultimately leaving you feeling exhausted and even impacting your mental health and sense of wellbeing.
Bearing all of this in mind, it would be better to opt for a vegan energy bar that has reduced levels of caffeine and sugar but instead contains high levels of proteins, fibres and carbohydrates. Consumption of these magic ingredients is a sure-fire way to naturally boost your energy levels, and give you that extra push that you may need throughout the day. 
What to look for in energy bars and why
So let's get down to the nitty-gritty and dive into what the labels say and what this actually means. "Fibre", "protein", "fats" and "carbs" may just feel like a health 'buzz word' so let's get into it a bit more and break down why these things are crucial to your health, why you actually might need more of them in your diet and why vegan and gluten-free energy bars are an easy way to get a boost of everything you need.
For digestion: fibre
Consuming more foods with high levels of dietary fibre can help you feel fuller for longer and help you curb midday snack cravings. Fibre is also full of a range of amazing health benefits as it's shown to help support healthy digestion - such as reducing the risk of constipation as well as lowering risks of bowel cancer and heart disease! 
Fibrous foods - such as oats, grains, pulses and starchy foods - are delicious and easy to fit in just about anywhere in your diet.
High-fibre energy bars make for the perfect everyday snack and are guaranteed to leave you feeling your absolute best all day long! 
Fattbar Keto Nut Bar: The best energy bar for fibre 
If you're looking for a delicious energy bar that is packed full of fibre and has everything you need, look no further, the Fattbar Keto Nut Bar is just the thing for you. Coming in two yummy flavours, these bars contain just 2g of carbs but are packed full of dietary fibre and prebiotics to help aid healthy digestion and support gut health. 
For strength: protein
Research shows protein is pretty much beneficial to all bodily functions - this is mostly thanks to their complex structures which take longer to digest and ultimately leave you feeling fuller for longer. 
That's not all, as you probably know, protein is also great for supporting muscle growth and developing muscle tone. If you're somebody who loves the gym and wants to see some real results in your body, vegan energy bars and gluten-free energy are easy ways to get that extra bit of protein into your diet.
Plant-based proteins are particularly great as they are often lower in saturated fats and higher in healthy fats as well! Grains and seeds, oats and nuts, for example, are all loaded with vegan protein that can help you build and develop muscle as well as help manage blood sugar levels and reduce cholesterol. 
The best energy bar for protein: Clif Energy Bars
Get that essential dose of protein that you need to build muscle mass and develop tone with the tasty Clif Bar Energy Bar. Using soy protein isolate as well as natural soybeans, one of these bars contains a whopping 9g of plant-based protein! 
For energy: carbohydrates
There's a lot of stigma surrounding carbs these days but it's important to remember that they're the body's main source of energy. What we call "bad carbs" refers to carbohydrates that have been highly processed and refined such as white bread and pasta, which typically break down easily and convert into sugars.
"Good carbs", like beans and whole grains - which you'll find plenty of in these energy bars - provide the body with glucose which is then converted into energy, which is shown to boost bodily functions and maximise physical activity.
That's not all, healthy carbohydrates can also be rich in a variety of vitamins, minerals, fibre and important phytonutrients that have some amazing antioxidant and anti-inflammatory properties. 
The Best Energy Bar For Carbs
Caraboo - Vegan "Non-Choc" Bars
These delicious non-choc bars are made using sustainably sourced carob and coconut. Loaded with all-the-best natural ingredients these vegan energy bars will satisfy those chocolate cravings without the chocolate! 
Nomo - Fruit & Crunch Choc Bar
These fantastic snacking vegan energy bars from Nomo are loaded full of all of that oh-so-good fruit and crunch. Combining a range of delicious nuts and dried fruits these bars are guaranteed to boost your energy levels and leave you feeling your best. 
Two of the best energy bars for carbohydrates also happen to be gluten-free energy bars!
The Caraboo Vegan "Non-Choc" Bars and Nomo Fruit & Crunch Choc Bar are both delicious energy bars which are rich in healthy, unrefined carbohydrates! These bars are just the thing so you can power on throughout the day and feel full for longer! 
An Energy Bar For Every Occasion
Vegan and gluten-free energy bars can be an easy way to cram in more of the essential vitamins and nutrients that you need in your everyday diet. 
The perfect thing for people that are always on the move, these pocket-sized snacks are a useful thing to always have on hand in case of emergencies.
Most of the brands that we stock here at PlantX aim to pack in as many healthy ingredients as possible into a single bar to help boost your nutrient intake and improve your overall health and energy levels. 
Get Your Bars Out! 
All in all, there's a vegan and gluten-free energy bar for every occasion! So whether you're wanting to boost your protein count and build muscle, support healthier digestion or just want more energy throughout the day there's guaranteed to be an energy bar for you! Make your choice today and find your next favourite snacking food.