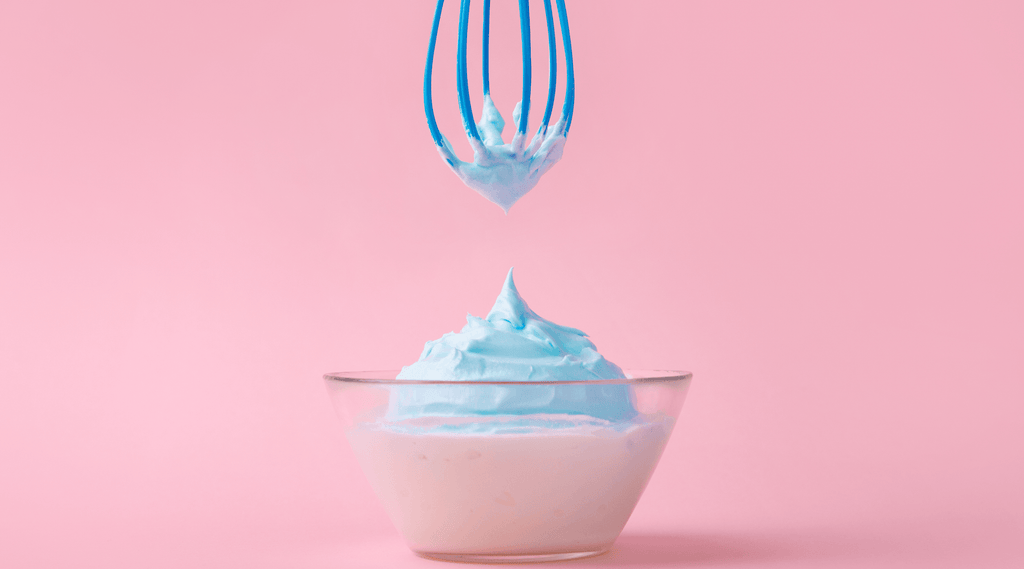 Those luscious, whipped up peaks of light cream really are to die for. Whether you're topping a dessert, or squirting it straight from the can right into your mouth, you can't really go wrong when it comes to whipped cream. 
And now you can go one step better: vegan whipped cream. That's right. All of that delicious sweet creamy goodness but with none of the animal products. This is lactose-free whipped cream that is nothing but delicious. 
What is Vegan Whipped Cream? 
Well it's basically exactly the same as the whipped cream you know and love, but it's totally vegan. So instead of the cow's milk that makes up so much dairy whipped cream out there, vegan whipped cream often relies on substitutes like coconut cream to achieve the same effect. 
Other substitutes include things like cashew and soy cream, basically anything that's going to give your dairy free whipped cream the lift and fluff that you love so much. 
Best Ways to use Vegan Whipped Cream
And of course there are just so many wonderful uses for vegan whipped cream. You can use it in much the same way as a dairy whipped cream. 
Best of all perhaps, dairy free whipped cream makes for a perfect dessert topping. Maybe you've made a vegan cheesecake, or a key-lime pie. Well how do you improve that? A big layer of vegan whipped cream! Chocolate cakes and even muffins too, whatever you've baked we don't really think there's a dessert out there that can't be improved by a big dollop of delicious vegan whipped cream. 
Ok what about an ice cream sundae? Need we say more? Big dollops of vegan ice cream with vegan chocolate sauce and a great big spray of vegan whipped cream. All brought together in a tall glass. That's vegan heaven, and dairy free whipped cream is here to play a major part in the proceedings. 
And what about improving your iced coffee with a little squirt of lactose-free whipped cream? That caffination moment can also become an indulgent dairy free whipped cream moment. You wont regret it. You can also add vegan whipped cream to your milkshakes and hot chocolates, it really is the topping to end all toppings. 
Berries and whipped cream are a perfect match. Why not top your plate of fresh summer berries with vegan whipped cream? The sharpness of the fruit and the luxurious smooth cream make for great partners, and really spice up any fruit-based dessert. 
And then of course there is the king of whipped cream usage. That's right. Just eat it as it is. Spoon that gorgeous vegan whipped cream right into your mouth when nobody's looking. We promise we won't tell. 
Some of the Best Brands of Vegan Whipped Cream
So now you know some of the best ways of using your vegan whipped cream, it's time to get to know some of the best brands out there. There's a really big selection of vegan whipped cream, all with different flavors and textures and uses. So whatever way you want to use your dairy free whipped cream, there's one out there for you. 
Food Heaven - Heavenly Whipped Dairy Free Aerosol Cream
This Heavenly Whipped Dairy Free Aerosol Cream from Food Heaven is about as good as vegan whipped cream from the can gets. It's kosher, halal and totally free from gluten and soy. It comes in your classic whipped cream aerosol for all the nostalgic whipped cream fun you can imagine. It's great on strawberries and other fruits. It's such a good product to have in your fridge to whip out whenever the occasion calls for it. 
Biona - Organic Coconut Whipping Cream
Here is a cruelty-free, healthy alternative to dairy whipped cream. Made using coconut cream, this Organic Coconut Whipping Cream from Biona is the answer for those looking for a vegan whipped cream with all the luxury you have come to expect from a whipped cream. 
Store it in the fridge the night before you intend to use it (to help harden up the cream), give it a whip just as you would dairy cream, and you'll have lovely peaks of coconut dairy free whipped cream to add to your dishes. This little guy really is a wonder. 
Oatly - Whippable Creamy Oat
From the masters of all things oats, comes this Whippable Creamy Oat cream. It's a vegan cream that can become a vegan whipped cream in a matter of minutes. Made using the Oatly oat milk that you have come to know and love, this is a dairy free whipped cream with a truly fantastic oat-y flavor. 
Coming in 100% recyclable packaging, you should always have some of this vegan whipped cream on hand. In fact, you can use it just as you would a dairy cream, so opting for this product you are guaranteed versatility: whip it up into a vegan whipped cream, pour it into your bakes or drizzle it over your sundays. It's all possible with this Whippable Creamy Oat. 
Oatly - Whippable Vanilla Custard
So here's something slightly different, Vanilla Custard. But it's whappable. My oh-my, what more could you want? This is a really thick vanilla custard that is made with absolutely no animal products. It uses thick oat milk and can be easily whipped up into an airy dairy free whipped cream. This is the perfect accompaniment for those apple pies, giving you something custardy and whipped to match that tart fall flavor. 
Amaizin - Organic Coconut Whipping Cream
And finally this Organic Coconut Whipping Cream from Amaizin contains only the best organic farmed coconuts. This lactose free whipped cream contains coconut cream, which has a lower water content than coconut milk, creating a thick luxurious product that is perfect for whipping. 
And that's a wrap! 
So there you have all the vegan whipped cream information you're going to need to get started on your dairy-free whipped cream journey. From cakes to coffees, from milkshakes to midnight snacks, lactose-free whipped cream really is the gift that keeps on giving. 
And remember, when you are keeping it vegan you are saving the planet, reducing harm to your fellow animals AND doing great things for your own health. With benefits like these, there really is no reason not to get involved with some dairy-free whipped creams.