Buy Ingredients
Ingredients
Directions
Top Tips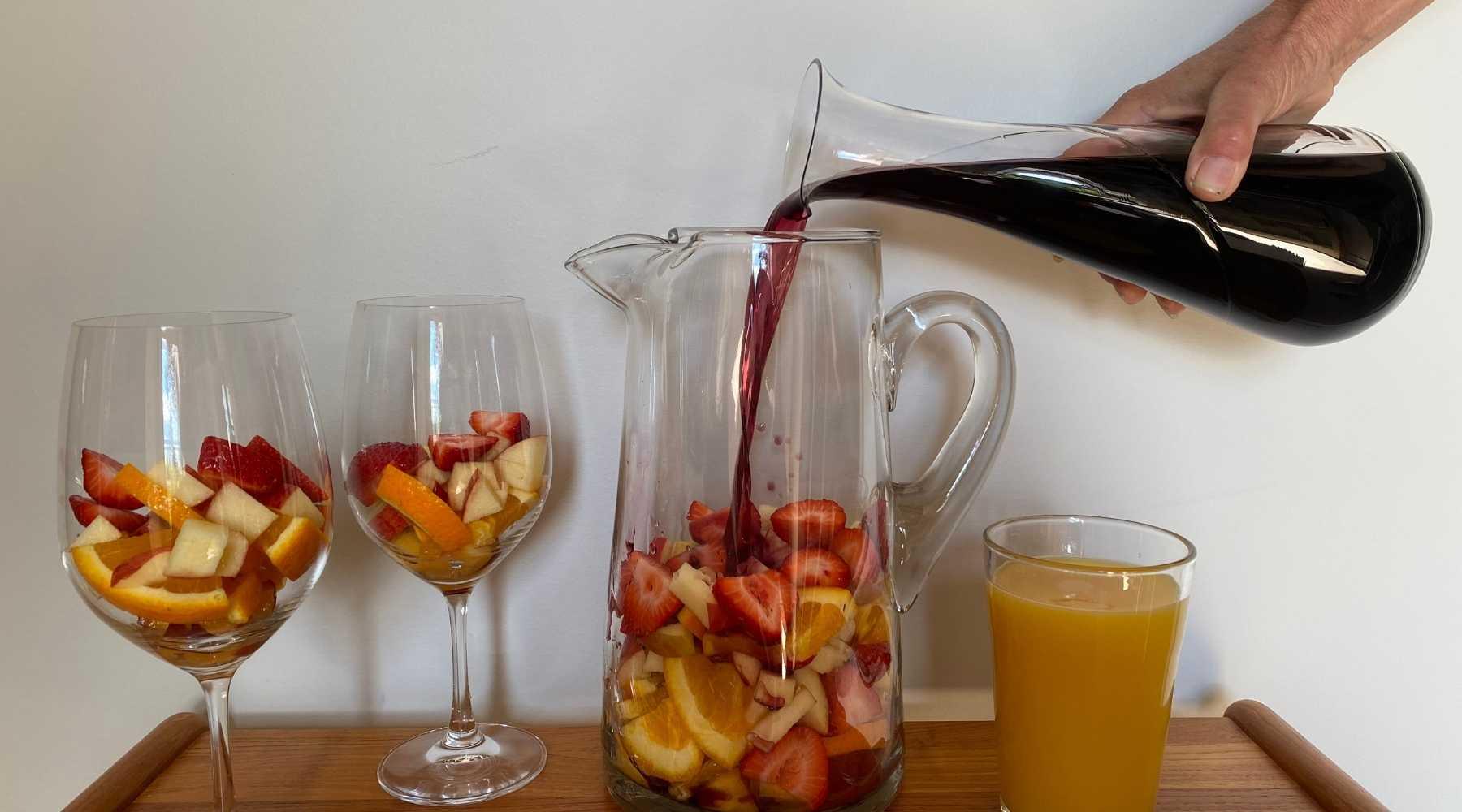 Opening
This vegan red sangria is fun to make and even better to serve and enjoy with your friends and family! Let it bring gorgeous colour and fruitful summer vibes into a regular evening or even a celebratory occasion.
Introduction
Looking for the perfect summer drink to make for your friends and family? We've got one for you - and the best part: it's easy, fun and inexpensive to make. This vegan red sangria recipe is so tasty and refreshing and looks gorgeous in any glass.
With only a few sangria ingredients, you have a pitcher full of delicious red goodness that lasts for a few days in the fridge (if you're lucky to have leftovers). Keep reading to find out how to make sangria that is absolutely perfect for both the festive or regular days when you need a little something exciting in your glass!
What Is Sangria?
Sangria is a traditional Spanish drink which contains alcohol, juice and fruits. Sangria can be made with red wine, white wine and sometimes even contains a little bit of flavoured liqueur, such as brandy, to bring sweetness.
If the sangria is made with red wine, it usually contains some orange juice as well. Some sangria recipes also contain sparkling water. The fruit can be anything from oranges to apples, pineapples, peaches, berries, kiwis and even bananas. The most common fruits used are oranges and apples.
When thinking of the "most authentic" Spanish sangria, most will picture a sangria made with red wine. But red sangria recipes can differ a lot in terms of ingredients. We prefer our vegan red sangria recipe fresh, extremely fruity and not too strong on the alcohol - perfect for the hot summer days!
Tips For Choosing The Right Wine
Just like most recipes, the right ingredients make the recipe either perfect or disappointing. In this case, it is extremely important to pay attention to the red wine to make sure your sangria recipe turns out as delicious as it is supposed to be!
Firstly, if you wouldn't enjoy the red wine as it is, do not use it for your sangria. Secondly, choosing a dry, fruity wine that is low in tannins will make a perfect match with this vegan red sangria recipe. Wines from any country can meet these requirements and should be easy to find - we used Pinot Noir, which worked perfectly. And remember, your chosen red wine does not need to be expensive - after all, it gets mixed with many other ingredients.
Lastly, it is a sad fact that not all wine is vegan. Although made from grapes, some winemaking methods use animal-derived products and therefore make the wine non-vegan. So to make a vegan red sangria, look for the vegan logo on your wine bottle's label!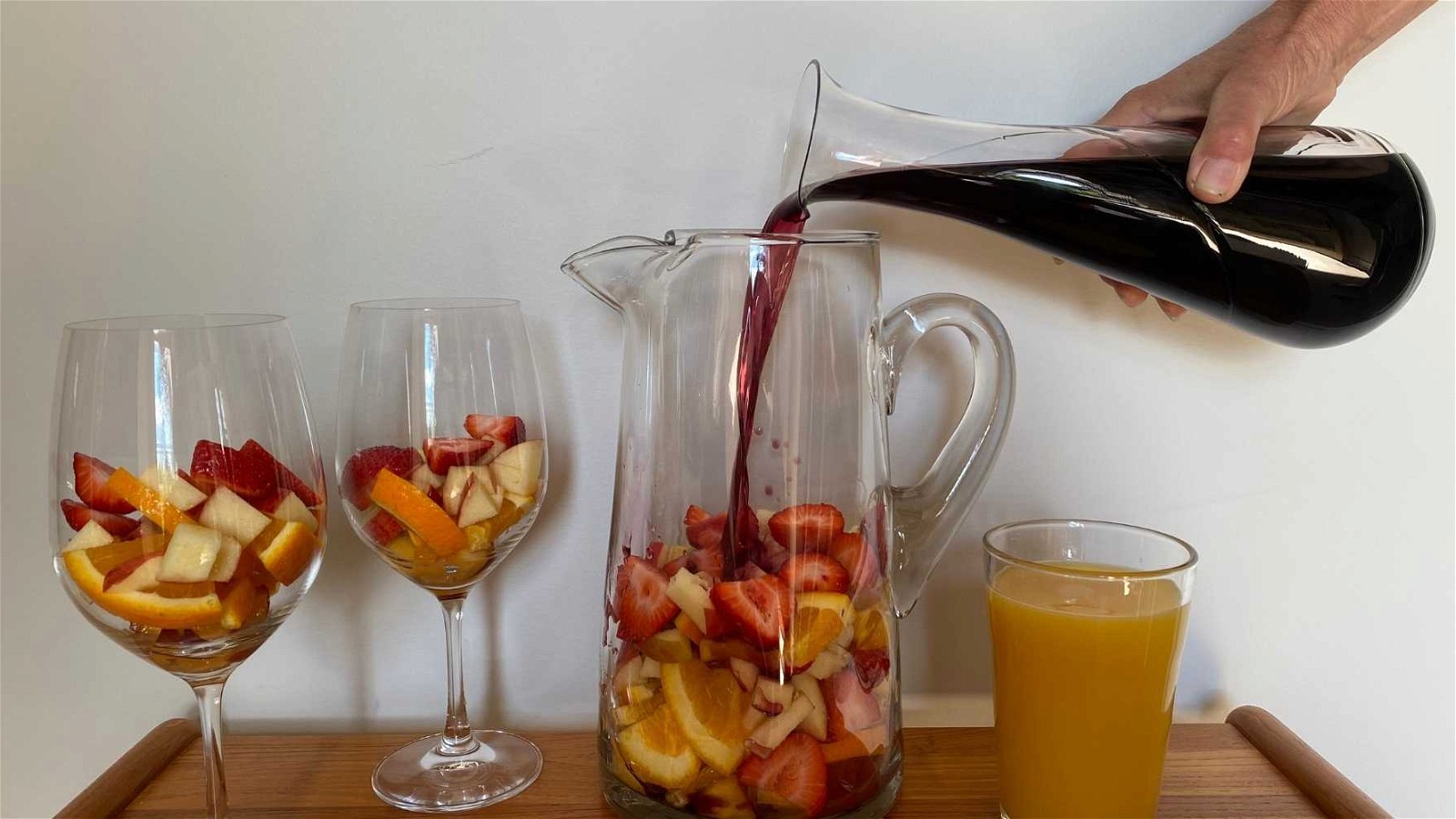 Red Sangria
Prep Time:

10 minutes

Servings:

3-6
Here's what you need:
Main Ingredients
1 bottle of vegan red wine - for example, Pinot Noir, Garnacha or Zinfandel.
Fresh and ripe fruit. We recommend oranges, apples, peaches, different kinds of berries, and pineapples. Thumbs up for seasonal fruit as well.
100-200 ml orange juice. Orange juice makes a great addition to red sangria with its full, sweet and citrusy flavour. We think that adding the perfect amount with a little bit of sparkling water gives the best result.
Dash of liqueur - for example Cointreau or brandy. Only a small amount is needed to bring a kick of sweetness and complexity. If you're in the mood for a lower alcohol sangria, you can skip the liqueur and use sparkling water instead, although we recommend using it, even if it's just a little.
Ice
Sparkling water/seltzer (optional). A dash of sparkling water can make your red sangria even fresher. It is better to taste your sangria before adding sparkling water to check if it is needed.
Directions
Prep the fruit. Wash them and thinly slice the oranges into quarters, apples into small cubes, and peaches and other fruit into similar shaped slices or cubes. Smaller berries can go in as a whole. Place the prepared fruit into the bottom of the large empty pitcher.
Add the wine, liqueur and orange juice into the pitcher. Stir and combine all the ingredients well with the fruits. The optional sparkling water is best added last, once the sangria has already been in the fridge. Pour the sparkling water in slowly and carefully, as it can react and create bubbles.
Place in the refrigerator for at least 6-8 hours before serving (even for a whole night if you can). This red sangria gets its delicious and fruity flavour when it sits for a few hours. Although you can enjoy it straight after making it - it will have a much softer and fruitier flavour after sitting for a few hours.
When serving, add the ice into the glasses, not the pitcher. This way you can ensure your sangria stays delicious and does not get watery.
Top Tips
When it comes to sangria, there are so many different variations. Just like we mentioned before, sangria can also be made from white wine. Sangria has evolved and can be made from rose wine and sparkling wine as well.

The easiest variation for this vegan red wine sangria recipe is to change the amounts of orange juice, sparkling water and liqueur. You can try it with different kinds of red wines and liqueurs, as well.

If you like your red sangria citrusy, use only citrus fruits. Lime, lemon, orange and grapefruit make a delicious and slightly bitter mix into the sangria. If you like your sangria sweet, try sweet fruits such as berries, peaches and even melon.

If you're feeling experimental, try adding cinnamon sticks, mint or basil for an extra kick of flavour into this sangria recipe!

Variations

Remember to have fun with this sangria recipe! With the right ingredients, it's hard to go wrong. Adjust and add ingredients as much as needed to make it the way you like it.

Be patient with the sangria sitting in the fridge. Trust us, the more time you allow the flavours to infuse, the better your sangria will be.

The fruit takes colour from the red wine in the fridge, so save some fresh sliced fruits to add to the glass later. This will make your drinks look extra fresh.

Lastly, if you want to serve your delicious red sangria with some snacks, try a vegan charcuterie board or serve it with fruits, nuts or chips and dips like hummus. Yum!
To Wrap It All Up...
We hope you enjoy this vegan-friendly recipe for Red Sangria. It's perfect for enjoying with friends and family on a hot summer's day accompanied by your favourite vegan tapas. ¡Que aproveche!
Frequently Asked Questions
Sangria can make a delicious drink to accompany many meals. Try it with tapas, tacos, or pasta, for example. Depending on the meal, sangria can be made more or less sweet and bitter, whichever matches the meal best.
Sangria is not a low-calorie drink, as it contains some natural sugars from the liqueur, orange juice and fruits. But when compared to some other drinks and cocktails, sangria is definitely not that bad in the sugar content. Red wine itself, which is the main ingredient of red sangria, is low in calories and high in antioxidants, such as flavonoids and polyphenols.
Absolutely! If you're wondering how to make sangria that is alcohol-free, just follow the same recipe, but use alcohol-free red wine instead. You can leave out the liqueur or use an alcohol-free sweetener, such as maple syrup or fruit syrup. If you're not a fan of red wine, you can replace it with a strong-tasting fruit or berry juice, such as cranberry juice.
If you love this recipe…
Find other amazing recipes at PlantX;
Share this recipe
Did you make the recipe? We want to see!
Tag @plantx.uk on Instagram.
Buy products in the recipe
Please choose options for all selected products:
Recipes You Also May Like