Buy Ingredients
Ingredients
Directions
Top Tips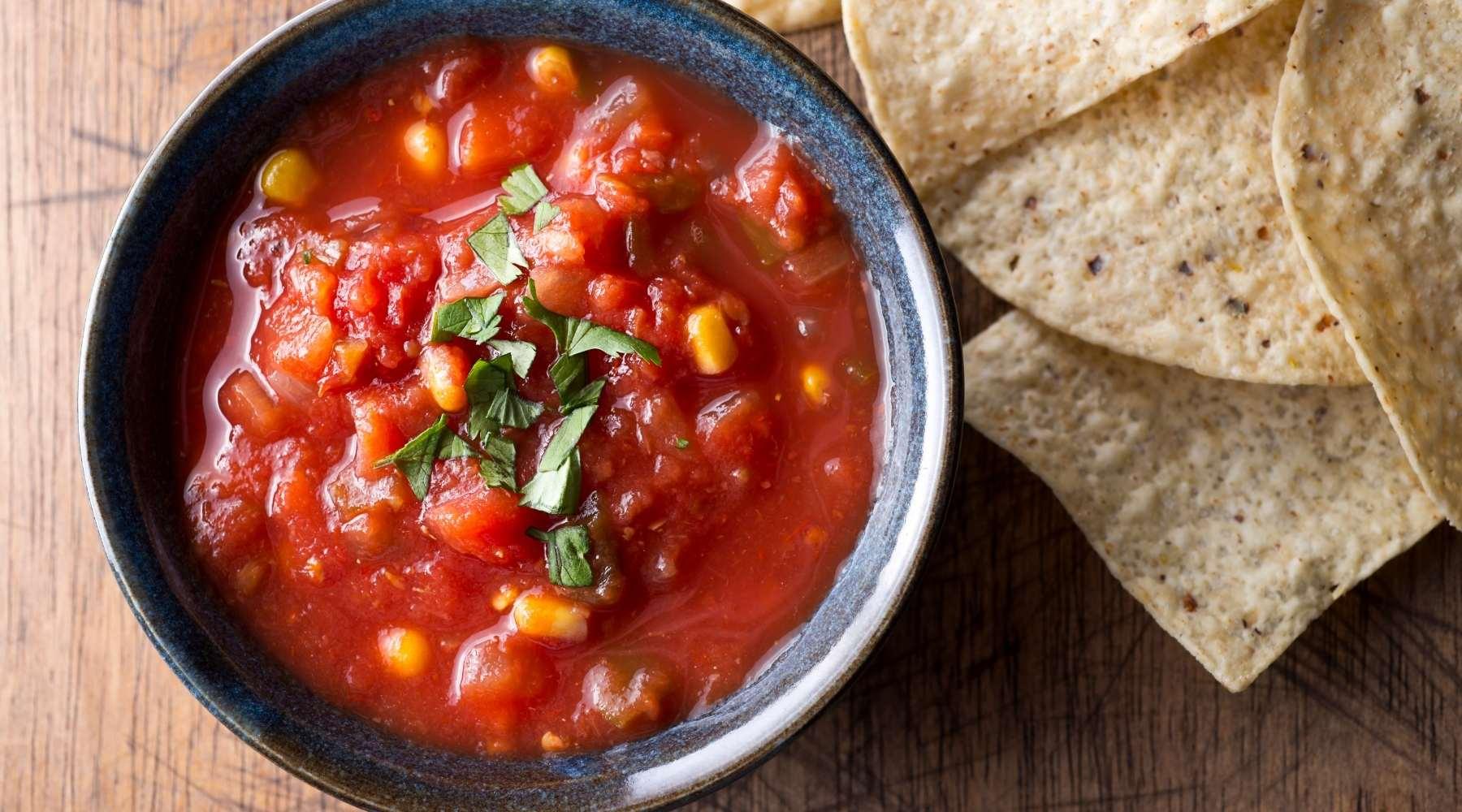 Looking for a delicious recipe you don't have to sweat over? We've found it. Simple. Easy. Delicious. This Homemade Salsa recipe showcases the epic flavour of juicy tomatoes in an authentic and easy-to-scoff dip - and it's ready in under 10 minutes! The only problem? You won't want to share it. 
Introduction 
Name the most legendary dip. SALSA! It's got to be, hasn't it? There's nothing better than sinking a nacho into this tomatoey delight and scoffing the lot! But, for me, shop-bought salsas don't always hit the mark, and I'm always on the hunt for easy recipes using fresh tomatoes to really show off this dip at its best. 
Introducing this epic Homemade Salsa recipe! 
A simple blend of onions, tomatoes, and garlic, this vegan salsa recipe celebrates simple Mediterranean flavours just the way that they should be, with none of the faff! 
Whether I'm whipping up vegan nachos for one, or inviting guests over to enjoy a spread, this homemade salsa recipe is a foodie's essential - and it's guaranteed to get mouths watering. It goes perfectly with crisps, pita or tortilla chips, and it can even be spooned into quesadillas or enjoyed on toast!
The best part? This vegan salsa recipe is so easy to make, it may even be quicker than going to the shops.
Shall we get started?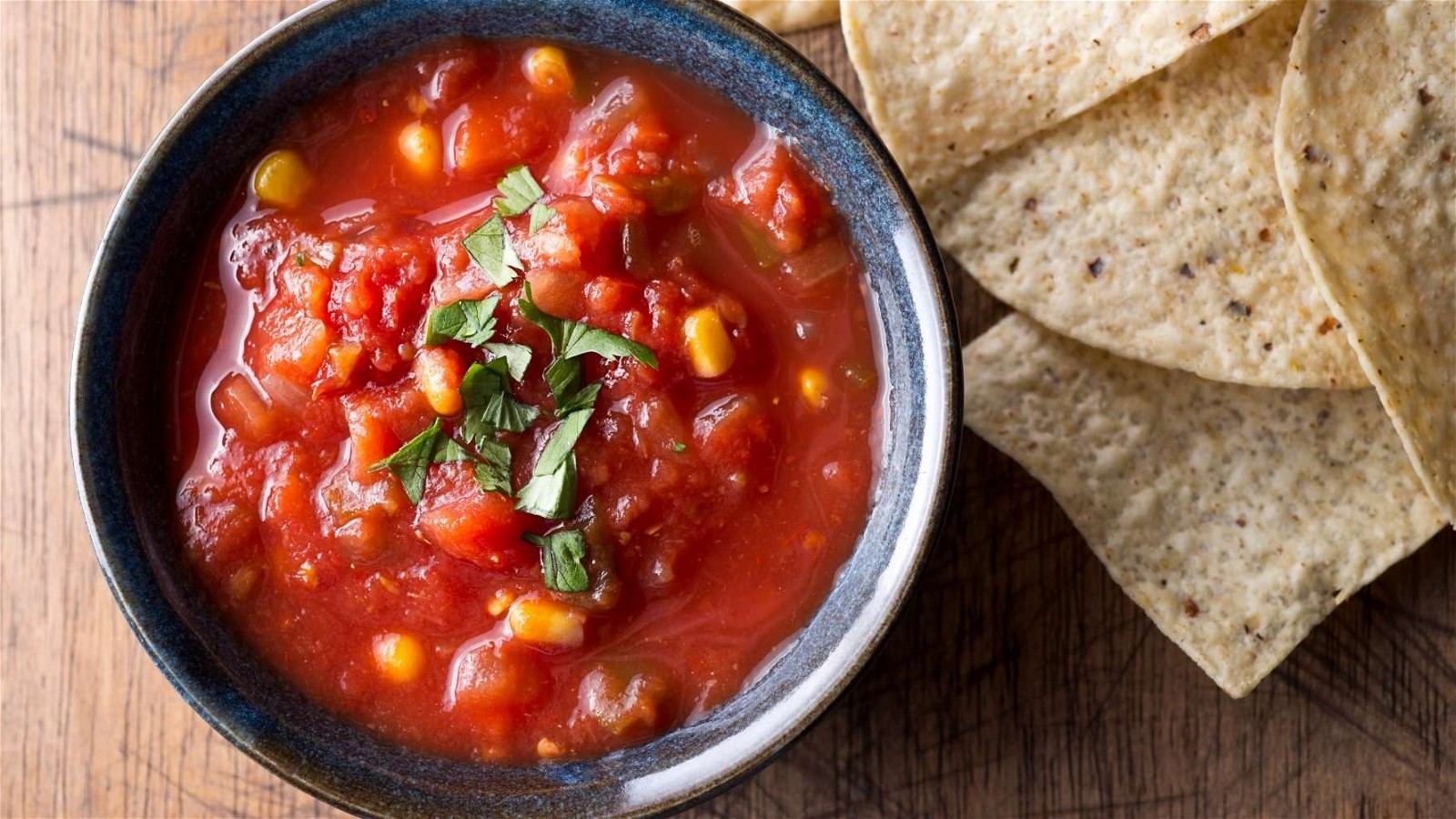 Homemade Salsa
Prep Time:

10 minutes

Servings:

4
Here's what you need:
Main Ingredients
450g tomatoes (I use cherry tomatoes, but you can pick whichever you prefer)
1 red onion
2 garlic cloves
Juice and zest of 1 lemon or lime
½ tsp cumin
½ tsp black pepper
1 chopped jalapeno (optional)
A handful of fresh coriander
A splash of white wine vinegar
½ tsp sea salt
Directions
Finely dice your onion, garlic and tomatoes as small as they will go.
Combine your onion, garlic, and tomatoes in a bowl with the jalapeno (if using).
Add the lemon/lime juice, white wine vinegar, sea salt, cumin, black pepper, and coriander. Combine.
Refrigerate until ready to serve and enjoy!
Top Tips
My favourite thing about homemade salsa is how easy it is to adjust to my taste or mood! This recipe is a general guide, but feel free to make it your own by adding or taking away any ingredients you want! For example

To jalapeno or to not jalapeno?

Some people love a spicy salsa. I am one of those people. However, my partner really can't take his spice, which is why I left the jalapeno out of my version of this homemade salsa recipe altogether. It still tastes delicious, just without the heat! Alternatively, if you still want a kick, just a milder one, why not add the jalapeno flesh, but leave out the seeds? This will make a warm but not hot salsa!

Have a sweet tooth?

If you want to add an extra level of taste factor to your salsa, why not try adding a teaspoon full of sugar? The sugar will counteract the acidity of the citrus and vinegar perfectly and make for an even funkier dip. Give it a go!

Want a less chunky dip?

I personally adore a chunky salsa (I love getting a big old hunk of fresh tomato on my tortilla chip), however, if you prefer your salsa to be smoother, that's fine too. All you need to do is pop your ingredients in a food processor (rather than chopping) and blend it to your perfect consistency. The good news is this technique makes this homemade salsa recipe even quicker too!

Variations

Allow it to sit! This salsa will taste most delicious after it has been allowed to sit (in the fridge) for at least 30 minutes but no more than 1 day. That's because it gives the flavours a chance to stew together. So, if you are having people over, we recommend making this dip in the afternoon, leaving it in the fridge, and whacking it out when your guests arrive.


Blitz ¼ of it… If you want to achieve the perfect combination of sauce and chunk, I recommend separating out ¼ of the mix, blending it, and then mixing it back in. This will make the mix a little saucier, without sacrificing the delicious chunks. Trust me - it's worth the extra effort!


Enjoy the leftovers on toast the next day! This dip is so delicious, it's hard not to gobble it all up in one sitting. However, if there are leftovers, try scoffing them on toast the next morning. I would argue it's THE perfect breakfast.

Wrapping Up

So, there you have it. This homemade salsa recipe really is as simple as that!

If you haven't made salsa before, this vegan salsa recipe will convert you, and if you have, this super easy recipe is still worth a try - especially if you like a chunky mix.

It's the perfect easy mix to whip up for an impromptu guest visit, and also can be a great light lunch served with bread. And, if you want to put on a Mexican feast, well this classic dip is a must-have.

With its short list of ingredients, this vegan dip is also a great option to suit almost all dietary requirements, and it's super easy to adapt to suit anyone's tastes. So, what are you waiting for? Get the tomatoes in!
Frequently Asked Questions
As long as it is stored in an airtight container in the fridge, this homemade salsa recipe will last for up to 2 weeks, although, as I mentioned, it tastes best between 30 minutes and 1 day after making. It can also be frozen for up to four weeks. So, if you love this vegan salsa recipe, why not make a big batch that you can keep dipping into?
To make this vegan salsa recipe, you can really use any type of tomato that you want. However, just remember, the type of tomato that you use will affect the taste and texture of your homemade salsa recipe. For example, salad tomatoes are more watery, which means a salsa made with these will contain a little more liquid. I like to use either Roma or Cherry tomatoes because they are less watery, and I love their more intense flavour. But, if I don't have any in the cupboard, salad tomatoes are fine too. Really, the choice is yours!
When it comes to serving up this vegan salsa recipe, the possibilities are just about endless. To start with, it is (obviously) perfect with traditional Mexican dishes. We're talking tacos. We're talking enchiladas. We're talking nachos. But, you can also get creative. Why not slop some on top of your vegan burger? Or, how about serving some with your morning tofu scramble? It also works great as a tomatoey salad dressing. So, really the question is. What can't you serve with this homemade salsa recipe?
Buy products in the recipe
Please choose options for all selected products:
Recipes You Also May Like