Buy Ingredients
Ingredients
Directions
Top Tips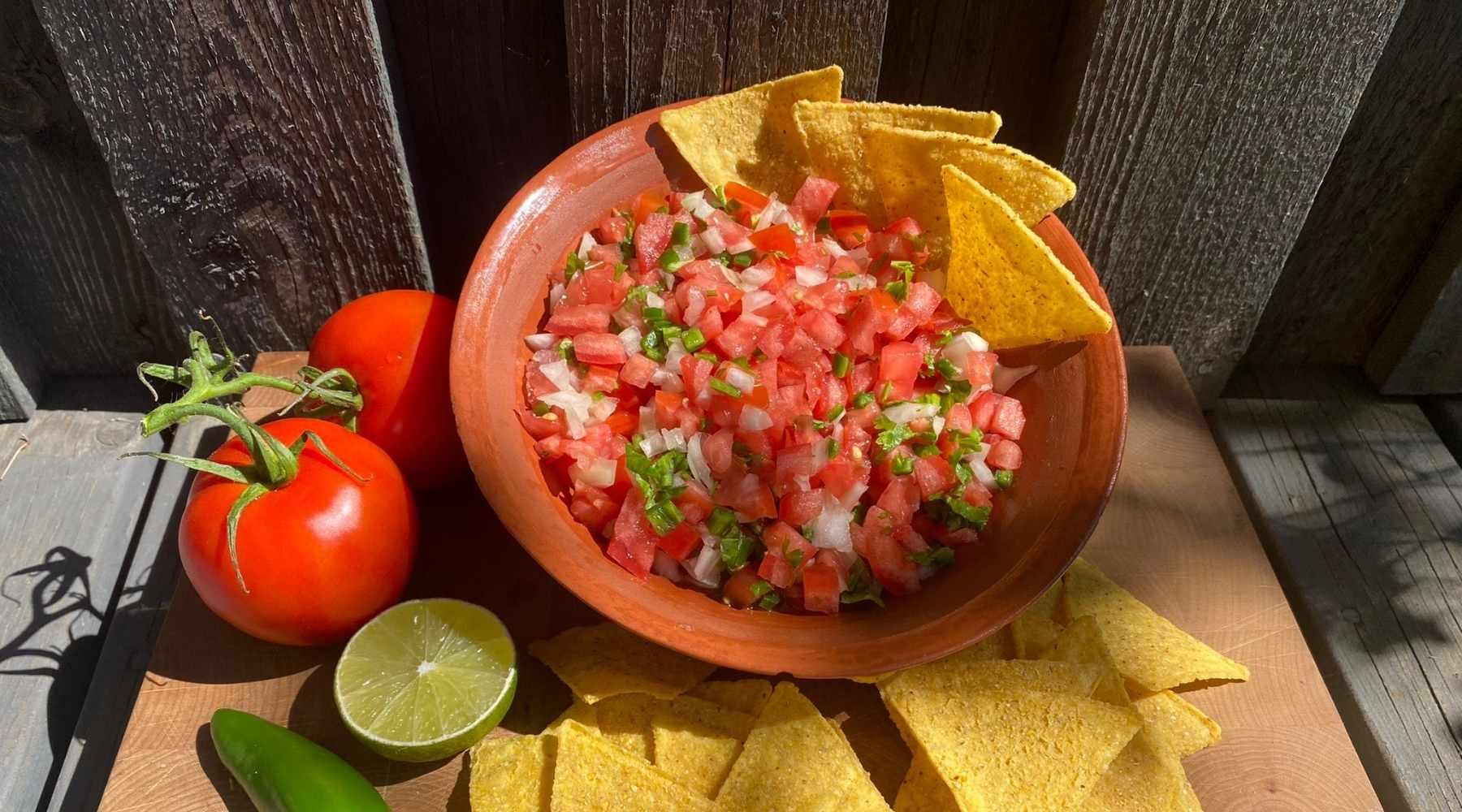 Opening
Bring colour and flavour into your meals with this fresh and healthy pico de gallo recipe. Or enjoy it as a snack with some tortilla chips and maybe a Mexican beer or a margarita!
Introduction
Looking for a perfect snack for the summer that is tasty, fresh, and healthy? We've got what you are looking for - our vegan pico de gallo recipe is everything you want and even more; it's fresh, crisp, zesty, and full of flavour. Enjoy it with tortilla chips, tacos, burritos, and other delicious recipes.
To make this gorgeous and colourful salsa/dip to accompany your favourite Mexican dishes, you only need a few ingredients ( you might even have most of them in your kitchen). This vegan pico de gallo recipe is easy and fun to make – and in addition, it is also gluten-free. Get chopping!
What is pico de gallo?
Pico de gallo is a mix of finely chopped tomatoes, white onion, jalapeno, and cilantro. These delicious ingredients are topped with lime juice and a pinch of salt to bring all the flavours together.
Our vegan pico de gallo is versatile to use and enjoy with tortilla chips, as a topping for tacos, or as a side with other delicious meals.
What's the difference between pico de gallo and salsa?
Although the ingredients can be somewhat similar, pico de gallo and salsa differ quite much in the flavour profile, texture, and the exterior. Salsa is more of a liquidy dip, whereas pico de gallo can also be considered a salsa, it is a lot more "dry" and chunky.
One of the biggest differences is that salsa can be prepared in a way that requires heat. Salsa can be made with cooked or flame-broiled tomatoes, for example. Our vegan pico de gallo recipe (and any other authentic pico de gallo recipe) should always be prepared with fresh and uncooked ingredients.
Salsa can often be stored in the fridge (after opening) for a longer period of time. Pico de gallo should be enjoyed fresh and therefore is at its best for around 2-3 days after making.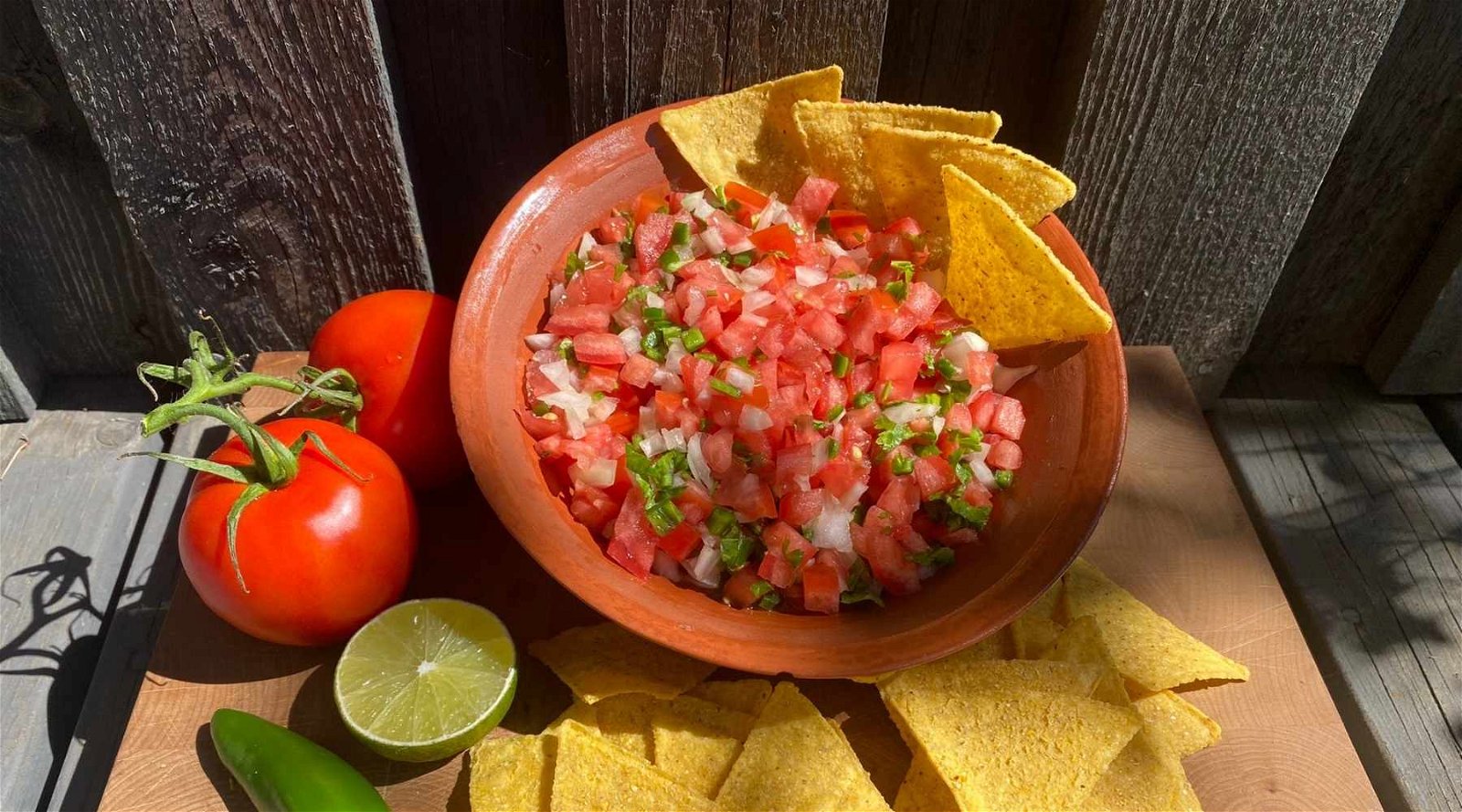 Pico De Gallo
Here's what you need:
Main Ingredients
3-4 tomatoes
1 white onion
½ cup fresh cilantro
1 lime
1 jalapeno pepper
½ teaspoon of sea salt
Directions
Wash your ingredients (tomato, onion, cilantro, and jalapeno). Dice the tomatoes, onion and remove the stem and seeds of the jalapeno before dicing. The key to making the most delicious pico de gallo that is not too watery is not to use the soft middle part of the tomatoes. Remove the liquidy inside, and only chop the outer and harder parts. Chop the cilantro and juice the lime. You can choose how fine you want to chop the tomatoes, onion, jalapeno, and cilantro; the finer dicing will give a more colourful and prettier exterior, than a rougher dice.
Mix all of the ingredients in a bowl. Pico de gallo is ready to eat right away or you can place it in the refrigerator to chill before serving. Check the salt just before serving and add more carefully if needed.
Serve with tortilla chips as a snack – and maybe with a margarita! You can also use pico de gallo with tacos, burritos, taquitos, beans, or whatever you'd like it with.
Top Tips
You can add ingredients such as corn kernels, diced avocado, diced red bell pepper, black beans, or even some delicious vegan queso fresco. You can always try different kinds of tomatoes, onions, or even change the jalapeno to fresh chilli if you want.

To really make your pico de gallo stand out, you could swap the tomatoes in the recipe completely for fruit like mango or pineapple. Adding some minced garlic and a bit of olive oil can also do wonders to the flavours.

Variations

To make this vegan pico de gallo recipe as delicious as possible, we recommend going for high-quality ingredients. The key ingredient, tomato: make sure it's ripe and not one of those tasteless, watery ones.

This vegan pico de gallo recipe is as traditional as it can be. If you want to spice things up – good news, that is extremely easy. Pico de gallo can be made in so many different ways!

Pico de gallo is at its best when it's freshly made. But it stays edible stored in the fridge for around two days – which means you could use it the next day with scrambled tofu or even on top of bread (Mexican bruschetta?!)
To Wrap It All Up...
We hope you enjoy this refreshing and easy recipe that will bring colour and flavour into many meals and snack sessions.
Frequently Asked Questions
Absolutely! All the ingredients in pico de gallo are perfect for daily consumption. That's what we love most about this vegan pico de gallo recipe – it's like the tastiest dip/salsa that is just as healthy as a salad!
Although the authentic pico de gallo recipe contains cilantro, it is possible to make without. If cilantro is not for you, try substituting it for basil or Mexican oregano, for example. You can also make the recipe completely without any herbs.
Pico de gallo is Spanish and translates into "beak of rooster". Although the recipe has nothing to do with birds, it is thought that the name comes from the way pico de gallo was originally eaten: by pinching it between the thumb and fingers making the hand look like a beak.
If you love this recipe…
And if you love this vegan pico de gallo recipe, make sure to check other delicious recipes at PlantX:
Share this recipe
Did you make the recipe? We want to see!
Tag @plantx.uk on Instagram.
Buy products in the recipe
Please choose options for all selected products:
Recipes You Also May Like