Buy Ingredients
Ingredients
Directions
Top Tips
Roasted Carrot Ginger Soup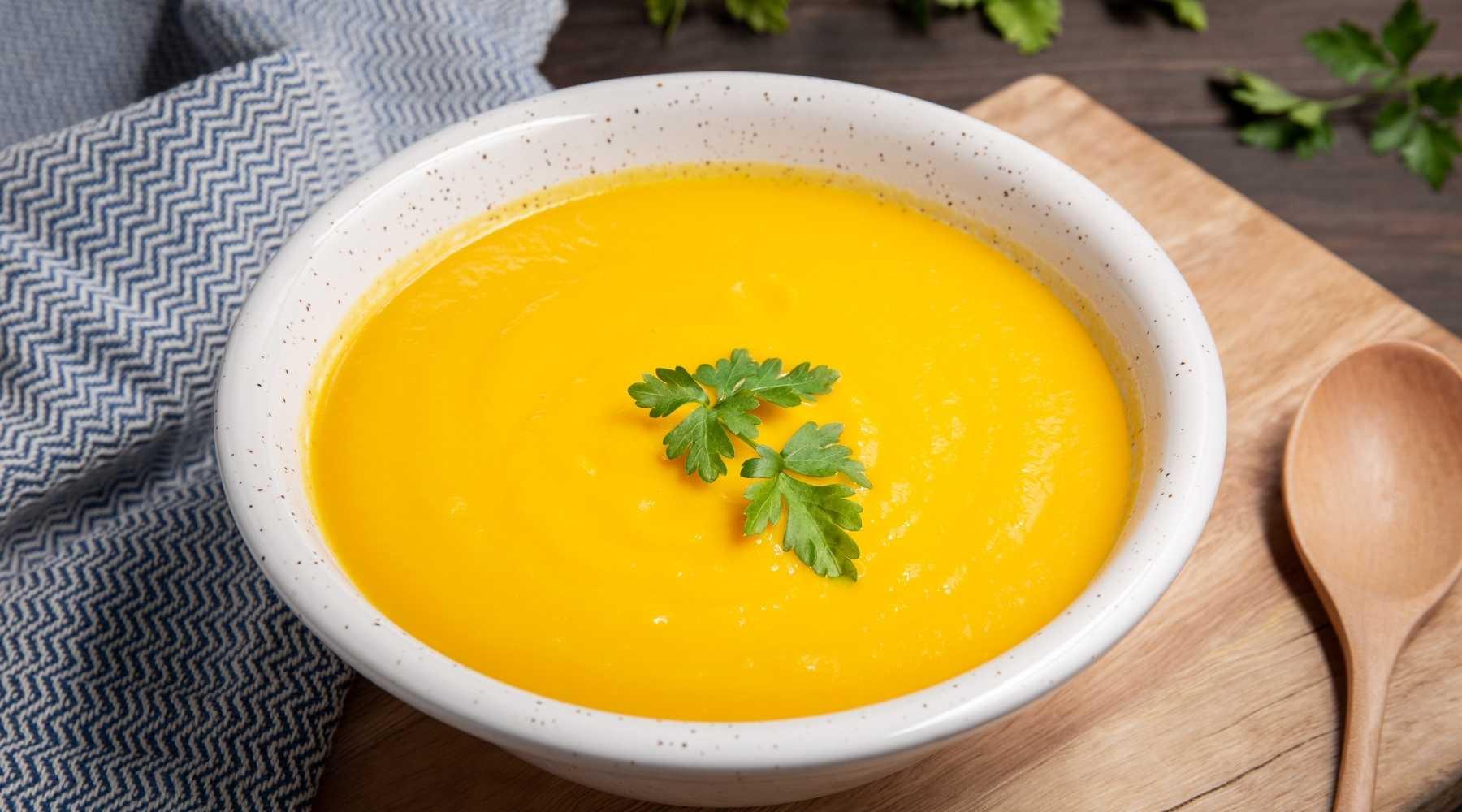 Opening
This is a super easy, quick-to-make soup that turns out delicious every time! The ginger and chilli give it a deep warm heat and flavour that is complemented by the creamy peanut butter and sweet potato and carrot. You can make a large batch of this carrot soup with ginger to set you up with healthy lunches for the week, or to warm up hungry dinner guests!
Introduction
This carrot soup with ginger is one of my favourite winter warmers. The sweet earthy taste of the roasted carrots and sweet potatoes is complimented by the creaminess of peanut butter, while the chilli, ginger and garlic give it a spicy kick. A sprinkling of salty toasted seeds on top adds a salty edge.
This fiery soup is fantastic on a cold winter's day. You can cook up a batch and then take some to work in a flask for a healthy lunch, and pop some in the freezer for a quick tasty meal on a busy day.
Carrots and sweet potatoes are both packed with beta-carotene and vitamin c so are great for supporting a healthy immune system in the winter. The spicy heat of this soup will blow away any winter grogginess while warming you though.
This delicious carrot soup with ginger has a glorious rich orange colour and rich velvety texture. It's inspired by delicious vegan satay curries that combine sweet orange root veg, peanuts and chillies for a spicy-sweet combo.
This soup is not only full of flavour and nutrients, it's vegan, gluten-free and paleo-friendly, so a great way to treat all kinds of dinner guests!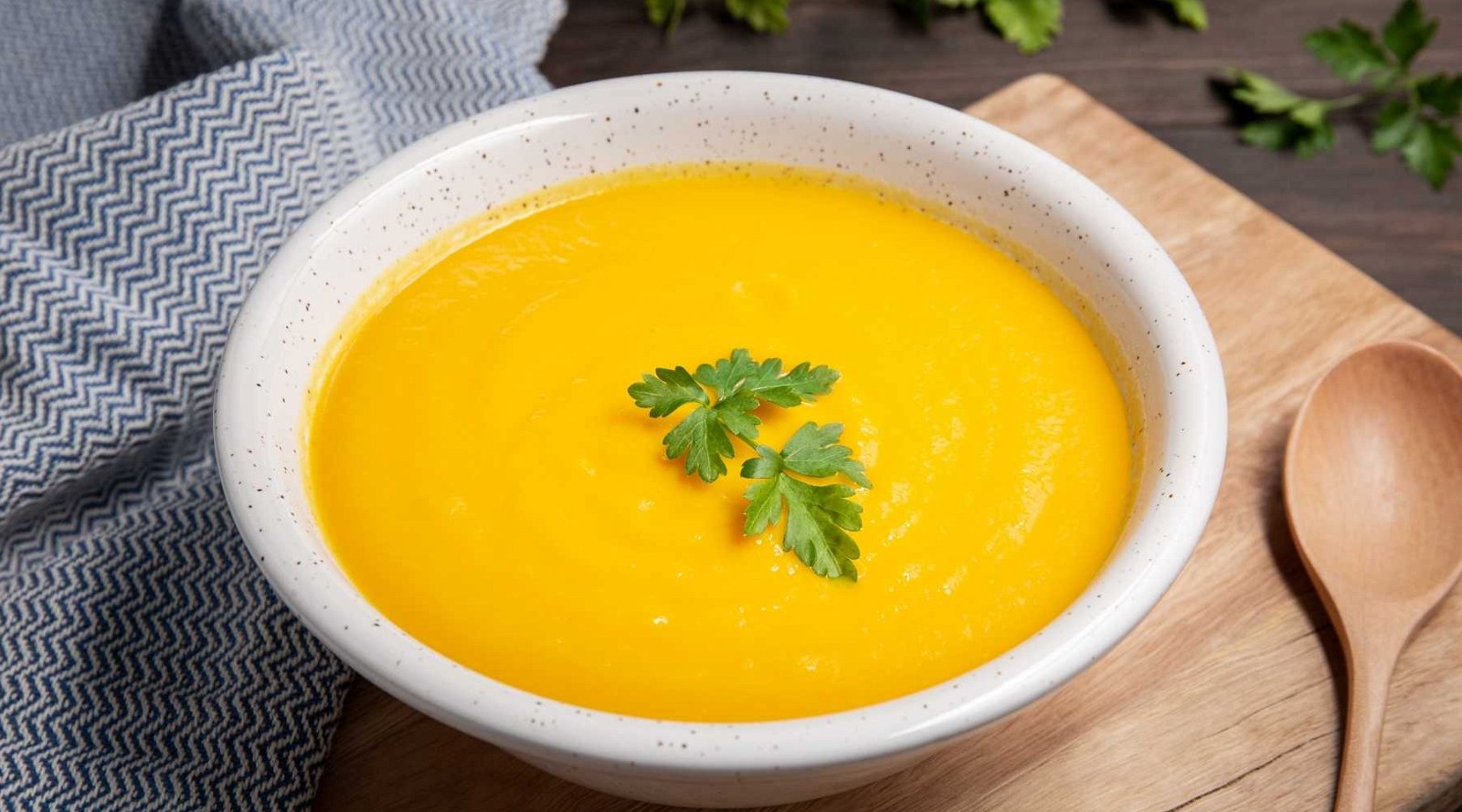 Roasted Carrot Ginger Soup
Here's what you need:
Main Ingredients
4 organic carrots - chopped
2 organic sweet potatoes - chopped
2 small brown onions - finely chopped
4 cloves of garlic - finely chopped
2 inches of fresh ginger - finely chopped
1 teaspoon of chilli powder (optional)
Black pepper to taste

For garnishing:

Black pepper - to taste
5 tablespoons of mixed seeds
1 tablespoon of soy sauce
A pinch of salt - to taste
Fresh rocket
A pinch of salt
4 tablespoons spoons of smooth peanut butter
1 tablespoon of extra virgin olive oil
1.5 litres of veggie stock
Directions
Chop the sweet potatoes and carrots into 1 cm thick pieces. The smaller you manage to chop them the faster they will cook and easier they will be to blend.
Place the chopped sweet potatoes and carrots into a pan. Pour your liter and a half of hot vegetable stock over the veg, bring to boil and then simmer on low heat for around 8 minutes until the veggies begin to go soft but are not fully cooked yet.
Chop the onions finely then place them in a pan with a drizzle of olive oil and fry on a low heat.
When the onions are beginning to caramelise and turn light brown, add the finely minced garlic and ginger. Stir frequently and then take off the heat when the garlic begins to turn light brown.
Add the caramelised onion, garlic and ginger to the pan, along with the peanut butter. Stir thoroughly then bring to the boil again for 2 minutes until the vegetables are soft.
Take the soup off the heat and allow to cool for 15 minutes so that the pan is cool enough to touch.
Using a hand-held blender, blend the soup until it is a smooth, consistent texture.
Sprinkle the chilli powder over the soup and stir it in.
Scatter the sunflower seeds in a frying pan with a drizzle of olive oil and toast at a low heat.
Once they start to turn brown, drizzle 2 teaspoons of soy sauce over them and continue to toast until all the liquid has evaporated and the seeds are coated.
Put the soup back on the heat until it is piping hot, serve and garnish with a sprinkling of toasted seeds, ground black pepper and fresh rocket.
Top Tips
If you want to give this carrot soup with ginger a more toasted, caramelised taste, you can roast the sweet potatoes and carrots rather than boiling them. To do this, chop them to the same size as in the recipe above, then place them across 2 baking trays drizzled with olive oil and roast at 200 degrees for 20 - 25 mins until they soften and turn slightly brown.

Stir the veg after the first 10 mins in the oven to make sure they are cooking evenly on both sides and across the tray.

If you don't have time to make your own toasted seeds, or would simply prefer something else, you can try vegan coconut bacon to add a salty crunch to your soup.

If you like your soup extra creamy (and less spicy) you can swirl in a tablespoon of coconut cream into each bowl of soup before garnishing.

Variations

Although your instinct may be to peel the carrots and sweet potatoes, if they are organic it is a good idea to leave the skin on. A lot of the vegetable's nutrients are in the skin, and it will add depth to the soup's flavour. However, if the vegetables are not organic, it is better to peel them.

If you are sensitive to spiciness, you might want to use half as much ginger and chilli. Combining the soup with smashed avocado on toast is a great way to cool down if it turns out spicier than you intended. The creamy avocado provides a nice contrast to the heat of the ginger and chilli.

Of course, if you love spice and heat, add more of both the chilli and ginger to suit your taste!

Try to make sure you cut up the ginger small as it does not always get picked up by the blender and chunks of fresh ginger can be pretty fiery!
To Wrap It All Up...
This spicy peanut twist on the classic carrot soup is sure to go down well with any crowd. The chilli and ginger can easily be adjusted if you are making this soup for people who are not keen on spice. In fact, the less spicy version of this soup is also great for kids and a great way to sneak veg into even the fussiest child's diet.
This soup is best hot but can easily be reheated after being kept in the fridge or freezer. It's just as good after being defrosted, and a great tasty and healthy meal to have stashed in the freezer for busy days!
Frequently Asked Questions
Yes, you can use carrots to make this soup if you prefer. If so, we recommend roasting the carrots to bring out their natural sweetness, as when boiled they are not as sweet as sweet potatoes.
You do not have to blend this soup. Instead, you can leave it chunky like a stew. We recommend you cut the garlic, ginger and onions extra fine so that their flavours are spread evenly within the broth. You may also like to add an extra spoon of peanut butter to thicken the broth.
If you love this recipe…
Take a look at our other vegan recipes below.
Share This Recipe
Did you make the recipe? We want to see!
Tag @plantx.uk on Instagram.
Buy products in the recipe
Please choose options for all selected products:
Recipes You Also May Like