Buy Ingredients
Ingredients
Directions
Top Tips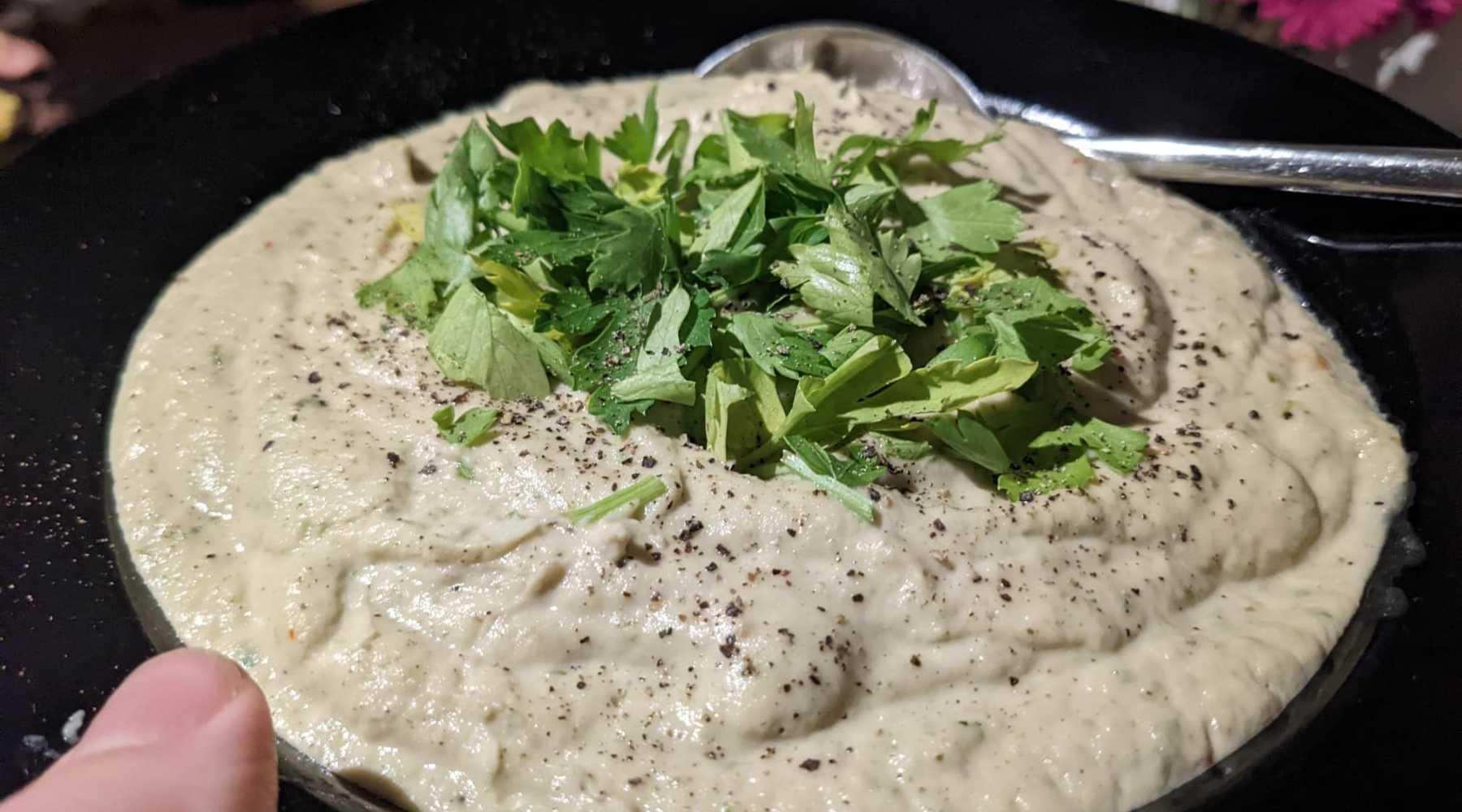 Opening
Looking for your new favourite dinner party showstopper? We've found it.
Smokey. Rich. Easy to make? This vegan baba ganoush recipe is everything we expect from baba ganoush, only more - it only takes 10 minutes of prep time! Who knew learning how to make authentic baba ganoush could be so simple?
Perfect for dipping, this is a Middle Eastern crowd pleaser, and it deserves a place at your table!
Introduction
Dipping.. is there anything better? If like me, you enjoy nothing more than sinking a chunk of pita into a creamy vegan dip, you'll always be looking for new dips to make to keep your mouth watering.
Introducing this ultimate vegan baba ganoush recipe!
I've been enjoying baba ganoush my whole life, but I never thought I could make it just as good at home… until now. This recipe is smokey, creamy and rich in all the ways it should be. It serves those chargrilled flavours we all know and love, with the added flair of parsley, garlic and chilli. The result? A dip guests can't get enough of, and I struggle to share.
The best part? You would never guess that whipping up this baba ganoush only took 10 minutes of prep time! This is cooking, just how I like it - with most of the time spent with my feet up!
Give it a go and see how easy it is for yourself…
What is baba ganoush?
Baba ganoush (also called baba ghanoush and baba ghanouj) is a Middle Eastern dip known for its smokey flavour and soft pulpy texture. Baba ganoush is aubergine based, and also typically contains tahini, lemon juice, olive oil, and garlic.
Often made as part of a meze spread, baba ganoush can be served with other dishes, or as a stand-alone dip, and it's enjoyed across the world for its legendary flavour, which happens to go perfectly with a toasted pita!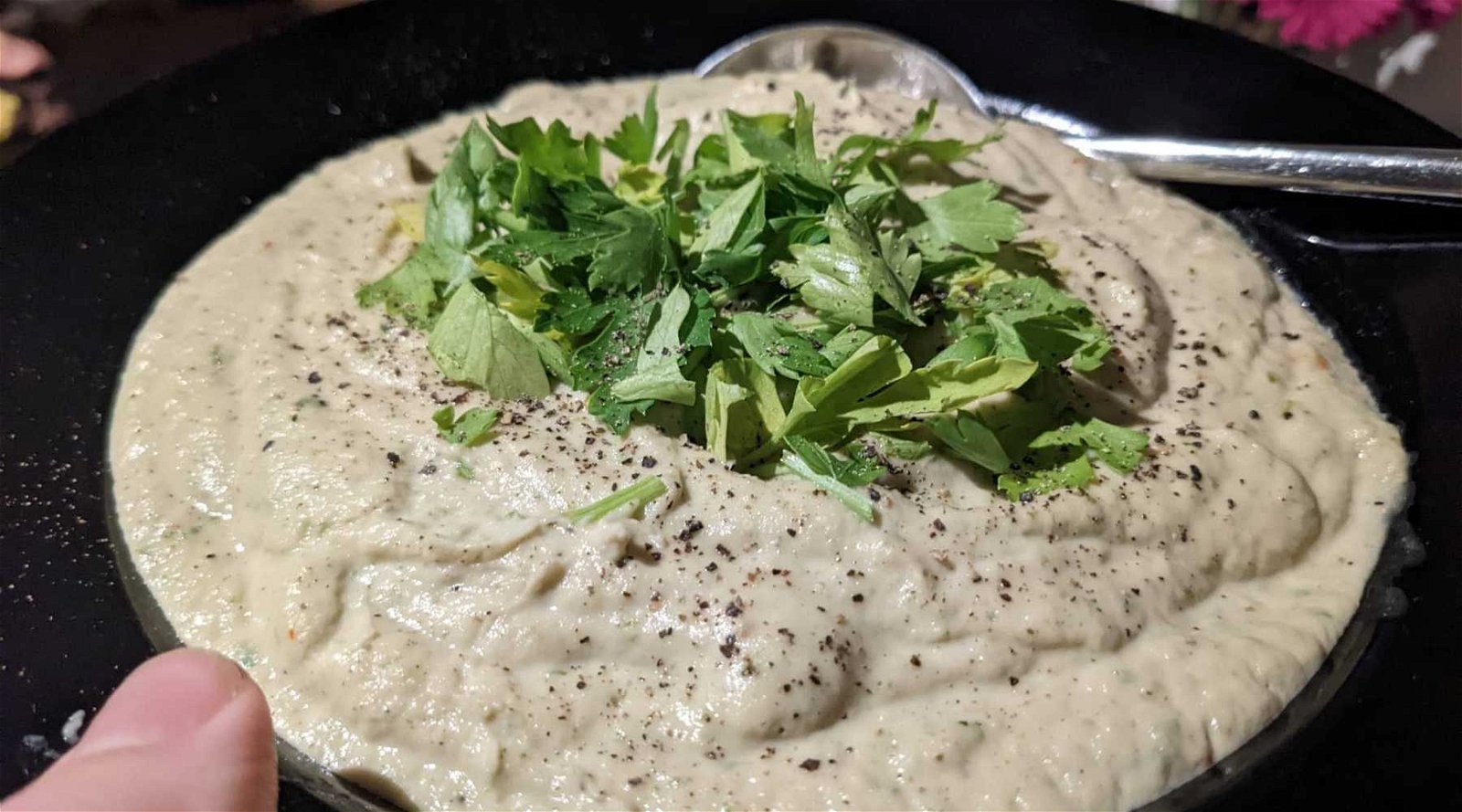 Baba Ganoush
Prep Time:

10 minutes

Servings:

4-6
Here's what you need:
Main Ingredients
2 large aubergines
juice from ½ a lemon (use the whole lemon if you want a stronger lemony flavour)
3 garlic cloves (peeled)
½ tsp of black pepper
1 tsp of cumin
1 tsp of chilli flakes (optional, for those who enjoy spicy flavours)
2 tbsp of freshly chopped parsley
To serve: toasted pita and crudités
60g tahini (I used Meridian Foods Organic Tahini)
3 tbsp of olive oil
½ tsp of sea salt
Directions
Preheat the oven on the grill setting to 210°C.
Place the 2 large aubergines into a baking tray and put them in the oven for around 1 hour, until the insides are completely tender and the skin begins to collapse, turning halfway through. Remove from the oven and set aside to cool. Do not worry if the skin of your aubergine is charred, this will be removed before eating.
Once cool, peel the skin from the aubergine. If cooked properly, this should remove easily.
Place the peeled aubergine flesh in a food processor with the garlic, tahini, lemon juice, olive oil, sea salt, black pepper, cumin, and chilli flakes (if using). Pulse until smooth.
Transfer to a serving dish and top with the chopped parsley and enjoy.
Top Tips
To blend or not to blend…

Traditionally, baba ganoush is not made using a blender but is instead mixed together using only a fork. In this recipe, I have opted to use the blender for two reasons. Firstly, to save my wrist the effort. Secondly, for a baba ganoush that is a little smoother, with fewer lumps. However, if you want a more traditional baba ganoush with a thicker texture, ditch the blender!

Pick your garnish…

My favourite thing about making dips is experimenting with different toppings. This vegan baba ganoush is no exception. My advice? Get creative. Sesame seeds, smoked paprika, pine nuts, and fresh chilli are all great ways to zhuzh up this baba ganoush with a sexy topping, so get topping!

Mix up your spices…

The core ingredients of baba ganoush include aubergine, tahini, olive oil, lemon juice, garlic, and salt. Beyond that, you can be a little freer with what you add in, especially with spices. I love to add in cumin and some chilli flakes to give this dip an extra heat, but sumac, paprika, and turmeric are examples of more flavours you can experiment with.

Variations:

Grill your aubergine: Roasting your aubergine for baba ganoush works perfectly well. However, grilling your aubergine levels the dish up. Why? Because it intensifies the smokey flavours, making your baba ganoush even more delicious!

Don't over-blend: If you use a blender to mix your baba ganoush, be sparing with the blitz button. Baba ganoush is not meant to be completely smooth and won't need long in the blender to mix all of the ingredients together, so stop before it turns to sludge!

Chill before serving: Think of baba ganoush like white wine - it's best after a few hours in the fridge. So, if you are hosting friends, make sure to whip up your baba ganoush in the morning so you can leave it in the fridge for a few hours (preferably in an air-tight container) before serving.

What to serve with baba ganoush…

As mentioned, baba ganoush is a middle eastern dish that is typically enjoyed as part of a meze spread. We're talking couscous salad. We're talking falafel. We're talking hummus. We're talking vegan koftas. We're talking olives. Basically, we're talking about all the delicious foods we know and love! So, if you are having your friends over for dinner, a meze table with baba ganoush at the centre will never go down badly.

Baba ganoush also makes a great stand-alone dip for a pre-dinner snack. Simply serve it with some warm toasted pita, some fresh veggie crudités, or a bag of thick-cut salted crisps and you will be onto a winner!
To Wrap It All Up...
Now you know how to whip up this baba ganoush in just over an hour, it's time to get hosting! This middle eastern dip is perfect for sharing with up to 6 people - if that isn't an excuse to invite your friends around, I don't know what is!
Get your meze hat on and whip up a Saturday lunch feast, or go above and beyond for a movie night snack spread. Or, if you can't bear to share, treat yourself to a smokey and spicy midweek solo dipping sesh (we've all been there)!
However you choose to enjoy this vegan baba ganoush, make the most of this baba ganoush recipe that showcases the magic of aubergines in one easy-to-scoff mix!
Frequently Asked Questions
The main ingredient in baba ganoush is aubergine, meaning that, compared to other cheese or cream-based dips, baba ganoush provides a pretty hardcore hit of pure veggie goodness and is extremely low in calories. Not only this but aubergines are great sources of antioxidants, including vitamins and minerals, as well as nutrients like niacin and magnesium. This means that baba ganoush has great nutritional value, without too many nasty add-ins. That's a healthy dip in our eyes!
As mentioned, the core ingredients of baba ganoush are aubergine, tahini, olive oil, lemon juice, garlic, and salt - all ingredients that are vegan. However, some pesky baba ganoush recipes may add a little greek yoghurt or egg into the mix to thicken it. This is something that you should look out for when you are buying vegan baba ganoush in the shop too - as some brands might include these in their recipes. The good news is that these ingredients aren't needed to achieve the great taste of baba ganoush, and this recipe is the proof (and the pudding)!
Baba ganoush is best consumed fresh to appreciate the yummy middle eastern tastes. However, the good news is that it can also be refrigerated for up to 4 days, as long as it is stored in an air-tight container. So, if you want to make a batch in advance, this is a great option! Baba ganoush can also be frozen safely, however, be warned, this may affect its consistency when it is defrosted. Therefore, it may be best to stick with the fridge with this one.
If you love this recipe…
If you love this tasty dip, why not try some of our other delicious vegan savoury dishes?
Share This Recipe
Did you make the recipe? We want to see!
Tag @plantx.uk on Instagram.
Buy products in the recipe
Please choose options for all selected products:
Recipes You Also May Like