Buy Ingredients
Ingredients
Directions
Top Tips
Cannellini Beans and Greens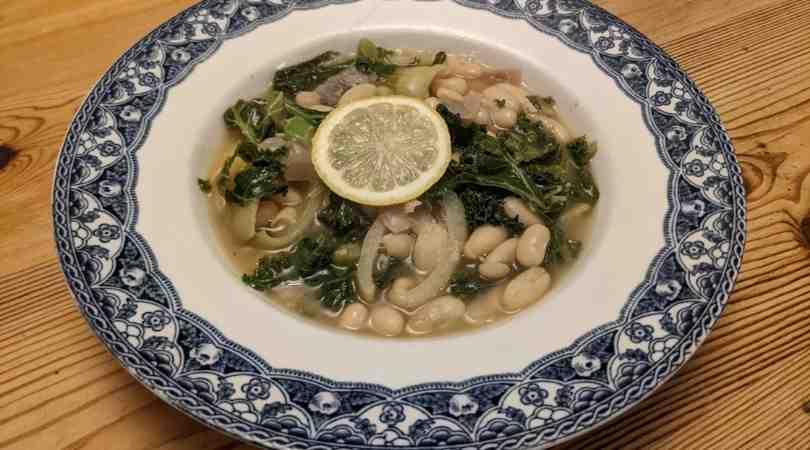 Looking for a wholesome recipe you can feel good about eating? Try this cannellini bean recipe for a warming broth packed with heart and soul. Using nutrient-rich beans and greens and just 10 minutes of prep time, this easy recipe is the secret to enjoying comfort food, guilt-free!
Introduction 
Whenever I've been in the supermarket, I've always picked up the cannellini beans and put them right back. What the heck should I make with these beans? What do they taste like? And how do you even cook cannellini beans? I've never had a clue, which is why I've been scared off. 
Until now! This cannellini bean recipe has changed the game and allowed me to discover the magic of everything that these beans have to offer. 
A simple recipe combining cannellini beans with flavourful aromatics and fresh greens, this recipe is wholesome cooking at its finest, and the results are mouthwatering! A cross between a stew and a soup, this cannellini bean recipe showcases them floating in a hearty aromatic kale-packed broth that keeps me coming back for more. 
The best part? Containing only protein-packed cannellini beans, nutrient-rich greens, and other fresh vegan ingredients, this recipe is brimming with good stuff. Good for your heart and your soul - who knew comfort food could be so nutritious? 
Learn how to cook these cannellini beans and discover bean magic at its finest!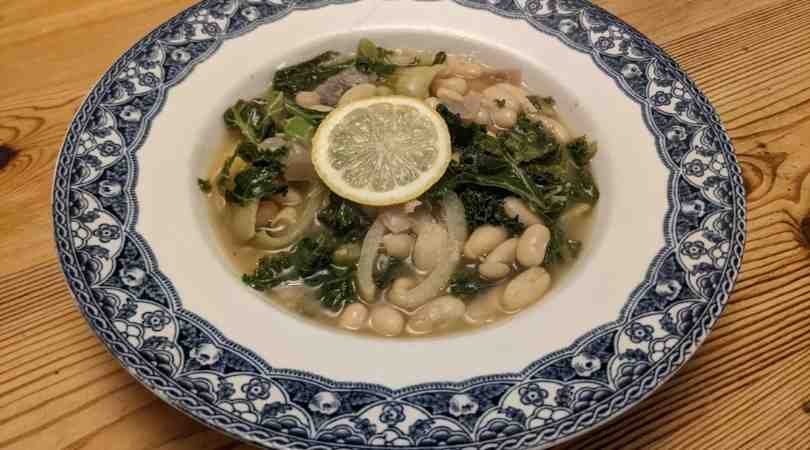 Cannellini Beans and Greens
Prep Time:

10 minutes

Servings:

8
Here's what you need:
Main Ingredients
2 cups of dried cannellini beans or 2 tins of cannellini beans
2 white onions
5 garlic cloves (peeled and crushed)
1 fennel (roughly chopped, with stalks and bulbs chopped separately)
2 tbsp lemon juice
1 pack of kale
A handful of fresh parsley (chopped)
3 cups of vegetable broth
1 tsp sea salt
2 tsp black pepper
1 tbsp olive oil
Directions
If you are using dried beans, first soak them overnight. Cover them in 2-3 inches of water, discarding the beans that float. Leave them for at least 8 hours, drain, and then rinse. Once soaked, bring a pan of water to the boil. Add the beans, boil for 1 minute, then leave to simmer for 30 minutes, and drain.
In a large pan, fry the onion and garlic with the olive oil on a medium heat for a few minutes.
Add the stock, beans, fennel, salt, and pepper. Bring to the boil and then leave to simmer for 30 minutes.
Remove the fennel stalks and add the kale and lemon juice and cook for a further 30 minutes. Add more stock if needed. Serve when the kale and beans are soft.
Top Tips
One of my favourite things about this cannellini beans recipe is how easy it is to mix it up, depending on what you feel like eating and depending on what you have in your cupboards.

As well as kale (or instead of it), pretty much any delicious green veggie will work great in this cannellini bean recipe. I have tried swiss chard, spinach, and broccoli and all were tasty! You could even add in some potatoes or cauliflower if you wanted to!

Basically, the options are endless, so, why not get experimenting?

Variations:

Chop the fennel stalks separately: I find the fennel bulb the tastiest part of the fennel. That's why I chop them separately and remove the fennel stalks halfway through this recipe. That way you get the flavour from the stalks, while only eating the best bits!
Add the lemon juice at the last moment: if left to simmer for too long, the added lemon juice will lose its flavour. So make sure you stir the lemon juice at the end, to benefit to the max from this zingy treat!
Season to your taste: this recipe is easily adaptable, so make sure you taste it and season it to suit you. If you like pepper, add an extra dash! If you want garlic, add more cloves! This cannellini bean recipe is your oyster.
To Wrap It All Up...
So there you have it. Delicious and nutritious cannellini beans that are easy to enjoy faff free. I will never be avoiding the cannellini beans in the supermarket again!
This recipe is perfect for cooking up for the family mid-week to ensure an easy healthy dinner you can all enjoy. Just serve it with some rice or bread and bobs your uncle! Or if cooking for yourself, why not make a batch and enjoy it bit by bit. You could even take some to work in your packed lunch. This cannellini bean recipe also works great as a side for other delicious dishes, like roasted veggies or salad!
Frequently Asked Questions
This cannellini beans recipe is designed to be easy to cook in just one pot. Yes, that's right - that means just one pot to wash up! If you are using dried beans that need to be soaked and boiled, you can even start cooking the beans directly in the pot after you have boiled them!
Want to make a big batch of this cannellini bean recipe? No problem. Simply store it in the fridge in an airtight container for up to 4 days. This way you can enjoy this tasty broth as leftovers the next day! Or if you want to keep these beans for longer, you can store them in the freezer (again, in an airtight container). They will be at their best if they spend no longer than 2 months in the freezer before you enjoy them.
When you want to enjoy these beans again, simply reheat them on a hob until they are cooked through!
If you love this recipe…
If you love this cannellini bean recipe, why not try some more recipes that showcase the magic plant-based foods have to offer? Here are some ideas…
Share this recipe
Did you make the recipe? We want to see!
Tag @plantx.uk on Instagram.
Buy products in the recipe
Please choose options for all selected products:
Recipes You Also May Like