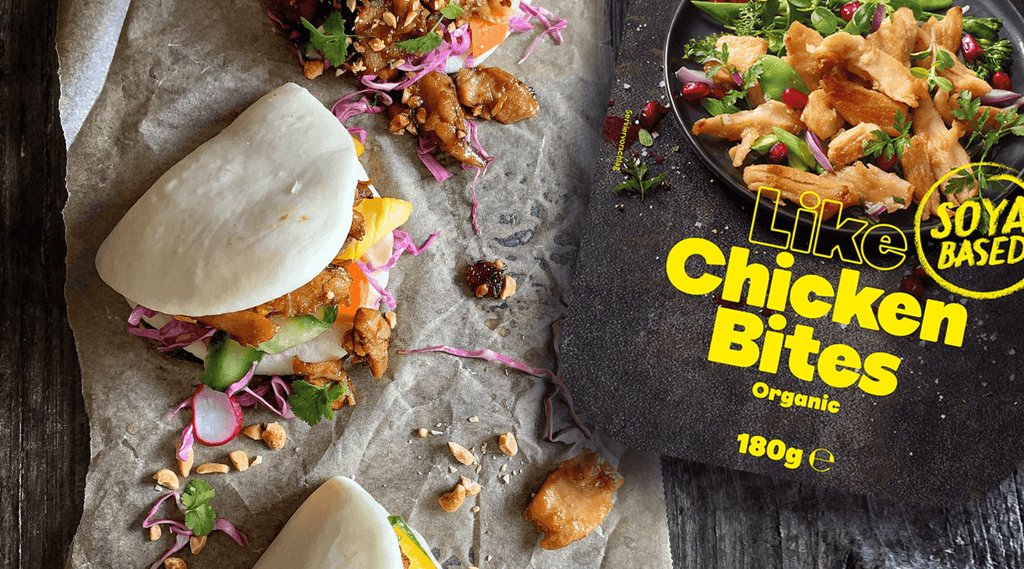 Fried, grilled, roasted? However you like your chicken, we guarantee that there will be a vegan chicken alternative for you available here at PlantX. In this short guide, we will outline what vegan chicken is made of 9 ready-to-eat vegan chicken meals that you should try and give you some ideas for how these genius plant-based ingredients can be best enjoyed. So let's get into it!
Vegan Chicken
Everyone's favourite comfort food, whether you're coming in late from a long day at work or have just got back from a big night out, admit it, nothing quite hits the spot like a chicken nugget. Now, all the fun of chicken nuggets can be enjoyed by us vegans too with this delicious selection of vegan chicken nuggets available at PlantX. 
Fry's Nuggets, Impossible Chicken Nuggets and Darling Plant-Based Breaded Chicken Pieces are some of the few innovating companies that are making huge movements in the chicken nug' space. They're even considered some of the best! 
1. Fry's - Chicken Style Nuggets
Fry's is a brand that can be relied on for all things vegan chicken. Their Chicken Style Nuggets and Rice Protein & Chia Nuggets are just like the real thing but totally guilt-free! Using an expert blend of vegetable proteins, these delicious nuggets have been coated in golden-brown breadcrumbs giving you the keys to full-on vegan chicken nugget heaven. 
So lather on the ketchup, vegan mayo, or brown sauce and enjoy these succulent vegan chicken nugget bites! 
2. Fry's - Chicken Style Burgers
Impress all of your guests at your next BBQ or garden party with a tasty vegan chicken burger. Just like the real thing but lower in fat and cholesterol, switching to a tasty vegan chicken burger is certainly a choice you won't regret. 
Fry's Chicken Style Burgers are a great choice as they combine all the best elements of a fried chicken fillet and are totally harm-free. There's enough for the whole family! Each pack contains four generously sized chicken-style burgers that are loaded full of plant-based protein and lower in fat and cholesterol. So what are you waiting for?
3. V Bites - Chicken Style Slices
Finding ways to fit plant-based protein can sometimes feel a bit tricky, you can't exactly put chickpeas in your sandwich, right? That's where vegan deli-style slices come in. Make your very own delicious vegan chicken Club Sandwich with the help of V Bites' Chicken Style Slices.
Made using wheat gluten, soy protein, and protein and potato starch, these delicious chicken-style slices are packed full of healthy plant-based protein, are low in fat as well as being cholesterol-free! Each one of these vegan chicken-style slices contains a high level of plant-based protein. 
To make the perfect vegan chicken Club Sandwich for your packed lunch take two thick and grain slices of bread, slather on some vegan mayonnaise and top with your vegan chicken slice, tomatoes, lettuce and bob's your uncle! 
4. Love Seitan - Seitan Chyck'n Bites
Get that oh-so-good taste of a bit of fried chicken back with Love Seitan's Seitan Chyck'n Bites, the perfect vegan fried chicken. Coated in beautiful golden-brown breadcrumbs and fried to give you a perfectly crispy exterior and succulent and tender interior, these Chyck'n Bites are a great guilt-free alternative to fried chicken.
Lower calories and fat, and a great source of plant-based protein - you really can't go wrong with these vegan fried chicken bites. 
Pair alongside a generous dollop of your favourite condiments (ketchup and vegan mayonnaise would be great here for a cocktail-style sauce) and serve with cocktail sticks for a quick and easy vegan tapa. Just the thing for all your dinner parties and soirées, and guaranteed to impress all of your guests.
5. Future Farm - Future Chyck'n
Tender and delicious, grilled chicken just got better (not to mention healthier) with Future Farm's Future Chyck'n. These pre-cut mouthwatering vegan chicken slices have been made using 100% natural ingredients and have been designed to be grilled.
Using an expert blend of vegetable proteins, these tender bites have been seasoned to perfection with sunflower seed oil, vegetable fibres, and nutritional yeast giving you a luxury vegan chicken alternative that is just like the real thing. 
Perfect for all of your summer wraps and salads, why not try making vegan Chicken Caesar Salad. Top your lettuce and chopped tomatoes with some grilled Future Farm's Future Chyck'n - don't forget your dressing and croutons! 
6. Lazy Vegan - Chicken Style Pieces
Your chicken curries and stir-fried don't have to be a thing of the past with Lazy Vegan's Chicken Style Pieces. These tender and succulent vegan chicken bites can be easily incorporated into a range of delicious plant-based recipes. So whenever you're feeling lazy, you know who to turn to! 
Experts at Lazy Vegan have carefully developed their delicious vegan chicken using pea protein, pea fibre, and potato starch and the result is a delicious chicken breast-style vegan protein that is packed full of tasty chicken flavour. 
Designed to be used in a range of plant-based recipes, these vegan chicken bites would be perfect for vegan chicken tikka masala and can even be fried with pepper, mushroom, and bean sprouts for a classic Chinese stir fry! 
7. Love Seitan - Chyck'n Seitan Chub
Possibly the most dynamic of all the vegan chicken alternatives, anything is possible with the Chyck'n Seitan Chub from Love Seitan. This genius ingredient has been designed for all of you budding chefs and culinary experts out there, serving as a based ingredient and plant-based protein that can be dressed up, seasoned, and cooked however you like.
This dense log can be stored in the fridge, and is ready to be sliced, diced, minced, shredded or grated! Love Seitan has already done half the work, carefully seasoned with nutritional yeast, onion powder, and garlic when cooked this Chyck'n Seitan Chub has the familiar smell of a Sunday Roast. 
Why not really push the boat out and use this Chyck'n Seitan Chub to experiment with making a Chicken Pot Pie! Packed full of plant-based protein, root vegetables, and tasty gravy this is a great meal for a cold winter evening!
8. Tivall's Vegan Schnitzel
Feast away on a vegan twist on Germany's national dish Tivall's Vegan Schnitzel. Most commonly schnitzel refers to a thin slice of meat that has been pounded and breaded before frying. 
This Vegan Schnitzel has been made using soy protein to achieve that meaty consistency, and has been seasoned using a classic spice blend made up of onion, garlic, and paprika!
This classic dish can be served in a variety of ways, we would recommend serving it with creamy vegan gravy, some roast potatoes, and some steamed broccoli. A nutritious and delicious dish for all the family. 
9. MeatLess - Herb & Garlic Gyros
Go Greek and transport yourself to the Mediterranean with MeatLess Herb & Garlic Gyros from MeatLess. 
Though not the national dish of Greece, Turkey, or Lebonon (why we don't know) anyone from the region will tell you that this is the number one, must-try street food.
Traditionally, Gyros is a meaty pita sandwich that is loaded with tomatoes, onion, tzatziki, and chips. MeatLess has made it possible for us vegans to delight in the joys of deliciously greasy gyros. 
The vegan chicken used in MeatLess' Herb & Garlic Gyros is primarily made up of wheat and soy protein which work to give it that stringy texture and has been carefully seasoned and marinated in apple cider vinegar, sugar and a blend of natural seasonings.
Frequently Asked Questions
What is vegan chicken made from?
Over the past twenty years, with the explosion of veganism and vegetarianism around the world, chefs and food scientists have had to find new and inventive ways to create authentic vegan chicken alternatives. So, you may be asking yourself, what is vegan chicken made of? And how can it taste so damn good? 
Brands like Lazy Vegan use an expert blend of pea protein, pea fibre, and potato starch in all of their faux-chicken products (including their amazing Chicken Style Pieces). Whereas Future Farm - with their excellent Future Chick'n - uses a combination of soy protein, chickpea protein, and pea protein in all of their products.
The use of vegetable proteins is effective as a vegan chicken alternative as, when cooked, it contains that same tender and stringy consistency of regular bit of fried chicken or a chicken breast. 
One ingredient that seems to be trumping them all when it comes to vegan chicken alternatives is, you guessed it, seitan. 
In short, seitan is a food made from gluten which is the main protein of wheat. It is made via a process in which wheat flour dough is washed with water until all of the starch granules have been removed, leaving you with an elastic mass that can be cooked and eaten. 
Brands like Love Seitan provide products like their Funky Chyk'n Seitan Chub which has been flavoured with nutritional yeast and seasoned to perfection to give it a distinctly chickeny taste.
Benefits of switching to vegan chicken
Going vegan can sometimes feel hard, especially because many of the recipes that we know and love contain meat and dairy. Thanks to what vegan chicken is made of, switching to using vegan chicken can be an easy and effective way to continue cooking all of the poultry recipes that you know and love, without having to get too creative with lentils, beans, grains, and pulses. 
Not only is vegan chicken typically healthier than regular chicken, it is also proven to be more sustainable, plus, it's super convenient with the plethora of options on the market.
Hungry yet? We are!
All in all, switching to vegan chicken has never been easier! However you liked your chicken before, you're guaranteed to like it again with our wide variety of easy-to-cook types of vegan chicken available on the PlantX site - vegan chicken, vegan fried chick, you name it! Ethical, sustainable, nutritious, and delicious there really is no reason to ever go back to the real thing!