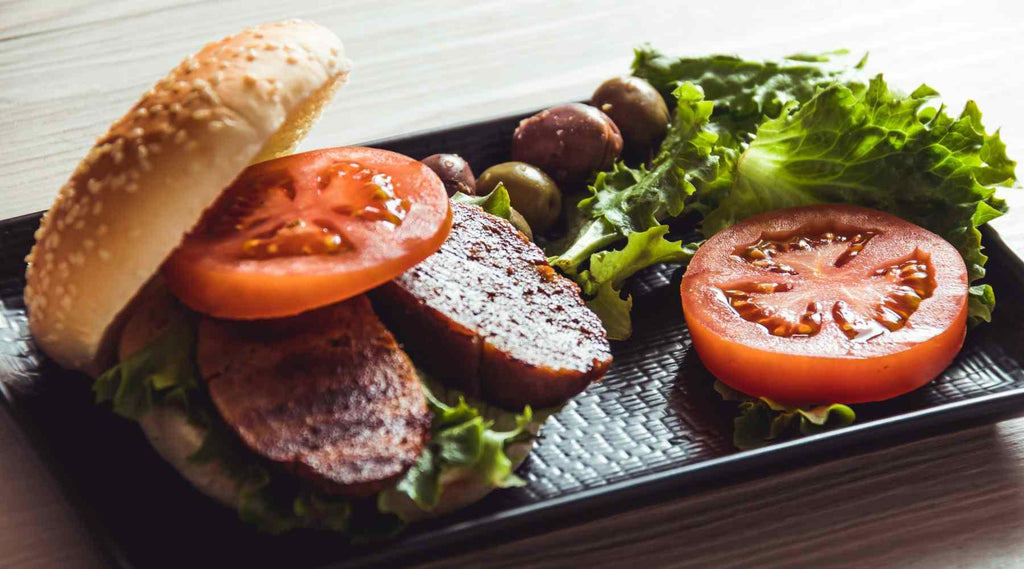 When talking about plant-based meat, a lot comes to mind. Let's get this straight - we're talking about more than raw ingredients like tofu, chickpeas, or beans here. We're talking about pre-made, ready-to-cook plant-based meats. Yes, a lot of plant-based meats can be made out of the ingredients mentioned earlier, but we're here to focus on the more convenient and prepacked alternatives that one might often grab.
Frozen appetisers, burgers and sausages are staples. But do plant-based meats bring the same nutrients as animal-based ones? How healthy is plant-based meat? We'll get to that in a bit. But first thing's first…
What are Plant-Based Meats? 
We gave you a little taste earlier, and let's go into that a bit more. We're not talking about plant-based meat substitutes - we're talking about plant-based meats. Period. 
A lot of plant-based meats are made with ingredients that can stand alone as substitutes. Think of tofu, seitan, wheat gluten, and other similar ingredients. Those more familiar in the kitchen will be able to take these substitutes and make delicious meals out of them. But that takes time. What if we want something more in the style of heat-and-eat? That's where plant-based meats come in.
Plant-based meats are made to look like animal-based meat. You can get mince, steaks, and just about any iteration of more conventional proteins. And you get variety, too! You can find specific plant-based varieties that come tasting like chicken, beef, fish, and turkey. 
Is Plant-Based Meat Healthy?
We ended the last section saying that plant-based meats taste almost, if not the same, as the real deal. And that's thanks to seasoning! Soy sauce, salt, pepper, paprika, cumin… It sometimes takes an entire spice cabinet to make sure that everything's seasoned to perfection. 
So, sometimes people wonder about how much seasoning goes into it and fear if that makes them a tad unhealthy - not entirely so! While there are some plant-based meats that pack heavy on sodium, not all of them are made the same - put simply, it's just like pre-packed meat that comes from animals. Sometimes they're filled with good ingredients, sometimes not. If it's something that really bothers you, a peek into the pack labels will do you good.
Let's go into specifics with an example. We'll compare a regular beef pattie with one of the most recognizable plant-based brands out there, Beyond Meat. One Beyond Meat Beyond Burger Plant-Based Patty has, most notably, 20 grams of plant protein. An animal-based beef patty of roughly the same size will give you 23 grams of protein. While they currently look even, remember that the Beyond Beef Patty has 35% less fat than a regular beef one.
Iron is another nutrient often brought up as an argument for why animal-based meats are better. When comparing it to Beyond Meat, it's actually quite close! The plant-based meat offers 4mg and the beef one has 2.42mg a serving. So if cutting cholesterol (but not burgers) is one priority of yours, plant-based meats look better. And generally, we do urge you to cut back on fatty foods and cholesterol as they are the culprit for certain types of cancers!
If you can't have soy or gluten, you can find plant-based meats made from other ingredients that are safe for you. The earlier mentioned Beyond Beef Patty is actually gluten-free and soy-free since it's made with pea protein!
As we end this section, let's ask ourselves, "Is plant-based meat healthier than real meat?" We'd like to say that it depends, but it looks healthier right about now, huh?
Benefits of Eating Plant-Based Meat
The benefits of plant-based meat go beyond health. It actually affects our planet more than you think! 
First up, let's talk about greenhouse gas emissions, the major factor in climate change. Did you know that vegan meat actually produces 96%–98% less greenhouse gas emissions than a beef patty? 
How about land? It might not seem like it, but it takes a whole lot of land to make animal-based meat. A simple field of crop that makes plant-based meat is little in comparison to a field where you need to allow cattle or other animals to graze and roam around. Studies have actually stated that plant-based meats were up to 420 times more land efficient than animal products.
Since we're on the animal side of the topic, let's talk about water. You need water to take care of animals - of course, you do. They get thirsty! But compare the amount of water you need to bathe and feed animals with the amount you need to keep crops alive. Pork, for example, needs 3.3 times more water!
Is plant-based meat healthy for the planet? Yeah!
Plant-Based Meat's Looking Good
So is a plant-based diet healthier than meat-based ones? We're inclined to think so! We won't necessarily say that carnivores have an unhealthy lifestyle. With some balance and education on plant-based alternatives, they can lead just as healthy lives!
Now that you know what the benefits of eating plant-based meat are, you can share this knowledge with your friends and enjoy tasty plant-based meats together.