Buy Ingredients
Ingredients
Directions
Top Tips
PlantX Bacon Wrapped Roast + Cranberry Mac & Cheese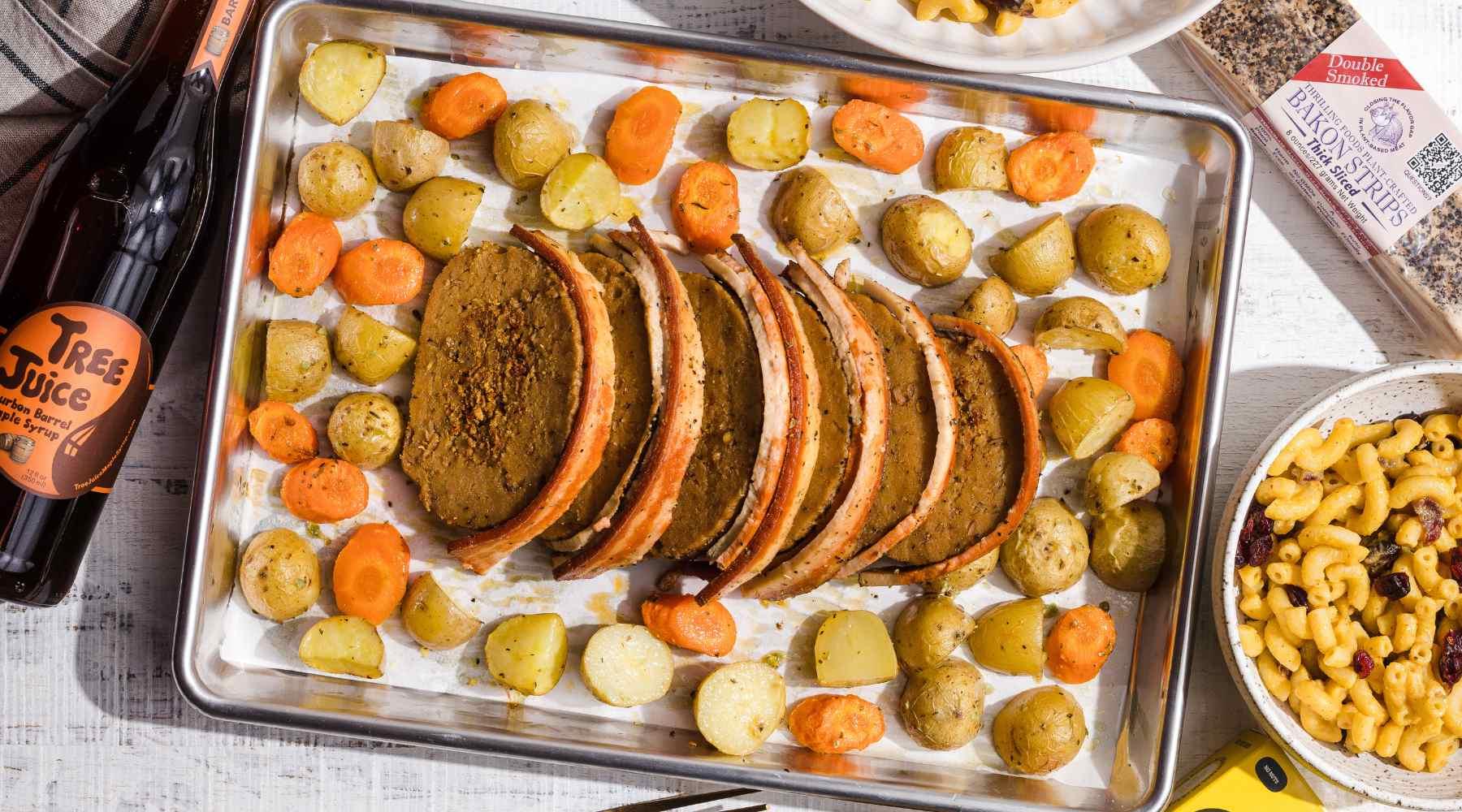 Christmas trees are appearing at windows, lights are twinkling, and kitchens are quickly filling up with lots of festive ingredients! The day of festive feasting is soon upon us. Have you got your vegan Christmas recipes ready? Do you have the same thing every year? I like to change things up a bit each year. One of the many great things about a plant-based lifestyle is not having to follow the "rule" of eating turkey for Christmas!
There are vegan Christmas recipes aplenty and there are no hard and fast rules about what the traditional dish should be. You can try and replicate a turkey in plant-based form, or you can veer off the trodden path and get creative. This recipe is a two-part recipe and is something I'm planning to make on the big day. What could be more decadent than a vegan roast wrapped in vegan bacon?!
Pair it with some festive mac and cheese and - trust me - you'll remember why you opted for plant-based food! Read on to learn how to make one of my favorite vegan Christmas recipes today.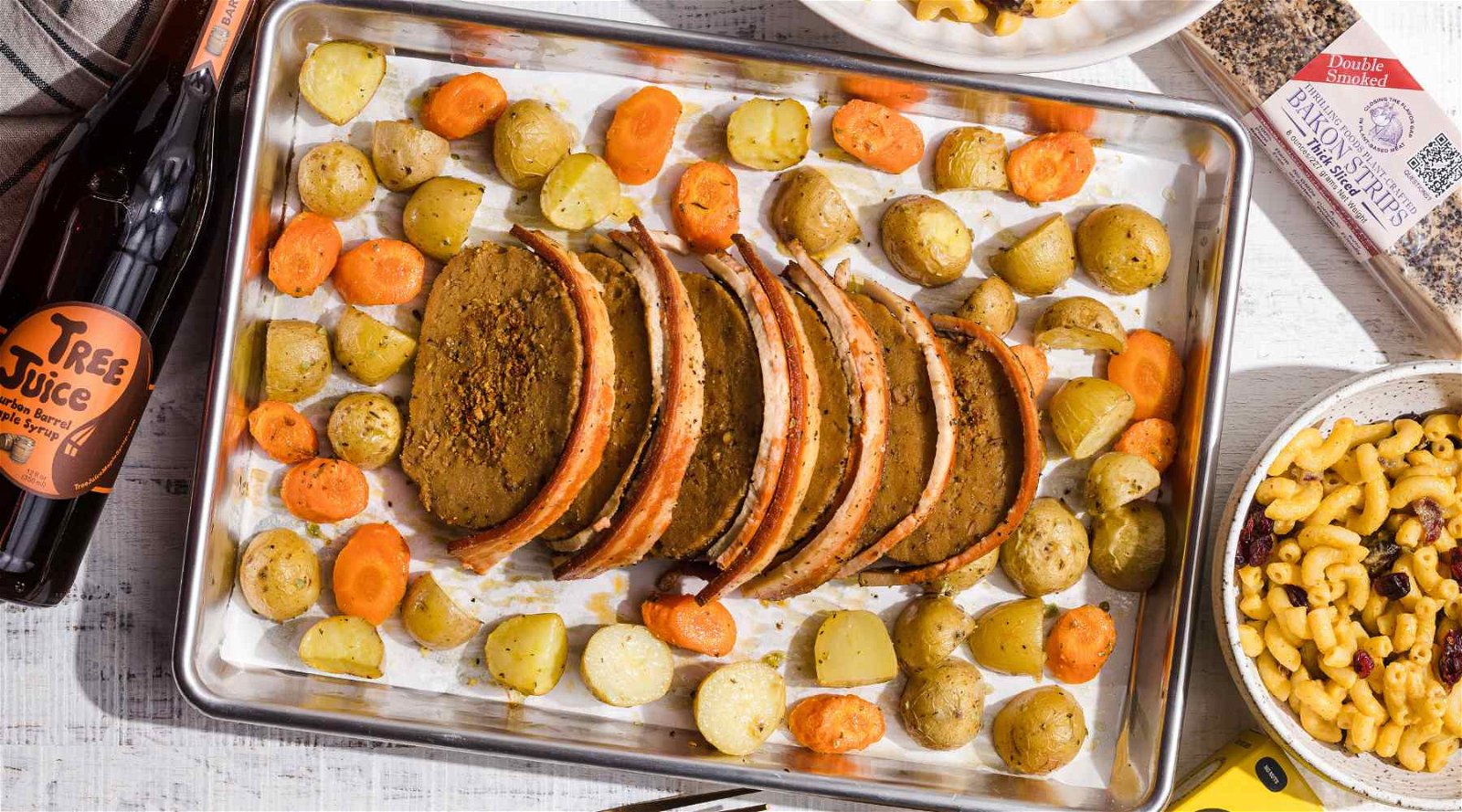 PlantX Bacon Wrapped Roast + Cranberry Mac & Cheese
Here's what you need:
Main Ingredients
Vegan Bacon Wrapped Field Roast

1lb Field Roast Sage & Garlic Celebration Roast, thawed
1 pkg Vegan Bacon
½ tsp Simply Organic Italian seasoning
1/2lb little potatoes, halved
2 carrots, cut into 1-inch slices
2 cloves garlic minced
1/2 tsp salt

Cranberry Maple Mac & Cheese with Grown As*

1 pkg of GrownAs* Mac & Cheese Classic
2 tbsp dried cranberries
1/2 tbsp Tree Juice Bourbon Barrel Aged Maple Syrup
2 tbsp olive oil
Directions
Vegan Bacon Wrapped Field Roast

Place the field roast onto a parchment-lined baking sheet.
Wrap the field roast with the thrilling foods bacon. Brush with olive oil, and season with Italian seasoning.
Add potatoes, carrots, olive oil, garlic, Italian seasoning, and salt to a bowl and toss to combine. Evenly spread this vegetable mixture on the baking sheet, around the roast.
Bake at 325F for 40-50mins then broil the top for a few minutes to crisp up the bacon if desired.

Cranberry Maple Mac & Cheese with Grown As*

Make Grown As* mac & cheese according to the directions on the packaging.
Stir in the dried cranberries and maple syrup. You can adjust the quantities to suit your taste.
Serve with the bacon-wrapped field roast, and any additional side dishes you like. I'm planning to serve mine with roasted Brussels sprouts!
To Wrap It All Up...
This vegan Christmas recipe is an absolute treat. It radiates with Christmas cheer and tastes like an absolute treat. Vegan Christmas recipes can be every bit as luxurious and decadent as meat-based ones, and this recipe serves to prove this. It's rich, creamy, crispy, savory, and fit for a fine occasion. It's warming and comforting on a cold winter's day. If hugs were edible…
What I love about cooking up a festive feast is making too much food and having lots of delicious leftovers. So feel free to increase the quantities used in this vegan Christmas recipe and make more than you need! Mac & cheese will keep in the fridge for a few days, and slices of vegan bacon-wrapped field roast taste wonderful in a sandwich with mustard and any leftover veggies!
Share the vegan Christmas recipe with your loved ones and there will be smiles all around!
If you love this recipe…
Try more of our delicious vegan Christmas recipes!
Mushroom Gravy
Share this recipe
Did you make the recipe? We want to see!
Tag @GoPlantX on Instagram.
Buy products in the recipe
Please choose options for all selected products:
Recipes You Also May Like